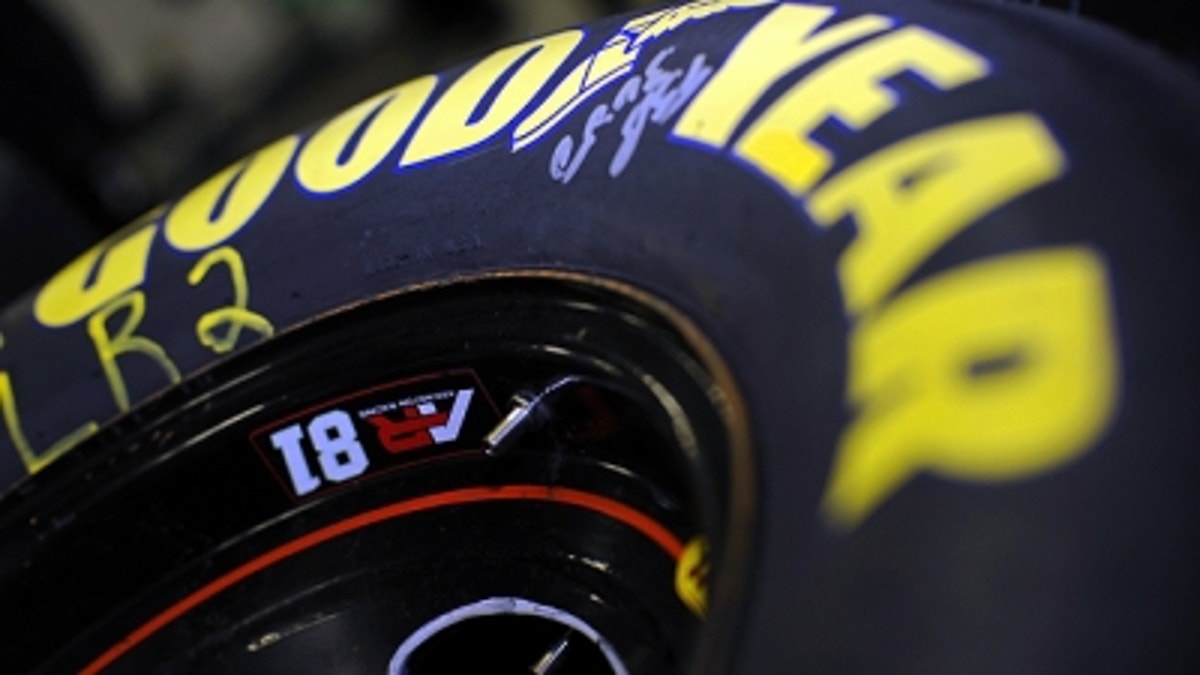 A late-night U-turn by Goodyear has put a new spin on the Sprint Cup weekend at Michigan International Speedway.
After some teams experienced problems with tire blistering in Friday practice for Sunday's Quicken Loans 400, Goodyear announced Friday night that it will supply a different left-side tire for Sunday's race.
The change scrambles the weekend for teams that already have been under the pressure of remarkably high speeds at the freshly repaved two-mile track. Average speeds approached 205 miles per hour – a stunning new high in recent years for Cup cars – in Friday's final practice.
The tire change adds a twist to Saturday's schedule. Cup qualifying is set for 1 p.m. (live on SPEED), as scheduled, with teams using the original Michigan left-side tires. After Saturday afternoon's Nationwide race (scheduled for a 3:45 p.m. start), a 75-minute Sprint Cup practice has been added, during which teams will use the new left-side tires.
About a dozen teams experienced blistering problems in fast – and hot – practices Friday.
"With the new repave here at Michigan, coupled with the high temperatures we're seeing this weekend, we feel this change will help us put on the best race possible on Sunday," said Robin Pemberton, NASCAR vice president of competition.
Greg Biffle led Friday's final practice with a speed of 204.708 and said he probably can go faster. Fourteen drivers crossed 200 during the practice.
Despite the blistering problems, Goodyear had taken the position as late as Friday afternoon that the original tire compound would work for Sunday's race.
The new left-side tire has a tougher tread compound and a different construction from the Michigan original. The compound has been run at Charlotte Motor Speedway.
"In collecting data and speaking with drivers and crew chiefs throughout the practice days, we had two choices to make," said Goodyear official Greg Stucker. "Our first option was to make the team's race sets available to them before practice on Friday and allow them the chance to 'scuff' them, in order to run them through a heat cycle to increase heat resistance. We did that, but after all the practice sessions ended on Friday, we concluded the safer option was to go to our contingency plan and bring in the (tire code number) 4020s.
"This code has been run before under similar track conditions, and we have full confidence that it will give drivers and teams enough grip to run a great race on Sunday, while doing so in the safest possible manner. Safety is always our No. 1 concern, and by bringing this tire here this weekend, we will accomplish that goal."
The dramatically increased speeds at MIS this week were unexpected. In tire tests on the new surface in April, top speeds were in the 198-mph range.
After Friday practice, Biffle said his car was performing well despite the stunning speeds.
"To be perfectly honest with you, I wish I could tell you that I was holding my breath and on edge, but it must be a lot of adrenaline because I don't remember," he said. "I am trying to think of my lift points on the pedal and things like that. You get so in the moment. … That lap, the car was just really stuck to the ground really well. It actually wasn't that hard to drive. It actually is a little harder to drive on low air and new tires in race trim than it is on that qualifying (practice) lap. They did a pretty good job with the race track."
Mike Hembree is NASCAR Editor for SPEED.com and has been covering motorsports for 30 years. He is a six-time winner of the National Motorsports Press Association Writer of the Year Award.