CUP: Kyle Busch Slumping So Far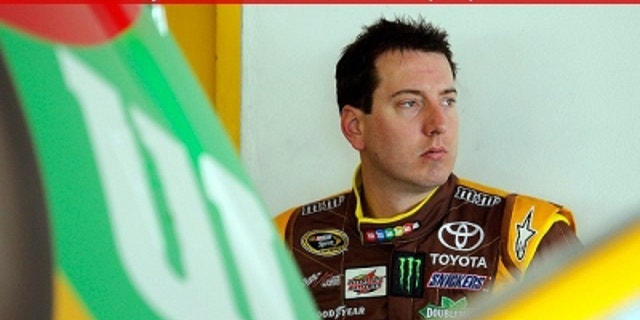 While much already has been written about the struggles of Kasey Kahne and Jeff Gordon this season, in truth Kyle Busch's 2012 NASCAR Sprint Cup campaign also has been a major disappointment so far.
Through seven of 26 races in NASCAR's regular season, Busch has just one top-five and two top-10 finishes in his No. 18 Joe Gibbs Racing Toyota. Worse yet, he's 14th in points, behind JGR teammates Denny Hamlin (sixth) and Joey Logano (13th).
This week, the Sprint Cup Series heads to Kansas Speedway, site of Sunday's STP 400, and Busch's prospects there aren't especially good, either. In nine career starts at the 1.5-mile Kansas oval, Busch has just one top-10 finish — a seventh-place run in October 2006 — and his finishing average is a meager 21.111.
And yet, Busch can ill-afford for his slump to continue, so he'll look to pick it up this week at Kansas. The STP 400 will be the final race on the existing Kansas traffic surface before a summer repave for the fall race. No one is more aware of the need to get it done than Busch himself.
"I think we need to be better than I have run there before," Busch said flatly. "Dave (Rogers, crew chief) and all the guys in the shop have worked really hard to be as prepared as possible for Kansas. We ran much better at Chicago the last two years even though our results didn't show it, and the guys went to work to bring an even better car to Kansas this weekend and it's a very similar layout to Chicago. The banking is just a little bit different but, other than that, it's really similar."
Busch has both a victory and a runner-up finish at Kansas in the NASCAR Nationwide Series, and he's hoping to put that knowledge to use this weekend.
"I've had some success with JGR and Hendrick in the Nationwide Series there, and I'm hoping, with a little more experience and knowledge, I can do that in the Cup car at Kansas, as well," Busch said. "This weekend would be a great time to get it figured out and, hopefully, have a good solid top-five day with our M848ff8if9a6fb627facGGcdbcce6M's Camry."
Busch, who historically has been very good at most 1.5-mile tracks, admitted he's a bit baffled by his Kansas struggles.
"It's not that you might not like a track or might not like a race or something like that. It's just a matter of trying to figure it out," he said. "Once you kind of get it figured out or get the right situations kind of lined up, you can have a shot."
In that, Busch has history on his side.
"I look at this place a lot like Michigan," Busch said of Kansas Speedway. "That's a place where I struggled for a long time, but we finally were able to break through there for a win last year. Of course, just like Michigan, as soon as I figure it out, they are going to repave it just like they are going to do at Kansas, but it would be nice to get a win on the current surface at Kansas before they do the repave just like we were able to do at Michigan."
Tom Jensen is the Editor in Chief of SPEED.com, Senior NASCAR Editor at RACER and a contributing Editor for TruckSeries.com. You can follow him online at twitter.com/tomjensen100.