CUP: Keselowski – Everything Came Together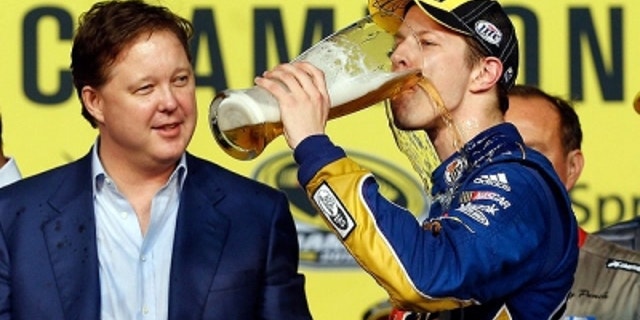 NEWYou can now listen to Fox News articles!
Rick Hendrick, whose driver, Jeff Gordon, won Sunday's season-ending Ford EcoBoost 400, spent part of his post-race press conference singing the praises of one of his former drivers, new Sprint Cup champion Brad Keselowski.
"He eats, sleeps and drinks wanting to be a race car driver," Hendrick said. "He brings a level of intensity I've seen in very few people. I think he's matured in a hurry. He learned how to race and race 500 miles and know when to race. He's made that whole organization better."
It was an unlikely championship. Keselowski and his Penske Racing team outran Jimmie Johnson and the 48 group, the ones who have won five of the gleaming Sprint Cups, and put together a remarkable Chase run.
In the final 10 races, Keselowski finished out of the top 10 only twice. Oddly, his worst finish was Sunday's 15th-place run, but finishing at that spot made it impossible for Johnson to catch him, even with a victory.
There were tense moments Sunday – the 48 team was working a fuel strategy that could have made the point chase very close if Johnson had not had mechanical problems, but Keselowski turned back the challenges.
"I don't enjoy watching hardships happen to my competitors," Keselowski said. He said he was "so thankful" to finish 15th so he would not have to hear how he had won the championship because of Johnson's problems.
Keselowski began consumption of his sponsor's product – Miller Lite beer – in the middle of the championship celebration and was still downing beverage from a huge glass as he made a live television appearance.
There was a very good chance that much more of the sponsor's product would be consumed late into the evening.
"I can't believe how everything just came together over the last three years," Keselowski said. "I feel like the best is yet to come. I feel like this team with these two people (team owner Roger Penske and crew chief Paul Wolfe) sitting next to me, we can do anything we put our mind to. I feel so fortunate to be where I'm at in life and in racing because you're a product of who you surround yourself with. That's as sweet as life gets."
Keselowski won the first race in the Chase at Chicagoland, a victory on Sunday he called "a huge catalyst." He followed two weeks later with a win at Dover and clearly became a major championship threat.
He was seventh at Talladega, 11th at Charlotte, eighth at Kansas, sixth at Martinsville, second at Texas and sixth at Phoenix.
Penske said Keselowski walked into his shop in search of a driver spot, "looked me in the eye and said I want to help you build a championship team, and shook my hand. He's a great leader on our team."
Talking about Keselowski's fun in the victory celebration and his beer consumption, Penske said, "I saw him as a great driver and tactician. I didn't realize he was commercially viable."
What's ahead? "Expect the unexpected," Keselowski said.
Asked how he might change as a champion, he said, "I'm going to meet a lot of people. I always wanted to date a celebrity. I'm just throwing that out there. But not a Kardashian."
Mike Hembree is NASCAR Editor for SPEED.com and has been covering motorsports for 30 years. He is a six-time winner of the National Motorsports Press Association Writer of the Year Award.