CUP: Kenseth Cruises In Kansas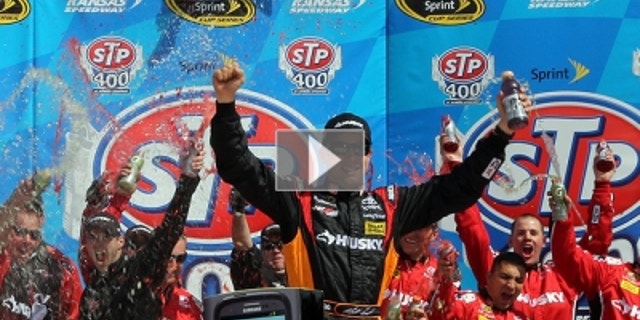 RESULTS STP 400 Race
Matt Kenseth scored a dominating victory in Sunday's STP 400 at Kansas Speedway, winning his second NASCAR Sprint Cup race this year and the fourth in eight events for Joe Gibbs Racing.
Although JGR teammates Kyle Busch, Brian Vickers and Elliott Sadler all crashed, Kenseth was on cruise control, leading 162 of 267 laps to win over the Hendrick Motorsports Chevrolets of Kahne and Jimmie Johnson. Michael Waltrip Racing teammates Martin Truex Jr. and Clint Bowyer completed the top five.
Kahne put on a hard charge in the closing laps, but Kenseth never bobbled. It was Kenseth's 26th victory in 480 career Sprint Cup starts and the third consecutive race won from the pole this season.
"I really thought he had me, my car was getting really loose," Kenseth said of the onrushing Kahne. "… This is a dream come true to drive this stuff. This is awesome."
"Matt was fast," said Kahne. "I did everything I could."
For Kenseth's teammates, the drama started early. Busch, last week's winner and the hottest racer in NASCAR heading into Kansas, spun at the exit of Turn 2 on Lap 5. Under caution, Brad Keselowski got run into from behind and had to make a lengthy stop for repairs, ultimately going a lap down for a time.
In truth, there wasn't much activity up front in the first 100 laps, 99 of which were led by polesitter Kenseth. With only one racing groove, passing proved to be daunting.
Then, on Lap 104, Busch's bad day went to horrible, as he crashed in Turn 4 and took Joey Logano with him. Busch hit the outside of the wall and then slid down to the apron where he was clobbered by Logano's onrushing car. Both drivers were OK, fortunately.
Under caution, several lead-lap drivers opted not to pit with Martin Truex Jr. moving to the lead over Jamie McMurray, Mark Martin, Keselowski, Kenseth and Carl Edwards. On the restart, Martin nearly wrecked McMurray, both of them dropping back quickly.
After a Brian Vickers backstretch spin in the No. 11 JGR car on Lap 174, the field again split over whether to pit or stay out. The top seven cars, led by Edwards and Dale Earnhardt Jr. stayed out, eighth-place Johnson took gas only under caution and most of those behind took tires.
On Lap 182, Marcos Ambrose snapped loose in Turn 2, crashing and taking Casey Mears, David Gilliland and Sam Hornish Jr. along for the ride with him.
Once the track went green, Kenseth went to the front, engaging in a three-way fight for the lead with Edwards and Ricky Stenhouse Jr., drivers from Kenseth's former team, Roush Fenway Racing.
Stenhouse, in his best race of the season, assumed the point on Lap 190, with Kenseth slotting into second place.
A debris caution sent the field down pit road on Lap 221, with Kenseth coming out in the lead over Truex and the Roush Fords quickly dropping back.
And from there on, it was pretty much all over. Kahne put on a hard charge in the closing laps, but ultimately couldn't catch Kenseth's speedy Toyota.
Tom Jensen is the Editor in Chief of SPEED.com, Senior NASCAR Editor at RACER and a contributing Editor for TruckSeries.com. You can follow him online at twitter.com/tomjensen100.