CUP: Johnson Flexes Muscles, Old-School Style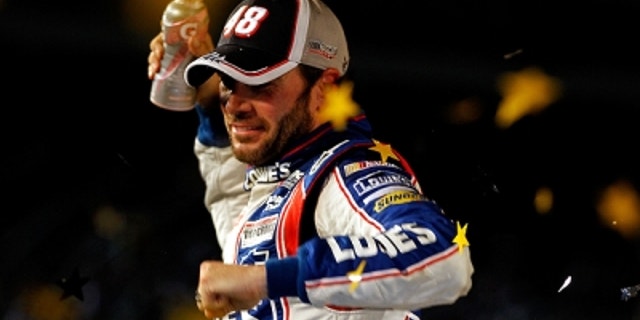 This just in: Jimmie Johnson, crew chief Chad Knaus, team owner Rick Hendrick and the rest of the No. 48 Hendrick Motorsports team are back. And they are back in a huge way.
Over the course of the last eight days, Johnson & Co. have stepped up their game to the level that they have to be considered the favorites to win this year's Sprint Cup championship.
To wit:
On May 12, Johnson led a race-high 134 laps to score a decisive victory in the Bojangles' Southern 500 at Darlington Raceway, the toughest track on the circuit.
Last Thursday night, the No. 48 crew defeated 23 other teams to win the Sprint Pit Crew Challenge. Most importantly, in the final round, they upset the No. 11 Joe Gibbs Racing squad, the two-time defending champions and their bitter rivals.
Then last night, Johnson went out and administered an old-fashioned ass-kicking on the field at the Sprint All-Star Race. The way in which Johnson did it, was especially demoralizing: Starting behind Kyle Busch, Ryan Newman, Denny Hamlin, Greg Biffle and Kevin Harvick, Johnson blew by five very fast cars and was into the lead on Lap 15.
Once he won segment one, Johnson was assured of coming down pit road first prior to the final 10-lap shootout. When he left pit road ahead of Brad Keselowski, Matt Kenseth and Dale Earnhardt Jr., the race was all but over.
Johnson cruised to an easy victory, 0.841 seconds ahead of a game, but outmatched Keselowski.
Asked if 10 laps was too short a distance to catch the five-time champion, Keselowski said, "Ten laps? I don't think it was going to make a difference if it was a hundred laps. At the end, Jimmie was just as fast so you can't really steal any of his thunder on that. I was doing all I could to get by him. It wasn't meant to be."
And here's the scary part for the competition: Johnson got wrecked on Lap 2 of the Daytona 500 and lost a motor at Talladega. In the other nine points races, he has an average finish of 5.44. That's championship territory.
"The way we finished last year, we weren't proud of ourselves as a No. 48 team," Johnson said. "There is a way to lose and be in the hunt and that is easier to take. Last year at the end of the season we weren't happy with our performance. We weren't happy with the speed in the cars. ... Our race cars are much faster this year than they were last year. I really feel like we are going to win a lot of races this year."
In addition to Johnson's formidable talents as a wheelman, Knaus is equally on his game as a crew chief. There was only 85 minutes of all-star practice, run from 1:35- 3 p.m. on Friday afternoon in the heat of the day. Knaus figured out that if Johnson won the first segment, that he could use segments two through four to run in the back of the field, but at full speed. That way they had 60 laps to improve the car in the cool of the night — and establish a strong baseline for next week's Coca-Cola 600.
"Once we got the rules, we obviously read through them pretty thoroughly," said Knaus. "There's always little nuances. If you look in there, you can find little things maybe to find a little advantage. ... We knew if we got that win in the first segment, we would try to tune on the race car. Because we didn't get practice in the nighttime conditions, we were only able to practice during the day, we knew that was going to be our best time to try some different things. You go through that and you learn."
It's still early in the 2012 season.
As Tony Stewart proved last year, you can have a so-so regular season, catch fire in the Chase for the Sprint Cup and win the championship. But right now, Johnson again looks like the man to beat.
"This last week has been really special," Johnson said. "I have a great opportunity here with what I've accomplished to get up there and chase down what (Jeff) Gordon has done, what (Dale) Earnhardt has done, (Richard) Petty. I want to do that. I think it's going to be very difficult to do. But I want to accomplish that. I'd love to tie their seven championships and I'd love to win eight."
Tom Jensen is the Editor in Chief of SPEED.com, Senior NASCAR Editor at RACER and a contributing Editor for TruckSeries.com. You can follow him online at twitter.com/tomjensen100.