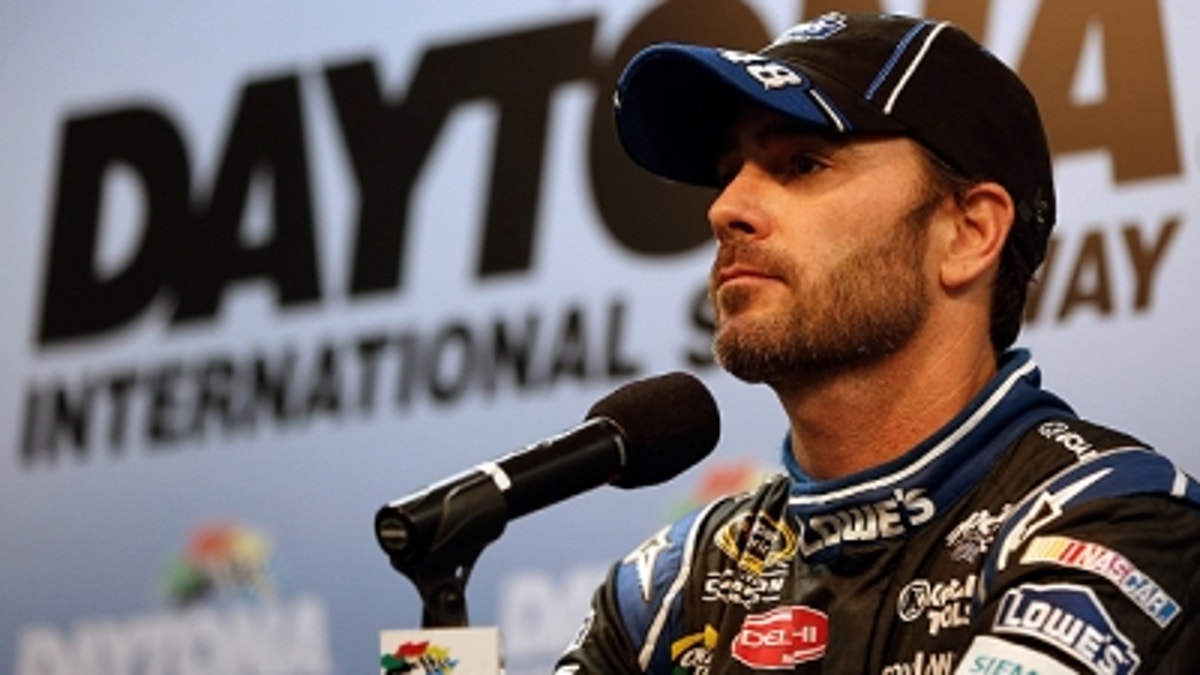 Jimmie Johnson and crew chief Chad Knaus looked like the smartest guys in the Daytona International Speedway garage area Friday afternoon after their decision to avoid drafting during the day's second session.
Johnson was running alone on the track when his teammate, Dale Earnhardt Jr., sparked a 12-car wreck in a drafting pack by clipping Marcos Ambrose. Several cars were seriously damaged, and several teams limped home to North Carolina because they didn't have backup cars.
"For us, it makes no sense to go out there and draft because you aren't going to learn anything," Johnson said. "You're just taking a chance of ruining your best race car. Generally speaking, we just don't have any cars. This is our only speedway car for the 48 car. We want to have that as a backup when we come back.
"We still need to go home and build our … 500 car. We just don't have the inventory. … We're playing a big game of catch-up right now."
If the No. 48 team, which often excels in these new-car, new-rules situations, is in catch-up mode, where might everybody else be?
"It's just a fact that there's a lack of inventory," said NASCAR vice president Robin Pemberton. "We know where we're at. It's on everybody's part as far as delivery dates on sheet metal, deck lids, hoods."
Johnson and his team, now two years removed from their last championship, are particularly anxious to get moving.
"Last year (2011) the way we lost our competitiveness and Tony (Stewart) and Carl (Edwards) ran off with the show, the season couldn't end fast enough," Johnson said. "The off-season was nice to have, and it seemed way too short. There was a lot of recharging that I needed and I think the team needed.
"This last year, I wasn't ready for the season to end. Sure, I would have loved it to end after Texas when we had the points lead and we could be champions, but I honestly had more in the tank when the season was over. I think I did a much better job of managing the pressure and stress than any other year. I think Chad did, my guys did and, although it came to an end, I could have gone the next week and raced again. I had more left.
"I enjoyed the off-season, I had fun, but I'm ready to go racing. I hope that I've matured some and understand how to lay out the season. Know when to take some breaks in between some races and just disconnect and set a pace that I can keep for another 10 or 15 years and stay in the sport."
Mike Hembree is NASCAR Editor for SPEED.com and has been covering motorsports for 30 years. He is a six-time winner of the National Motorsports Press Association Writer of the Year Award.