CUP: Harvick – 'Old' Bristol Better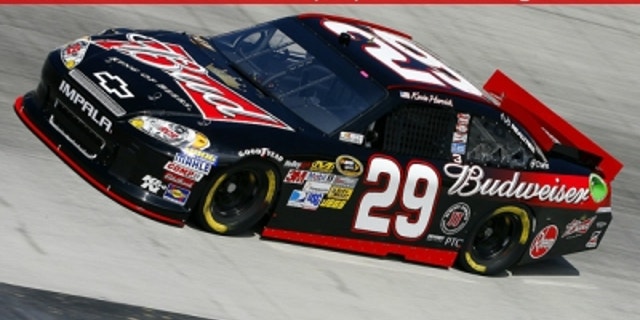 NEWYou can now listen to Fox News articles!
In the raging debate over which Bristol Motor Speedway configuration is better, Kevin Harvick votes "old."
Speedway Motorsports Inc. chairman Bruton Smith said he plans to decide this week whether he will rip apart the current racing surface at the half-mile track and attempt a return to the former bump-and-bang style of competition that made BMS such a hit.
Of course, there is no assurance that changes – even profound ones – will create what fans apparently want at Bristol, but, with more than half the seats in the huge facility empty last Sunday, many observers say Smith has to make some sort of move.
"What I feel was one of our most popular races on the circuit – I feel like the old-style track brought what the fans want to see, and whether it's what the car owners want to see or the drivers, and whether you've got to run into each other or you don't, the old-style racing was more to the appeal of the fans," Harvick said.
"And if I had millions of dollars to spend and had spent the money on the race track to make it what it is today, sometimes when you take something that's really good, and you try to make it better, sometimes it doesn't work. Obviously, they put a lot of effort into a lot of things trying to make it even better for the fans, and for the drivers and for everybody involved.
"Sometimes, things don't work out and you've got to go back to what worked before, and I think what we had there before was what the fans want to see, and it was an exciting race. You know, beating and banging like we all grew up racing, so that's what they want to see."
Smith said this week that 75 percent of the fans who have responded to questions about the track favor a change, although many drivers prefer the current design, which allows for more side-by-side racing and produces fewer multi-car crashes.
"If they are going to go back and put the track – and want to call it putting the track exactly how it used to be, hopefully you put the track back exactly how it was and don't try to piecemeal it together with trying to save this section of the corner and this part of the straightaway," Harvick said. "Hopefully, they put that all back."
He said the pre-2007 style of racing at Bristol was more exciting for the drivers.
"I'm all 'old,'" he said. "Any time you run 200 laps at Bristol with no cautions, it's going to get boring fast, in my opinion."
Harvick said positioning in the high line at the current Bristol track lessens the opportunity for passing.
"Unless you had major handling problems, you could get in the high lane and hold off a car that was a couple tenths faster, for sure," he said. "That's the hard part about it. You had the high line that you get in that you could carry so much momentum off the corner. Everybody's running so close to the same speed that you just didn't see as much passing with the new style race track that I think everybody had hoped for."
Mike Hembree is NASCAR Editor for SPEED.com and has been covering motorsports for 30 years. He is a six-time winner of the National Motorsports Press Association Writer of the Year Award.