CUP: Great American Grid Coming Soon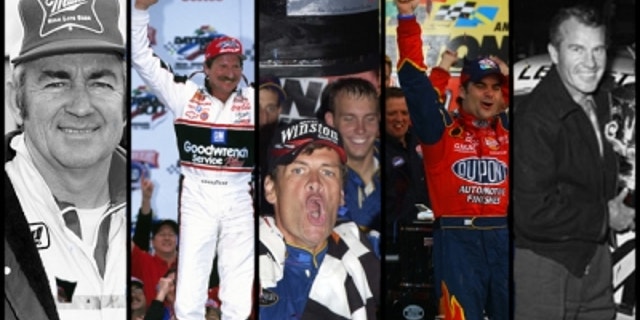 Welcome to the "Great American Grid."
As part of our coverage of this year's Daytona Speedweeks, SPEED is compiling a list of the top 43 performers in Daytona 500 history.
The list includes all 35 prior Daytona 500 winners as well as eight non-winners who nevertheless assembled impressive records in NASCAR's biggest race. SPEED will rank them in order of how we feel they performed in the most important race on the NASCAR calendar.
The 43 drivers were chosen by a panel of about 20 SPEED on-air personalities, producers, news directors and writers. As you would expect in compiling the list, the debate over who made the list and who didn't, as well as where they rank, was intense and spirited.
SPEED and SPEED.com will set the ultimate Daytona 500 starting lineup and unveil the Great American Grid during Speedweeks.
Here's the schedule. All times are Eastern.
Friday, Feb. 17 — Reveal rows 18-22 on SPEED Center at 7:30 p.m.
Saturday, Feb. 18 — Reveal rows 16-17 on SPEED Center Twitter & Facebook accounts at 8 p.m.
Sunday, Feb. 19 — Reveal rows 11-15 on SPEED Center at 7 p.m.
Friday, Feb. 24 — Reveal rows 7-10 on SPEED Center at 5:30 p.m.
Saturday, Feb. 25 — Reveal rows 4-6 on SPEED Center at 7 p.m.
Sunday, February 26 — Reveal rows 1-3 on SPEED Center at 8:30 a.m.
Want to put together your own list? Go to SPEED Center's Facebook page — https://www.facebook.com/spdctr — and post who you feel are the 43 best performers in Daytona 500 history.
And stay tuned to SPEED.com and SPEED Center's Facebook and Twitter feeds to follow the announcements, using the hashtag #greatamericangrid. Much more to come on this in the next week.
Tom Jensen is the Editor in Chief of SPEED.com, Senior NASCAR Editor at RACER and a contributing Editor for TruckSeries.com. You can follow him online at twitter.com/tomjensen100.