CUP: Gordon Survives Wild Ride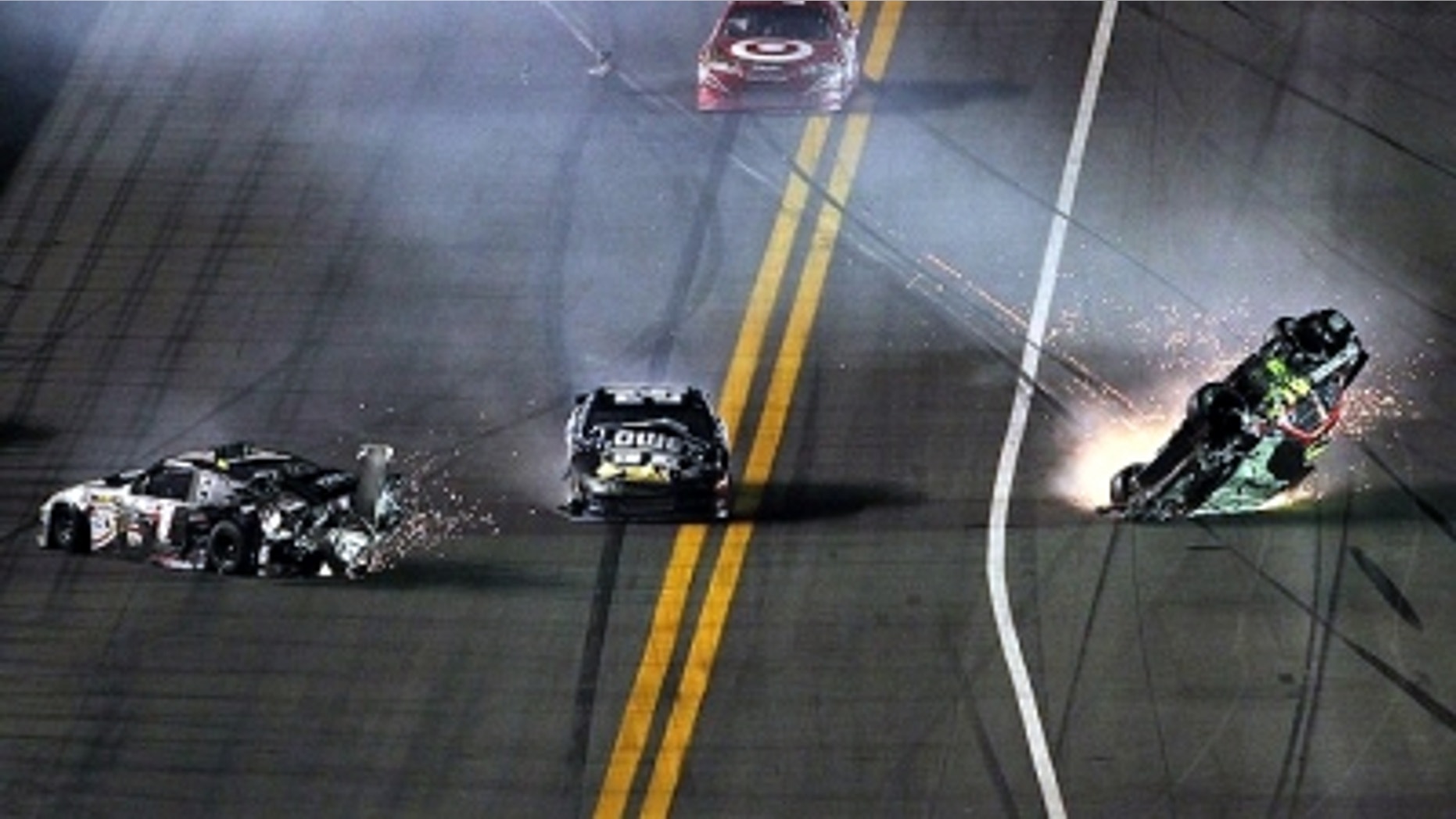 On a night filled with hard impacts, frayed tempers and even Kevin Harvick's car catching fire, no one had a scarier Budweiser Shootout than four-time NASCAR Sprint Cup champion Jeff Gordon.
For the first time in his two-decade long Sprint Cup career, the four-time series champion found himself upside down after a terrifying crash with two laps to go. Fortunately for Gordon, he was uninjured.
The incident occurred with two laps to go in the scheduled 75-lap distance at Daytona International Speedway. Heading into Turn 3, Gordon was directly behind second-place Kyle Busch and leader Tony Stewart.
As they transitioned from Turn 3 to Turn 4, Gordon made contact with Busch's bumper, sending the Joe Gibbs Racing Toyota down to the apron. Gordon, meanwhile drifted to the outside and hit Kurt Busch, the cars four-wide at this point.
When Gordon and Kurt Busch made contact, they both turned hard right into the wall at the exit of Turn 4. Behind them, Gordon's Hendrick Motorsports teammate Jimmie Johnson was tagged by Marcos Ambrose, sending Johnson's car into Busch and Gordon.
That turned Gordon onto his driver's-side door, where he slid for about 1,000 feet before doing three barrel rolls and ending up on his roof on the frontstretch tri-oval. Gordon was able to escape under his own power.
After a quick check at the Daytona infield medical center, Gordon was released.
"It was just getting down to the end of the race and it was time to go," said Gordon. "Me and Jimmie were looking good there. We knew those guys were coming, and once Kyle got in front of me, I was just trying to keep Jimmie on me and trying to stay with Kyle."
That ultimately proved impossible.
"Every time I got to Kyle's bumper, he just started getting so sideways, like he was a lot tonight," Gordon said. "And I thought he was going to wreck. I saw him start to spin, so I went wide, not knowing someone had gotten to my outside. That got me into those guys and into the wall and along for a ride. And then Kyle wins the race, so it was a pretty wild and crazy way to get it all started. It was certainly an exciting finish, but not the way our Drive To End Hunger Chevrolet wants to get the 2012 season started."
Tom Jensen is the Editor in Chief of SPEED.com, Senior NASCAR Editor at RACER and a contributing Editor for TruckSeries.com. You can follow him online at twitter.com/tomjensen100.