CUP: France – Automatic Cautions 'Nonsense'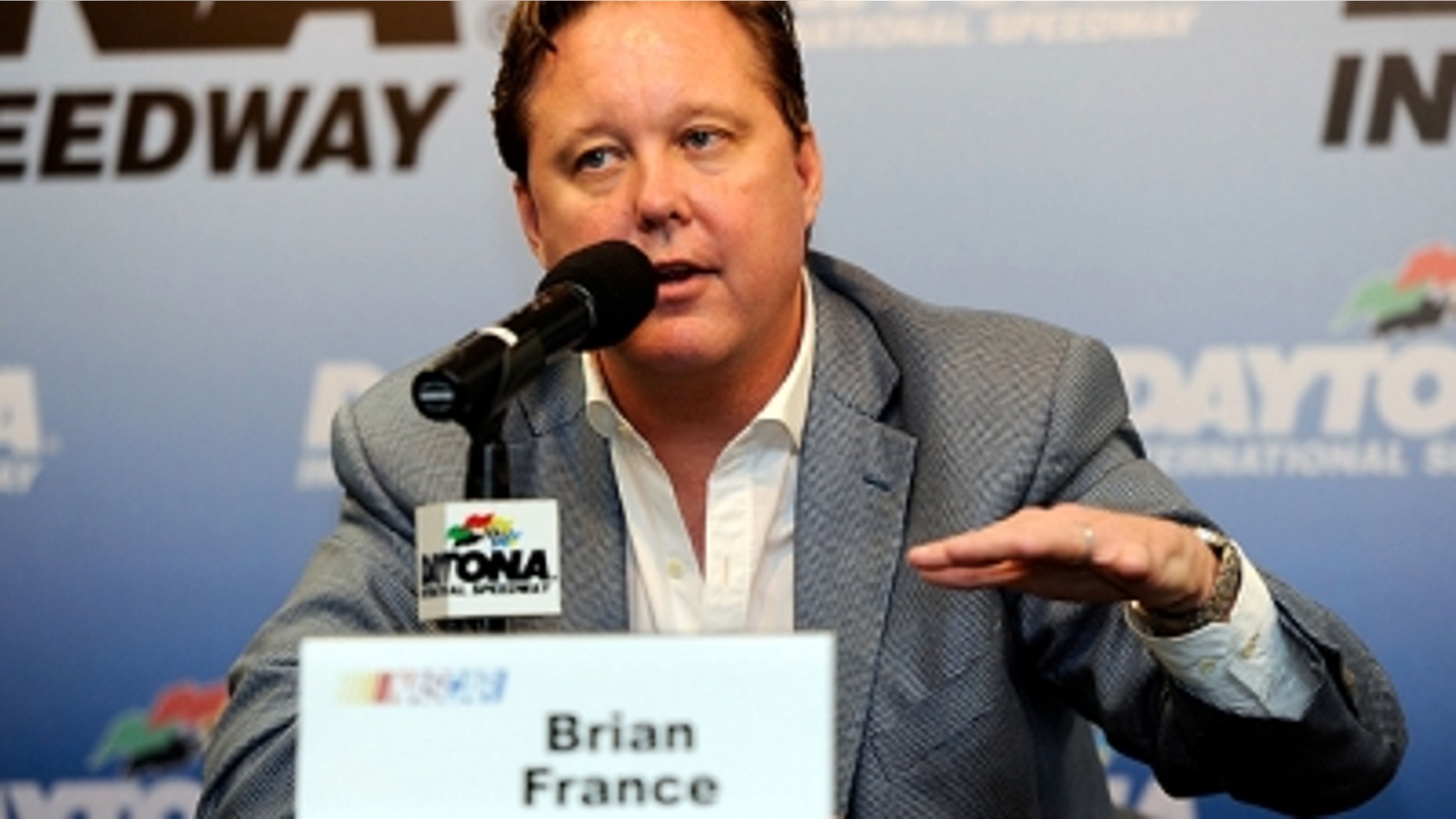 NASCAR chairman Brian France Friday described as "nonsense" and "gimmicky" the recent suggestion by Speedway Motorsports Inc. chairman Bruton Smith that the sanctioning body use mandatory cautions to tighten competition in races.
"It's a very clear line to us," France said during an afternoon press conference at the Daytona International Speedway media center. "What we're not going to do are gimmicky things. I've heard we ought to throw a caution every 10 laps. That's nonsense. We won't do gimmicky things. But we'll do things that incentivize performance, incentivize wins. That we are open to. The wildcard does that. It does it in an authentic way.
"Anything that gets something better on the track and doesn't employ a gimmick, we'd be reasonably open to."
France also said NASCAR is looking at the possibility of shortening more races, is continuing work on the 2013 model car that will debut in the Daytona 500 and is enhancing its technology to improve what he called "the closest, most competitive form of auto racing in the world."
Smith said last week that NASCAR should use caution periods to bunch fields and keep racing exciting. Drivers were mixed in their reaction to that idea.
France (and, earlier, NASCAR president Mike Helton) shot down the concept, however.
NASCAR has made other modifications in recent years – in particular, the use of double-file restarts and the "wave-around rule" – to positively impact competition, but France and others view pre-set caution periods as beyond the realm of true competition.
As part of future-model cars, France said NASCAR is experimenting with the use of "glass" dashboards similar to those that are in development for passenger vehicles. The dashboards would allow drivers, in effect, to design their own dash displays.
France said NASCAR generally likes the idea of shorter races and pointed to what he called the success of recently shortened events at Pocono, Auto Club Speedway and Dover as examples. He said, however, he doesn't expect any dramatic changes in the NASCAR national-series schedules that are expected to be released in late summer or early fall.
He said NASCAR is exploring ways to keep the attention of fans who are attracted to shorter sports events and didn't reject the possibility of changing a 400-mile race to a pair of 200-mile races, for example.
"We'll also look at one of the great features this sport has, you know, the technology is a real part of this sport ‑ in the cars themselves, in the way information is flowing back and forth between the teams, the drivers, and ourselves. We'll be able to enhance that experience for our race fans in ways that other sports may not be able to do," he said.
France said discussions about NASCAR's new television contract are continuing, and he said he understands the frustrations some fans voice because of what they see as excessive commercial use during race broadcasts.
"It's understandable where our fans can miss something, feel like they're missing something and be frustrated," France said of race TV broadcasts.
"Then there is a commercial position that, as wonderful as this sport is, our TV partners aren't doing it to just be good sports about things," France said. "So we have to balance their commercial concerns and so on."
The NASCAR chairman also said officials are working on ways to dry tracks faster after rain.
Mike Hembree is NASCAR Editor for SPEED.com and has been covering motorsports for 30 years. He is a six-time winner of the National Motorsports Press Association Writer of the Year Award.