CUP: EXCLUSIVE — Burton Hunting For His Mojo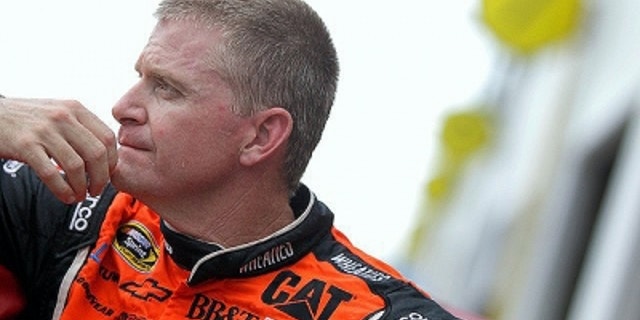 All you have to do to understand Jeff Burton's frustration right now is look at his numbers: no victories, two top fives, four top 10s and 20th in points so far in the 2012 NASCAR Sprint Cup season.
This is not where the veteran Virginia driver or his Richard Childress Racing team expected to be right now. Instead, he thought he was going to be solidly in field for the Chase for the Sprint Cup, something that would take a miracle to make happen right now.
It's been a difficult year for the entire organization and, Burton, one of the most articulate drivers in NASCAR, made no bones about it during an exclusive interview with SPEED.com
"Is the Cup program doing all that it needs to? Of course not," said Burton, who drives the No. 31 RCR Chevrolet. "Is anybody happy? Is Richard happy? Are the drivers happy? Are the crew members happy? Are the sponsors happy? Nobody's happy. Nor should we be. If we're happy with this, shame on us."
Asked where RCR is behind the front-running cars from Hendrick Motorsports and Roush Fenway Racing, Burton said that there are differing opinions within RCR.
"That's always a great debate," he said. "It's clear that there's no poles at RCR, there's no wins at RCR. We have one car that's teetering on the Chase. It's clear our overall program isn't where it needs to be. It's also clear that the 31 is, of the three teams, the weakest of the three."
Burton said the organization's erratic performance this year makes it tough to pinpoint a single area that needs to be fixed.
"We have to identify and separate team issues from company issues," said Burton. "And that gets really difficult, because when everybody is struggling, it's almost better than it is when one team is doing well and the other two are struggling or when two are doing well and one is struggling.
"When everybody's kind of in the same boat, there tends to be a more consolidated effort, a more unified effort. When you have this split in how you're running, it separates focus."
As for the remainder of the season, Burton said the team is simply looking to get better over the final 13 races.
"Just improve," he said when asked about his goals right now. "We look to build something that we can start next year with. Right now, we really don't have a baseline we feel good about, as it relates to our big-track stuff — our mile, mile-and-a-half, two-mile stuff, we're just not competitive.
"Our short-track program has been OK. It hasn't been stellar, but it's been OK, something to build on. Right now, we don't have anything to build on with our big-track program. We have a long way to go. We have several steps we have to make."
Burton said that RCR's increased emphasis on its NASCAR Nationwide and Camping World Truck Series teams hasn't hurt RCR's Cup effort, as some critics have claimed.
"Are we doing everything we need to do in the Cup program to be successful? We're trying," Burton said. "Are we not putting funds into the Cup program because we're putting funds into the Nationwide program? No. We certainly aren't having the success that we need to have in the Cup program, but I can't point to the Nationwide program and say, 'That's the reason.' Nor can we point to the truck program and say, 'That's the reason.'
"We didn't have that last year, but the fact that we have it allows us to do some things that we wouldn't have been able to do without it. And that's something people don't see. People stand in the forest and they just see the trees standing around them. They don't pay attention to all the leaves."
Tom Jensen is the Editor in Chief of SPEED.com, Senior NASCAR Editor at RACER and a contributing Editor for TruckSeries.com. You can follow him online at twitter.com/tomjensen100.