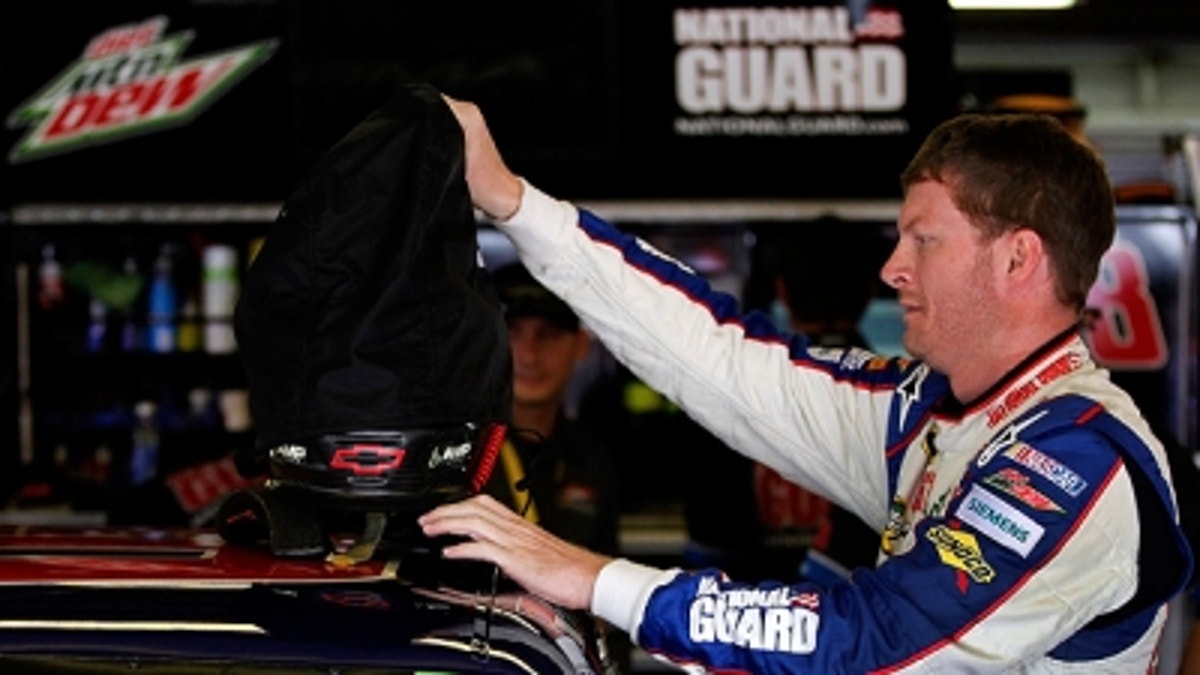 Dale Earnhardt Jr. had another strong race on Sunday, coming home fourth behind Kasey Kahne, Denny Hamlin and Clint Bowyer in the Lenox Industrial Tools 400 at New Hampshire Motor Speedway.
Earnhardt, who is second in the NASCAR Sprint Cup points standings behind Matt Kenseth, has finished on the lead lap of all 19 Cup races this season, as well as last year's season finale at Homestead-Miami Speedway.
If he can finish on the lead lap at the Brickyard 400 and the Pennsylvania 400 at Pocono, Earnhardt will set a NASCAR modern era record of 22 consecutive lead-lap finishes.
With 19 of 36 races in the books, Earnhardt now has one victory, eight top-five and a series high 14 top-10 finishes. He's already exceeded last year's totals in victories, top fives and top 10s. In fact, Earnhardt's total of eight top fives this year is just one fewer than he amassed in total from 2009-2011.
And a good measure of his progress was that he was dissatisfied with finishing fourth at New Hampshire.
"We were about a tenth off all weekend," said Earnhardt. "I was kind of surprised too, because we tire-tested here and were super-quick and we were real happy with the car. We just didn't have enough. All weekend we worked on the car real hard and worked during the race real hard and we just couldn't run any better than we were running. Track position was real important to us. I don't know if we had a good enough race car to get back there and race anybody. We're just happy to run in the top five. We're strong. We've just got to get another notch, you know, and start winning some more races."
Summer historically has been Earnhardt's weak period on the schedule, but not so far this year. That said, if he's to finally win that elusive first Sprint Cup championship, Earnhardt knows that he and his Hendrick Motorsports team must get better.
"We've got to run like this," said Earnhardt, who is 16 points behind Kenseth. "When we've got about a 10th-place car we've got to use good strategy and be smart on the race track and finish in the top five with it and run in the top five every week. You've got to win some races too, I think, to win the championship. It just depends, you know.
"We're running strong. I'm really happy with how many points we're gaining every week and what we're doing consistently. National Guard and Diet Mountain Dew want to be in victory lane and that's where I want to be, too. We just need a tick more speed. We've gotten faster. We've found speed and improved. You just need a little bit more to really be one of those dominant cars every week."
Tom Jensen is the Editor in Chief of SPEED.com, Senior NASCAR Editor at RACER and a contributing Editor for TruckSeries.com. You can follow him online at twitter.com/tomjensen100.