CUP: Consistency True Mark Of Junior's Year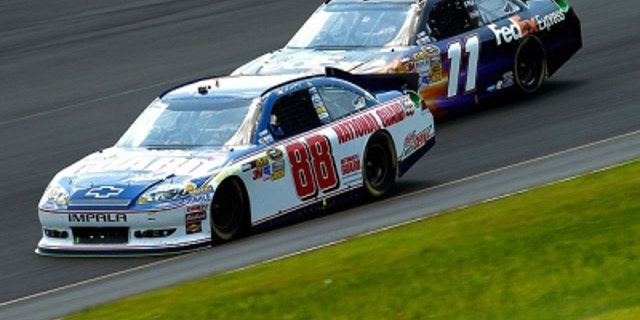 How long has it been since the word consistency has been used to describe Dale Earnhardt Jr.?
A lot longer than it's been since the No. 88 Chevrolet visited Victory Lane at Michigan International Speedway four years ago this weekend. Certainly, not since coming to Hendrick Motorsports five years ago or in that last dreadful season with Step-Mommy Dearest at Dale Earnhardt Inc. where he endured six engine failures in the 2007 season.
Yes, we've been talking about Earnhardt's progress since the early stages of his relationship with crew chief Steve Letarte last year. Team owner Rick Hendrick was right - Letarte's selfless approach with the team and the driver suits Earnhardt perfectly.
Never was the honesty in their relationship as transparent as Sunday. Earnhardt Jr. had led 48 of 125 laps when the fifth caution came out. It was the first time Earnhardt had led a lap at Pocono Raceway since 2003. He had a dominant car and a shot to win. After he lined up third from the pits, Letarte informed his driver the car would be four laps short of fuel at the finish.
Junior begged his crew chief, "Don't you run me out of gas. ... I don't care what you have to do. ... I'm not going to forgive you for running me out of gas."
This is the moment when a crew chief earns his pay. Letarte was forced to make a decision. His driver's wishes were clear. A caution ignited by Kasey Kahne on Lap 138 made Letarte's choice easier. He called Junior to the pits for fuel only. Junior restarted 16th and picked up seven spots in two laps.
The driver didn't hide his frustration when the next caution came for debris – a certain advantage for other competitors that were gambling on fuel to go the distance. Earnhardt was eighth before that caution and it's where he would finish. Following the race, Earnhardt Jr. acknowledged, "We're not taking those kinds of chances – just yet."
With the season just past the halfway point to the Chase for the Sprint Cup, Earnhardt says it's up to Letarte to make the call. But he supported Letarte's decision on Sunday. He knows how devastating a bad run can be on a team when it's on a roll.
"I don't like running out of gas," Earnhardt said. "I ran out of gas here one year and that pisses me off so bad that it's just hard to recover from it, mentally, you know; in the next couple of weeks. There's just no excuse in running out of gas. You put fuel in it and you go run.
"But those guys that were up there; Mark (Martin) is racing for wins and Joey (Logano), I don't know exactly where those guys are in points but they've got to get some wins to try to get the wild card. I'm not going to give up 30 points or 20 points in a race; not just yet, you know?"
Earnhardt went winless – again. But on a day when former points leader Greg Biffle had engine issues and other drivers in the Chase Zone struggled, Earnhardt's eighth-place finish vaulted the No. 88 team back into second place in the standings. He trails new leader Matt Kenseth by 10 points but leads the Sprint Cup Series with 11 top-10 finishes in 14 starts.
Plus, Junior enjoys his job again. He's having a good time with his team and increased confidence following his fourth-place finish at Dover (his first top-five at that track in five years) has him believing he can contend anywhere. Emotionally, Earnhardt Jr. couldn't be in a better place entering Michigan – the site of his last win.
"I like the call we made," Earnhardt said. "We raced back up to eighth and didn't win the race; might not have won the race. We might have run third; I don't know. But it was the right call for us at this time. We had a really, really good car. That was fun. That was the funnest car I've had all year and the best car I've had at Pocono in a long, long time. So I'm just really trying not to be too upset about it because we did a lot of good things (Sunday) and we've got a lot to look forward to."
Although NASCAR has attempted to place more emphasis on winning and not the dreaded "C" word, it could be Junior's consistency this season that changes his most coveted award from Most Popular Driver to champion.
1. Tuesday is D-Day for Kurt Busch
"D" as in either determined or done. For Busch, 2012 should have been the "Drive for Redemption" tour. We've seen flashes of what his former Roush Fenway Racing teammate Jeff Burton refers to as "Good Kurt" – the driver that supports his team and tackles the track with tremendous passion. Channeling his inner Ricky Bobby at Talladega was a side of Busch that has endeared him to fans and crew alike. But in the last 10 months, the former NASCAR champion's emotional downward spiral has been painful to watch, particularly for those that have witnessed "Good Kurt" at his best. On Tuesday, the day before Busch's suspension is lifted, his current team owner James Finch will have a self-described "come to Jesus" discussion with his driver. Finch, who has not spoken with Busch since he harangued a reporter at Dover and was subsequently suspended by NASCAR, will determine the driver's immediate fate on the Sprint Cup side of the garage. What happens at Michigan and beyond this weekend is completely up to Busch. Certainly, if "The Jerry Springer Show" sponsorship does not come to fruition, a call to Dr. Phil might be in order.
2. Dodge Ball
Dodge's plans for next season have yet to be revealed but the manufacturer's rep Howard Comstock was making the rounds on Sunday morning touching base with team owners and principals – perhaps potential partners or just hopeful candidates that did not make the cut? While plans could be on delay with the SRT Motorsports group focused on Le Mans this weekend when NASCAR is just an hour away from Chrysler's headquarters in Auburn Hills, the question remains what will Dodge's 2013 motorsports marketing budget look like. Will Chrysler continue to support its NASCAR effort or will the funds be funneled into Formula 1?
3. Truth be Told
Joey Logano's status for next year has been in question for months. Following Sunday's win, Logano frankly acknowledged that "right now my future is not set with anybody." This is a slightly different tone than what's come from management over the last few weeks. Buzz in the garage has Ryan Newman being courted by Joe Gibbs Racing. While J.D. Gibbs still appears in denial mode, Tom Logano is openly seeking options for his son. Considering that it's already June, kudos to the kid for getting his name out there in the mix. There's no better time than after a win when the stock is up.
4. Speaking of Silly Season
Roush Fenway Racing veteran Matt Kenseth insists on keeping his contract status private. "I've made it a habit to never talk about my contract in the media and I'm gonna try to keep it that way," Kenseth said on Friday. "I never said it was my contract year. Other people might have said that, but I never said that in the media." If Kenseth is available and if the 2003 Cup champion who has spent the last 13 seasons under the Roush Fenway Racing banner is looking for a fresh start – particularly after Carl Edwards received the sweetheart of all deals last year – our bet is he would end up at Stewart-Haas Racing. But that's only if this is a contract year for Kenseth, 40, and if he would ever consider leaving RFR.
5. Spring Chicken
While it seems difficult to grasp that "Matt the Brat" and now Matt the points leader is 40, Mark Martin, who mentored Kenseth 12 years ago at Roush, is still spanking the competition at 53. Martin scored his 34th top-10 finish at Pocono and set a career-best record of leading 48 laps at the 2.5-mile track. Martin has competed in just 11 of 14 events this year and is 23rd in the points standings – 10 markers behind Jeff Gordon, who is 22nd. His average qualifying effort of 7.3 is the best it's been since 1990. And the youngsters better keep an eye on Martin this weekend, where he'll be looking to add to his collection of five Michigan International Speedway trophies.
6. What cautions?
After complaints of not enough cautions on the racetrack, the last two weeks have provided plenty of twisted sheet metal for wreck enthusiasts. At Pocono, the fun and games occurred in the first 14 laps. Although the first incident occurred on the first lap between Denny Hamlin and Carl Edwards when the No. 11 Toyota drove his car too deep into the No. 99 Ford, the first caution flag wouldn't come out until a lap later. Hamlin and Edwards recovered from their early encounter, but Martin Truex Jr.'s bandaged buggy limped home to 20th after Landon Cassill triggered the first caution on Lap 2. Truex dropped to seventh in points – his worse placement since Las Vegas in March.
7. Not Dodging it
Team owner Roger Penske said on Sunday that he hopes to have his engine plans for 2013 wrapped up by month's end. Penske Racing, which is changing manufacturers from Dodge to Ford next year, already has an engine department but could lease engines from Roush Yates. Penske met with Doug Yates, co-owner of Roush Yates Performance, last month to tour the Mooresville, N.C., facility. There have also been rumors of Penske buying into the company, but that seems less likely.
8. Toyota's Triumph
Joe Gibbs Racing won its fourth race of the season for Toyota this year, but there were also four Camrys among the top six finishers on Sunday. While the Toyotas showed tremendous speed, Kyle Busch's engine failure can't be overlooked. However, it appears to be a small sacrifice when two-thirds of the manufacturer's core group has such a solid showing. And yes, the manufacturer, which won four of the last five Cup races at Michigan, will be a threat again this weekend. The decision to streamline Toyota's program to two organizations – JGR and Michael Waltrip Racing – has made the effort stronger. The program has room to expand from six to eight teams, but why mess with a good thing?
9. Smokin'
Is there a better racer at restarts right now than Tony Stewart? If you missed the No. 14 Chevrolet when the race went green on Lap 129 at Pocono, find a replay. Stewart restarted 17th and was scored ninth on the next lap. By the next caution on Lap 138, following Kasey Kahne's wreck, Smoke was running fourth. Although Stewart finished third, it was quite the recovery from the last two weeks when he finished 25th in both events.
10. Shout Out
... to Paul Menard and the No. 27 Richard Childress Racing team. Menard qualified third and finished ninth – his first top 10 since Bristol in March. He was also the top finishing RCR driver. Menard gained two positions in points for his effort. He's now 13th, 27 points out of the Chase. Kevin Harvick, who finished second last week at Dover, moved up to sixth in the standings despite finishing 14th at Pocono. With bossman Richard Childress fresh off of a bird hunting trip in Argentina, expect a major pep talk before his teams travel to Michigan this weekend.