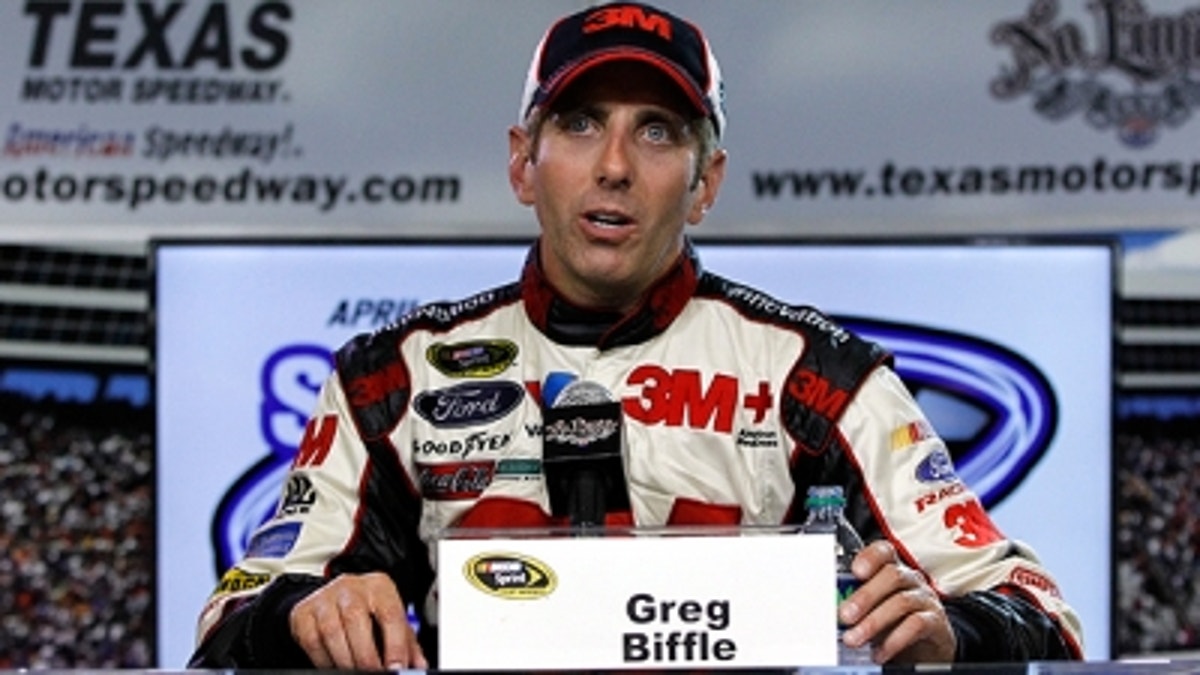 Second place in 2005. Third in 2008. Seventh in 2009 and sixth in 2010.
Greg Biffle has floated in range of winning the Sprint Cup championship through much of his 10-year career at NASCAR's top level.
This year, he could make it stick.
Biffle won Saturday night's race at Texas Motor Speedway and thus kept his position atop the Sprint Cup point standings for the fifth straight race. He leads Matt Kenseth and Dale Earnhardt Jr., who are tied for second, by a relatively comfortable 19 points entering Sunday's race at Kansas Speedway. And he has been in the top three since the Daytona opener.
Biffle, who had a disappointing season last year before crew changes put him in position for a big turnaround, could become the first driver to win the title in all three major national series. He won the Camping World Truck championship in 2000 and the Nationwide Series title in 2002.
"You know, when I moved from the Truck series to Nationwide, it was a huge step," Biffle said. "It was much, much harder. And when I moved from the Nationwide to the Cup Series, I had no idea that the competition was going to be what it was.
"I knew it was going to be hard, but, man, it's tough, and there's a lot of great drivers in this sport and a lot of good equipment. But I knew it was going to be hard. But this year is my year, so I'm going to keep after it all the way to Homestead."
Crew chief Matt Puccia, who picked up his first Cup series win at Texas, said the upcoming schedule fits well into the team's hopes to stay atop the sport.
"Looking ahead to the season, what we've built and what we have in front of us, we've got some good race tracks coming," he said. "We've got Kansas and Richmond and Talladega and Darlington, and we look ahead and there's not one race I can't say we can't go and run good and be in contention to win every week, so we're looking forward to getting going the next part of this little stint here."
Saturday night's victory ended a 49-race winless string for Biffle, whose 2011 season was a lesson in persistence and patience.
"At the end of last season, we sat down and established what our weaknesses were and what we needed to work on, and we went to work," Puccia said. "Robbie Reiser (general manager) has done a lot for us and this team, and we assembled a good team here, went to work on our cars, and it's showing. We started the season off and we're running really good, and the team is focused, and we're ready to go into the rest of the season."
Mike Hembree is NASCAR Editor for SPEED.com and has been covering motorsports for 30 years. He is a six-time winner of the National Motorsports Press Association Writer of the Year Award.