CUP: Burton – Logano Under Pressure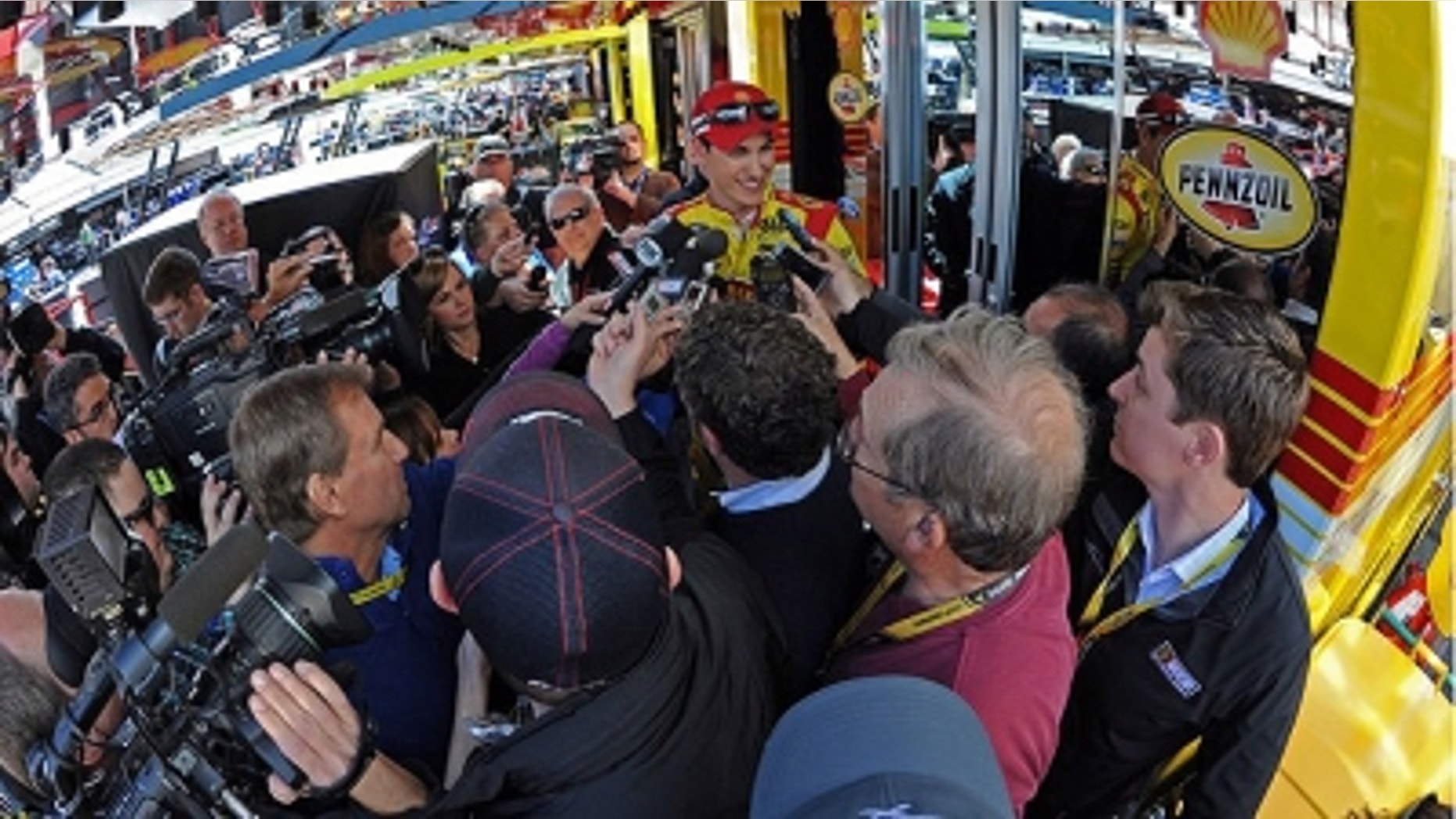 Will Jeff Gordon and Clint Bowyer reignite their feud? Will Tony Stewart do some "police work" on Joey Logano? Will the STP Gas Booster 500 turn into a slam-bang free-for-all with mayhem breaking out in every turn?
Answers will arrive Sunday afternoon at Martinsville Speedway, Sprint Cup's shortest track but often one with some of its best action.
Various drivers, in particular Stewart at the moment, feel they've been wronged, and Martinsville often is a good place to settle scores – or at least make the attempt. Some observers feel Stewart, if presented with the right opportunity, will not-so-politely push Logano into a spin Sunday, thus completing the circle that began when Logano blocked Stewart's progress near the end of the race at Auto Club Speedway two weeks ago.
Blocking is a tactic that often irritates Stewart, and the topic irritated him again in the days following the Auto Club incident when it was pointed out that blocking is sometimes a part of his repertoire. But blocking at restrictor-plate tracks and blocking elsewhere are different animals, Stewart said, and it's not likely he'll soon forget the Logano matter.
All of that puts Logano squarely in the spotlight Sunday, and Jeff Burton, long a smart observer of garage-area politics, said that's a little unfair.
"I think he is a good race car driver," Burton said. "I think he is a young person that is growing up in front of everybody. He's had a lot of pressure put on him. He's gone to a team (Penske Racing) where they didn't have as much success as his teammates did at Gibbs. That puts a lot of pressure on you. Trust me, I know that.
"He's growing up in front of all of us. Like I've said many times, I think the way I came up was easier because I was running for teams that weren't supposed to win. I was told finish 20th and try to win rookie of the year award, and we're all good. That's a lot easier than, 'This is a really good team with a championship crew chief, and let's go win this race.' That's a different deal.
"So I think a lot of it is he's grown up in front of us. We all make mistakes as we grow up. All in all, Joey is not a bad guy. He can be a little more receptive to listening rather than arguing. Joey is not a dirty driver. He's not. Some of it is piling on, and some of it he brings on himself. By any means, I have no problem driving into turn three at Daytona side by side or turn two with him here. I'd race with him anywhere, any time. I'm not uncomfortable racing with him at all."
Burton said Logano remains in a difficult situation.
"I don't that there are a lot of drivers that have issues racing with Joey Logano," Burton said. "There are a few. I think it would be an over-characterization saying that a lot of the older drivers have issues with Joey because I don't think that is fair to Joey.
"I do think that Joey has been in a position where people have been pushing him, have their foot on his back pushing him into being a tough guy. Stand up for yourself. They even say it on TV – he needs to stand up for himself. I think that has put Joey in an uncomfortable position for him. I think he just needs to not worry about all that and just race and be himself.
"At the same time, when he does get confronted with issues, I don't think he handles it very well. He doesn't just step back and say, 'You know what, OK, let me listen to what you're saying. I may disagree with you but let me listen.' He tends to resist, as if, I'm right, I'm right, I'm right. I know I had an issue with him a few years ago and I encouraged him to go look at the tape. I had already looked at it, so I knew what it showed. I didn't tell him that. The next week I asked him if he had looked at it and he said, 'No, I don't need to.' That kind of attitude is not welcomed. At the same time, I think Joey is a good person."
The next Logano chapter will be written Sunday.
Mike Hembree is NASCAR Editor for SPEED.com and has been covering motorsports for 31 years. He is a six-time winner of the National Motorsports Press Association Writer of the Year Award.