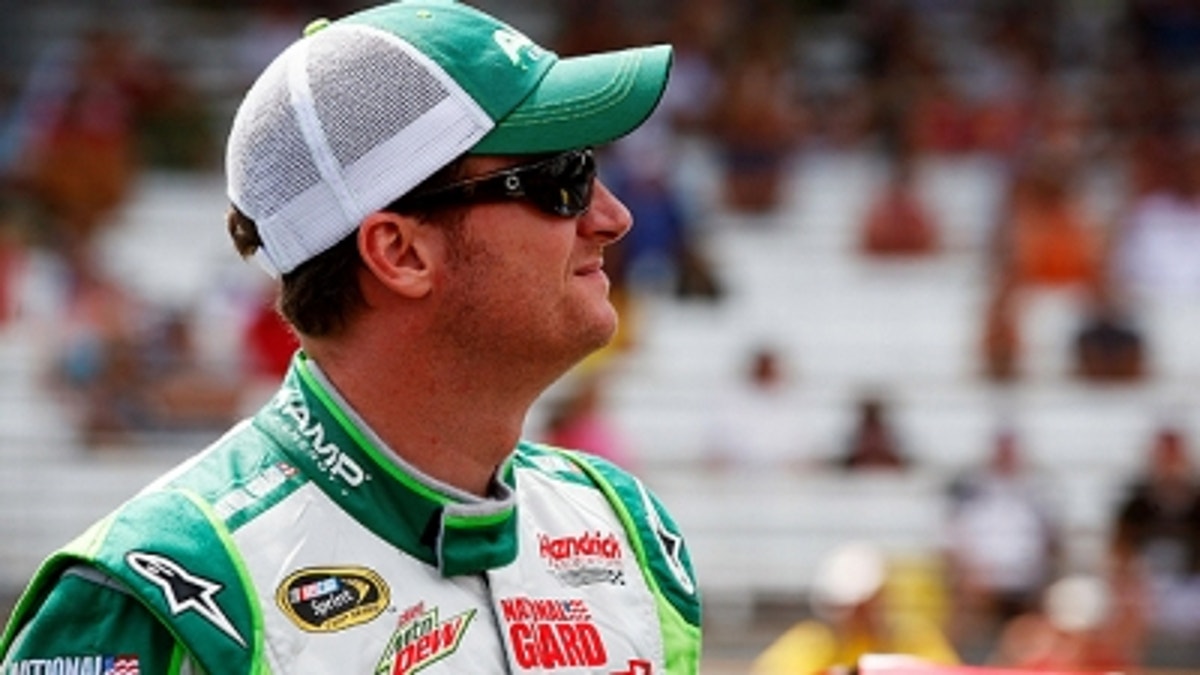 With a fourth-place finish in the Crown Royal Presents The Curtiss Shaver 400 At The Brickyard, Dale Earnhardt Jr. holds onto the top spot in the FOXSports.com/SPEED.com Power Rankings for this week.
And Earnhardt also moves to the top of the NASCAR Sprint Cup points standings for the first time since 2004.
The new list:
1. DALE EARNHARDT JR. — What are championships made of? Finishing fourth in a car that was barely top-10 in terms of speed, and at one of your weakest tracks. Great run for Earnhardt, who has been very consistent. Last week: 1st.
2. JIMMIE JOHNSON — Four Brickyard 400 victories moves Johnson into a tie with Jeff Gordon for the all-time lead. It's looking like a sixth title is very much a possibility for Johnson this year. Last week: 6th.
3. DENNY HAMLIN — The pole-winner, Hamlin was the dominant car early, before losing track position and finishing sixth. Speedy lately, but not sealing the deal. Last week: 4th.
4. MATT KENSETH — It was a horrible day for the former points leader, who got wrecked by Joey Logano and finished 35th. Last week: 2nd.
5. GREG BIFFLE — For the second time in three years, Biffle finished third in the Brickyard 400. Last week: 5th.
6. BRAD KESELOWSKI — At one point, it looked as though Keselowski might sweep the weekend, but he faded late and finished ninth. Last week: 3rd.
7. TONY STEWART — Slow all weekend, the three-time champ did well to finish 10th, not what he wanted back home in Indiana. Last week: 7th.
8. MARTIN TRUEX JR. — Another top-10 finish for Truex, who is having the best year of his career. Last week: 10th.
9. KYLE BUSCH — Better than anyone not named Johnson, Busch finished second and gave himself some breathing room in the wild-card race. Last week: 12th.
10. KEVIN HARVICK — Like his buddy Stewart, Harvick wasn't very good all weekend long, struggling to finish 13th. Last week: 8th.
11. CLINT BOWYER — After a crash, Bowyer recovered to finish 15th, not bad under the circumstances. Last week: 9th.
12. KASEY KAHNE — The worst finisher among the four Hendrick Chevrolets, Kahne was erratic and came home 12th. Still leads the wild-card standings. Last week: 11th.
13. RYAN NEWMAN — Seventh-place was better than the boss did, but Newman might not be back next year at SHR. Last week: 13th.
14. JEFF GORDON — Original Four-Time now has finished fifth or sixth in five of the last six races. And he won't make the Chase. Last week: 16th.
15. PAUL MENARD — Alas, no repeat for 2011 winner Menard, who finished 14th. Last week: 17th.
16. CARL EDWARDS — Engine problems and a 29th-place finish mean you can stick a fork in Edwards' title hopes. They're done. Last week: 15th.
17. JOEY LOGANO — Thirty-third for Logano, after causing a wreck that took out Kenseth. Last week: 14th.
18. JAMIE MCMURRAY — For McMurray, his 2010 Brickyard victory has to feel like a long time ago Last week: 19th.
19. MARCOS AMBROSE — A respectable 20th-place finish for Ambrose. Last week: 20th.
20. JUAN PABLO MONTOYA — The Colombia native finished 21st, one position ahead of his teammate. Last week: Unranked.
Tom Jensen is the Editor in Chief of SPEED.com, Senior NASCAR Editor at RACER and a contributing Editor for TruckSeries.com. You can follow him online at twitter.com/tomjensen100.