CUP: Attrition Sapped Daytona 500 Field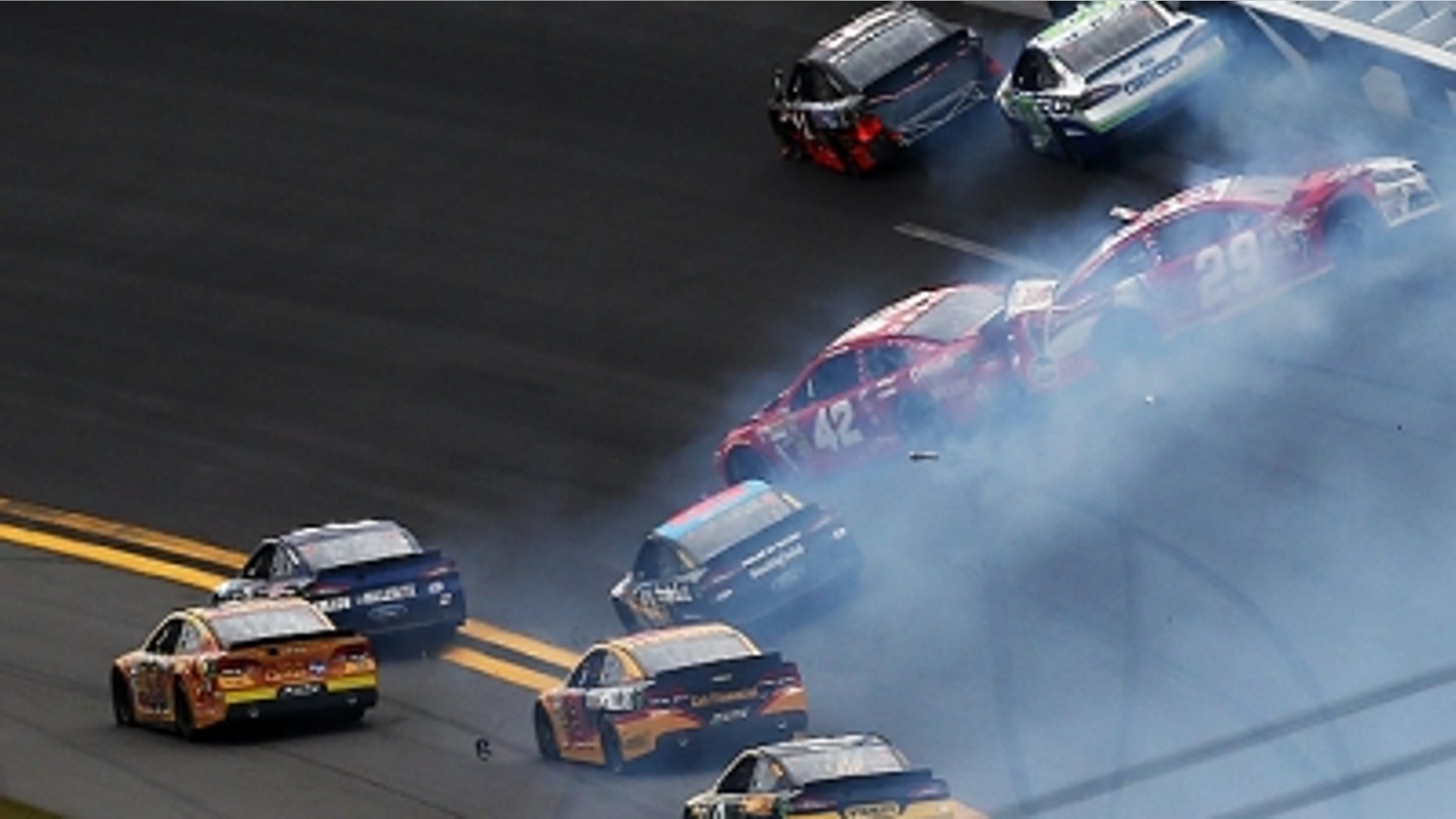 It's the day after the Daytona 500, and the sport is waking up this morning to find the freshly minted Sprint Cup point standings looking a bit odd.
Sure, there's 500 winner Jimmie Johnson atop the standings, a position he finds more than familiar. And Dale Earnhardt Jr. is second.
But wander through the top 10, and Michael McDowell pops up in eighth and J.J. Yeley in ninth.
It's only one race into a 36-event season, of course, but still…
With all due respect to the fine Daytona 500 finishes (McDowell was ninth and Yeley 10th) scored by mid-range teams, the unusual nature of the standings has much to do with painful attrition that nailed a big swath of top drivers in the first and biggest race of the season.
Some of those who had tough Sundays:
• Kevin Harvick – out of the race after an accident.
• Joe Gibbs Racing teammates Matt Kenseth and Kyle Busch – out with engine trouble within a few laps of each other.
• Tony Stewart, Kasey Kahne, Jamie McMurray, Carl Edwards, Kurt Busch, Trevor Bayne – running at the finish but driving cars wounded in accidents.
Of that group, Harvick, Stewart, Kenseth and Kyle Busch clearly had cars capable of winning the race. Kenseth led 86 laps, easily the most of the day.
Kenseth described it as a "disappointing end to a great day" when he parked after 149 of the 200 laps. "We were obviously one of the cars to beat today, and I think we're going to be a force all year. We have a lot to look forward to."
Kyle Busch, who was involved in an early-race accident but stayed strong on the track, went to the garage with a sour engine after 151 laps.
"All three of us (Joe Gibbs Racing drivers) have been fast since we've been down here," Busch said. "It was the best we've qualified here in a while, so kudos to all of the guys building these cars, but we've got to have engines that last."
The departure of so many quality cars from the front of the field (or from the field entirely) left a handful of drivers – Johnson, Dale Earnhardt Jr., Mark Martin, Brad Keselowski, Greg Biffle and Danica Patrick among them – to grapple in the top 10 as the race rolled into its final 20 laps.
When it came time to run, Johnson was ready.
"I ran second to fifth all day, really," he said. "But you had such a small opportunity of time to get something done. You had a restart, and that would shuffle around for three laps, then we're all in line.
"At the end when it was time to go, I knew we had a straight race car with no scratches on it. We worked real hard. We had a game plan down here every time. Even though we were in single-car drafts, we had an agenda and things we worked on and made the car a little bit better each day, kept perfecting it.
"I had one heck of a race car today."
And many of his competitors – decidedly – did not, thanks to the circumstances of a bizarre day.
Mike Hembree is NASCAR Editor for SPEED.com and has been covering motorsports for 31 years. He is a six-time winner of the National Motorsports Press Association Writer of the Year Award.