CUP: Another Tough Day For JGR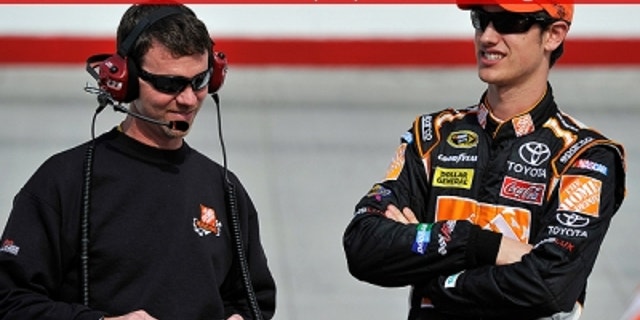 When Denny Hamlin opened the year with a fourth-place finish in the Daytona 500 and a victory at Phoenix International Raceway, it looked like the start to a big year for Joe Gibbs Racing.
But the last two weeks, not so much.
In an eerie case of déjà vu all over again, in Sunday's Food City 500 at Bristol Motor Speedway, Joey Logano finished 16th and Hamlin 20th, the exact same finishing positions the two had posted a week earlier in Las Vegas.
Worse yet, five-time Bristol winner Kyle Busch got caught in a wreck not of his own making, finishing a hugely disappointing 32nd.
Busch's Toyota was collateral damage when Kasey Kahne and Regan Smith made contact on Lap 24, just as Busch was moving up quickly from his 13th starting spot.
Asked what happened, Busch's crew chief Dave Rogers said simply, "Short-track racing. I think the 5 (Kahne) got messing with the 78 (Smith), maybe. Or the 78 got messing with the 5, however you want to look at it. The next thing you know, the 5 was blocking the race track and everyone was trying to check up. You just can't check up quick enough and we got caught up in it. Nothing that Kyle could have done any different. (Kevin) Harvick got in the back of us and I don't think there was anything Harvick could have done any different. It was just racing."
Hamlin's woes were due to a bad pit stop for dropped lug nuts and a general lack of handling, a problem exacerbated by the fact that there were just five cautions, giving crew chief Darian Grubb little time to wrench on the car.
Logano said the lack of cautions hurt him, too.
"This is not what we were expecting coming out of Bristol," said Logano. "We knew we had a better Home Depot Toyota than what our results show today. We just got a little behind on the handling and never had a chance to come in and make the adjustments that we needed to. It's not too often you see such long green-flag runs here at Bristol and that was when we were struggling the most and we needed to be able to come in and make some adjustments. The car was really tight and I couldn't get back to the gas and that is a killer here. The cautions just never came."
Still, Logano was disappointed with his finish.
"This car was better than 16th today," he said. "I really feel we should have finished 10th or so because we were passing some of the guys that were running 10th, 11th and 12th there at the end. That would have been a big help in the point standings.
"But I guess you need to look on the bright side of things. We came out of Bristol with a car in one-piece and a solid finish and we are still top-10 in the points. We just need to work better at having a car that handles early in the race. It's still early and Jason (Ratcliff, crew chief) and I are still learning together. We will keep getting better and I still think good things are coming."
With four of 26 races down in the NASCAR Sprint Cup season, Hamlin is fifth in points, Logano ninth and Busch 15th.
Tom Jensen is the Editor in Chief of SPEED.com, Senior NASCAR Editor at RACER and a contributing Editor for TruckSeries.com. You can follow him online at twitter.com/tomjensen100.