CUP: Ambrose Wins Sonoma Pole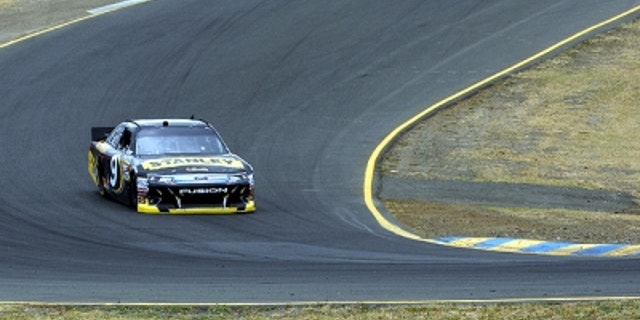 NEWYou can now listen to Fox News articles!
Marcos Ambrose's Friday qualifying run was much, much slower than his time-trial run of a week ago, but he still won the pole.
Ambrose turned in a fast lap of 95.262 miles per hour Friday to take the first starting spot for Sunday's Toyota/Save Mart 350 at Sonoma.
Last week, Ambrose scored the first pole of his Sprint Cup career at a considerably faster speed – 203.241. That was at Michigan International Speedway.
Ambrose registered his Friday speed near the end of the qualifying session. The driver with the best shot at beating him, Jeff Gordon, ran last in the session, and Gordon, who was strong in practice, came close. He ran 95.067 and will start second.
"I was hiding under the truck," Ambrose said of Gordon's run. "Jeff is such a talented road racer. He's one of the world's best road racers. I knew he had a great car from the lap he put down in practice. I was very nervous to watch him go."
Ambrose threw away a probable win here in 2010 when he switched off his engine late in the race and couldn't respond when it came time to go.
"I beat myself up here in 2010," he said. "It was nothing to do with the car or the track. It was me. I know what not to do on the last restart."
Todd Parrott, Ambrose's crew chief, described himself as being "in awe of that lap. It was incredible. I've seen a lot of qualifying laps here, but that was probably one of the smoothest, easy-looking laps."
Completing the top five were Jimmie Johnson, Greg Biffle and Martin Truex Jr.
Gordon was pleased with his lap but said he had little chance to outrun Ambrose.
Johnson rolled in third but said his lap was tricky.
"It was on edge the whole lap," Johnson said of his lap. "I don't want to drive 110 laps (Sunday) the way it drove today."
In the second five were Clint Bowyer, Kyle Busch, Kurt Busch, Matt Kenseth and Ryan Newman.
Mike Hembree is NASCAR Editor for SPEED.com and has been covering motorsports for 30 years. He is a six-time winner of the National Motorsports Press Association Writer of the Year Award.