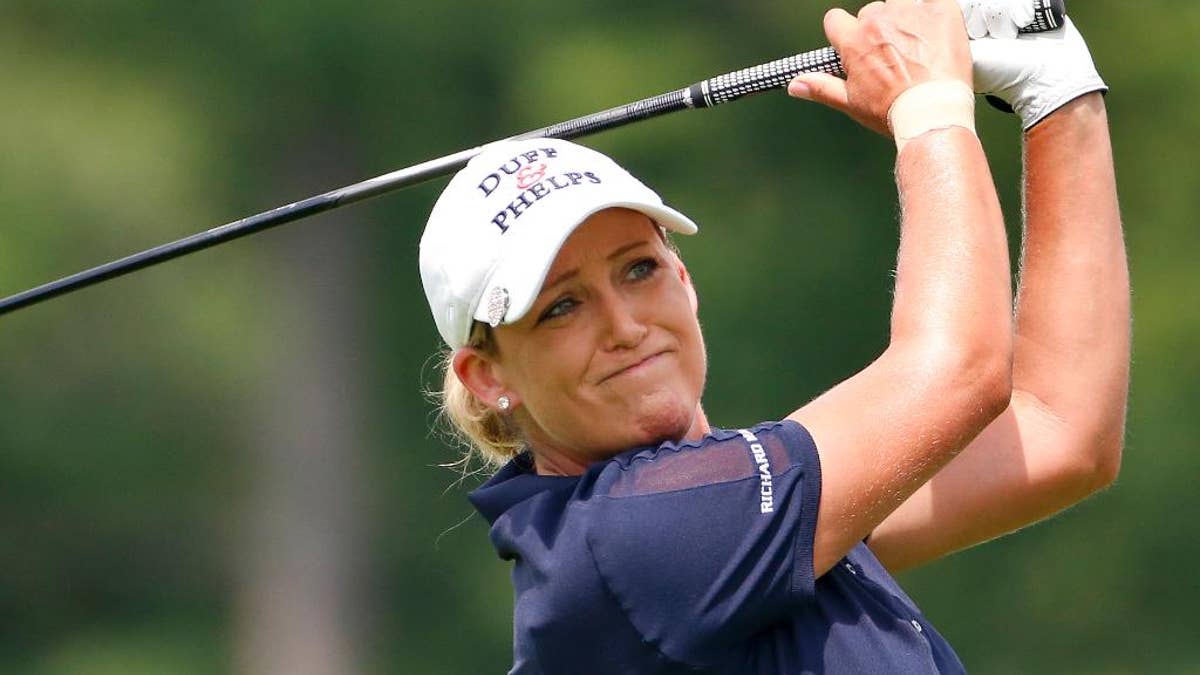 NAPLES, Fla. – A friend of Cristie Kerr just happened to get a new job, and she's hoping to get a chance to call and congratulate him.
Thing is, it's a little tough to get the next President of the United States on the phone.
Kerr is a supporter of President-elect Donald Trump, and even considers her occasional golfing buddy a friend. She made an appearance on his reality show "The Apprentice," had a relationship of sorts with the Trump Golf brand and has held honorary membership at his courses for years.
And now, she's thrilled that he's about to become First Golfer, too.
"I haven't talked to him. I haven't had a chance to congratulate him," Kerr said as she prepared for Thursday's start of the LPGA season-ending CME Group Tour Championship, which she won last year. "I just still can't believe he's President-elect of the United States. I mean, every time I say it, it's like, 'Wow. Really?' It's just so shocking, all these protests around the country. It's a fair and square election. Everyone got to vote."
Trump has a longstanding relationship with pro golf, some of it good, some not so good.
He's hosted men's and women's events in the past, though his course in Doral, Florida, near Miami is off this season's PGA Tour schedule for the first time in more than 50 years — mainly because no sponsor could be found to support a tournament there. During a break in his campaign last spring, Trump said he played a quick nine holes with LPGA player Lexi Thompson.
Trump has said his being president would help golf.
"I love golf. I love playing it. It's a very important game," Trump said at Doral earlier this year. "It's a great game. You can learn so much. You make so many great friends by playing it. But I will say this: It won't be good for my game, but it'll be great for golf."
His Trump National course in New Jersey is scheduled to host next year's U.S. Women's Open, though three Democratic U.S. senators asked last month to have it moved elsewhere. The United States Golf Association has not moved the event, but those who run the game have expressed concern over Trump's polarizing comments.
The USGA, PGA Tour, LPGA and PGA of America released a joint statement in 2015 to distance themselves from Trump's explosive remarks about Mexican immigrants when he announced his campaign for president. Those comments complicated matters when it came time to try and find a new sponsor for Doral.
Trump repelled large swaths of the populace, including women and minorities, with his deeply divisive rhetoric during the campaign, but Kerr believes his corporate savvy will benefit the country.
"The person that I've known over the years, he always does what he says he's going to do and he surrounds himself with really smart people," Kerr said. "I'm really happy for him. I hope people will grow to understand that he is a man of his word and he can get things done. Hopefully he'll be the CEO of this country like he's been the CEO of his businesses."
Kerr's relationship with Trump goes back more than a decade. She defended him last year and said that some of her LPGA colleagues are big fans of his as well.
"I don't think people understand how moderate he is," Kerr said. "He's fiscally conservative. He wants to get the country back on track. But he's a little bit socially liberal from some aspects. Hopefully people can get to know him."