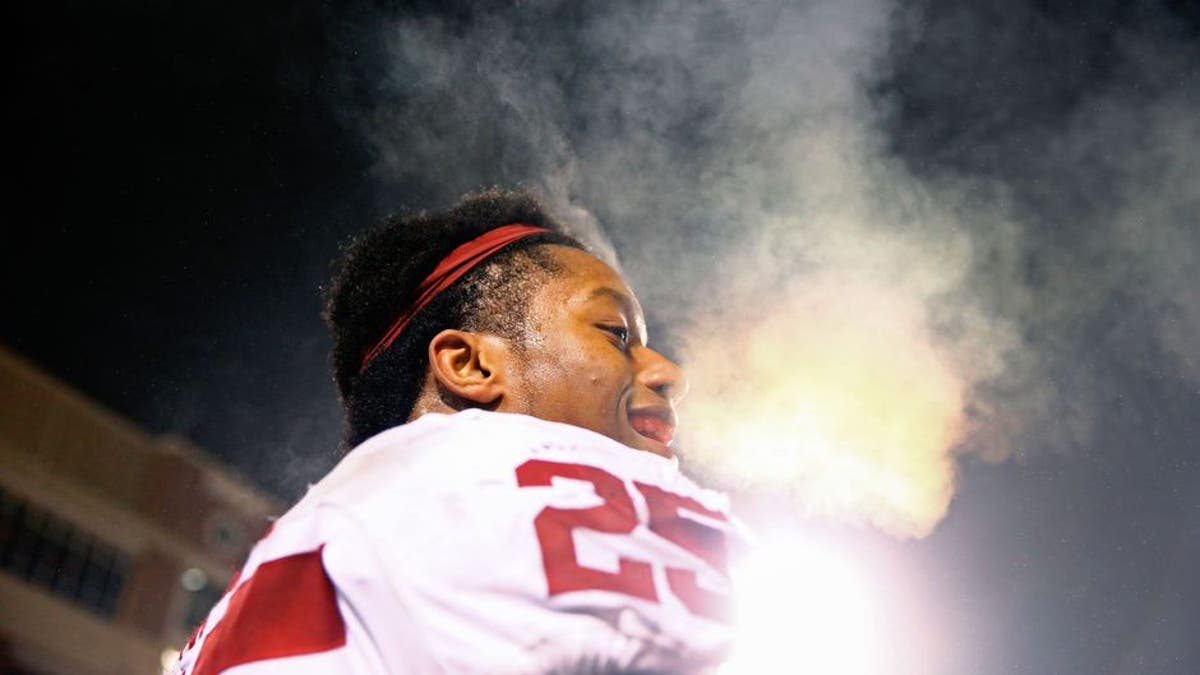 America might bethe land of the second chance, butCincinnati is the home of the third, fourthand fifth.
Continuing its questionable, controversial and appallinghistory as a haven of disrepute, the Bengals drafted Oklahoma running back Joe Mixon in the second round of Friday's NFL Draft. Mixon was the most notorious character in this year's field -- he punched a woman beforehis freshman season with the Sooners, was suspended for the year and was considered such a risk that only four of the NFL's 32 teams said they'd think about taking him this weekend.
Other teams have had more players arrested this century (the Vikings ownthatdubious honor), but the Bengals have had the most high-profile players involved in the most serious, high-profile incidents, leading to arrests, convictions, fines, suspensions and whatever other forms of punishment the courtsand the NFL can come up with. Every team is going to have players who get in trouble with the law. There are over 1,500 players in the league -- it's just playing the percentages. But unlike other teams that take gambles on questionable characters or acquire someone only to later find out his personal failings, Cincinnati and coach Marvin Lewis actively seek them out, as they did with Mixon.
Aaron Doster/Aaron Doster-USA TODAY Sports
The most famous infamous, of course, is Pacman Jones, who was signed in 2010 after he'd been out of the league for a season because nobody wanted him -- except for the Winnipeg Blue Bombersof the CFL. His stunning laundry list of run-ins with the lawincluded, but weren'tlimited to, arrests for assault, felony vandalism, marijuana, disorderly conduct, public intoxication, misdemeanor assault and throwing a punch at a police officer. There were accusations of spitting at women, melees at onestrip club, gunshots at another, a season-long suspension in 2007, a second chance with the Cowboys in 2008 and a four-game suspension after analcohol-related scuffle withthe glorified babysitter Jerry Jones had hired to watch over Jones. He's now been in Cincinnati for seven years and thought his redemption narrative has been a popular story in the recent, quiet years, all that ended whenhe was arrested again in January. A bar fight, sparring with police officers, spitting -- you know, the whole 99 yards.
Marvin Lewis alsogave chance after chance tothe late Chris Henry, a known character issueentering the league from West Virginia (where he was a teammate of the aforementioned Mr. Jones), was suspended eight games of the 2007 season after four arrests in 14 months that led to two benchings by the Bengals (which takes some doing). After the countless opportunities given to him, Henry was arrested for a fifth time and immediately cut by the Bengals. He eventually returned to Cincinnati before atragic pickup truck accident led to his death.
At one point during peak Pacman, nine Bengals players were arrested in nine months. We could spend an hour going through each and every Cincinnati misdeed.
It's not just the off-field problems. Cincinnati also happily employs Vontaze Burfict, who single-handedly lost the Bengals a playoff game by essentially trying to decapitate Pittsburgh's Antonio Brown late in a 2016 wild-card game and then getting into an altercation with the officials that helped put the Steelers in position for the game-winning field goal. (Jones was also flagged in the on-field scuffle but it was more of a reputation penalty than anything.) That incident led to a three-game suspension to start 2016, whichdidn't slow Burfict, no sir. Largely considered the dirtiest player in the NFL based on his past history of twisting ankles in piles, late hits, dirty hits and accusations of trying to take out quarterbacks, includingBen Roethlisberger, Burfict continued his reckless style last year, gettingfined $75,000 after a game in which he stepped on LeGarrette Blount's foot and placed a low hit onMartellus Bennett.
As for Mixon; he was suspended for the entire 2014 season at Oklahoma at he punched a female studentin a Norman restaurant. One day after his 18th birthday, the star recruit was involved in an altercation at a deli near the university. Details of what provoked the incident vary but a surveillance tape released in December show the woman, Amelia Molitor, punching Mixon in the face and slapping him. Mixon retaliated with a punch that that broke four bones in Molitor's face.
The freshman was suspended from the team for a year and later entered a plea deal that avoided a trial on the misdemeanor charge of acts resulting in gross injury. The plea allowed him to maintain his innocence. Mixon was handeda deferred one-year sentence, 100 hours of community service and counseling. He returned in 2015, helped OU win back-to-back Big 12 titles, finished second nationally in all-purpose yards in 2016 and entered the draft as a redshirt-sophomore.
Chuck Cook-USA TODAY Sports
There are, and have been, countless debates about Mixon's past and whether he should have ever been allowed to rejoin the Oklahoma football team orhow the NFL should deal with players who commit such acts before or after entering the league. Whatever the answers are -- and it's a situation filled with shades of gray -= Mixon was eligible for the draft and though only thosefour teams said they'd consider drafting him, one has to wonder how much higher that number would have beenif Mixon had still been available in the fifth, sixth or seventh round. In the NFL, if you can play, you can stay.
It's not necessarily wrong for any team to draft Mixon. It might not be popular though it's at least defensible. But for the Bengals to do it, playing into their stereotype as a lawless organization that takes in the worst the NFL has to offer, is an ugly reminder that winning (or at least the hope of winning) trumps all. Football-wise, Mixon was a steal. Pacman was too. They were there for a reason.
Worst of all, the Bengals'repeated acquisitions and employment ofmen of questionable moral characteris also an affront to fans who are forced to choose between rooting for their team or listening to their conscience. When the Bengals take a guy like Mixon, they're basically tauntingthe Cincy Jungle, betting it's full of sheep who won't turn their backs on their lifelong love no matter how morally deficient it becomes. They know the fans will stick around and act accordingly. It's insulting to the city, to the fans and to a franchise that has the longest playoff victory drought in the league but somehow has made that only the second-most embarrassing thing about it.