Crew chief Rogers has Hamlin pointed in right direction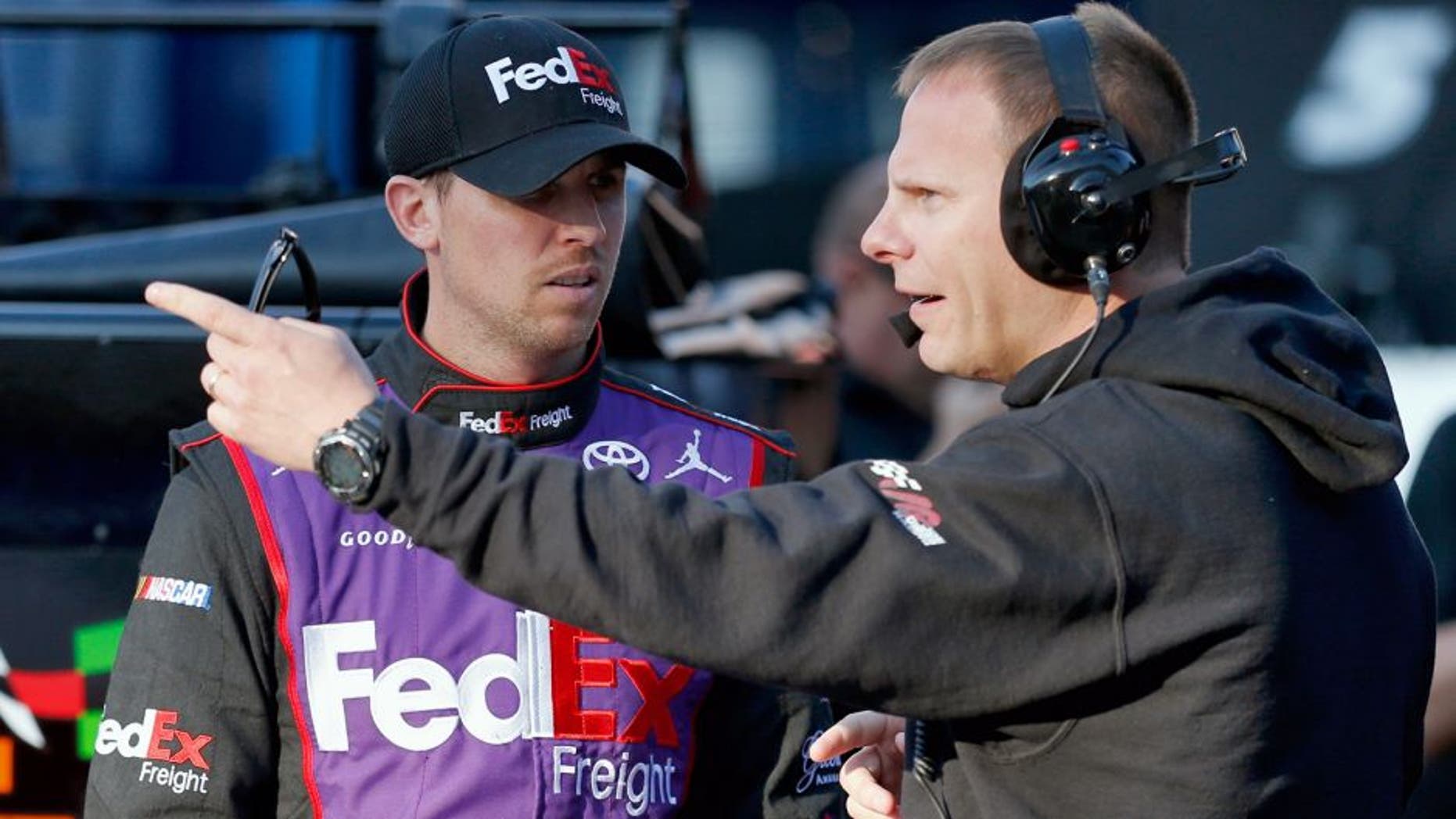 When Denny Hamlin opened the Chase for the Sprint Cup with an electrifying, come-from-behind win at Chicagoland Speedway last weekend, the driver and his team became the first to punch their ticket to the next round of NASCAR's playoff.
Hamlin is now in the enviable position of having virtually no pressure over the next two races when 15 other drivers will fight it out for the remaining 11 spots in the upcoming Chase Contender Round.
Hamlin and crew chief Dave Rogers are unwilling to merely coast through Sunday's Sylvania 300 at New Hampshire and next weekend's Challenger Round finale at Dover, however.
Although a win in either of the next races will have no tangible bearing on Hamlin's title prospects, neither the driver nor the crew chief wants to stumble into the next round on the heels of a bad performance -- or two bad performances.
Hamlin was seventh in Saturday's final practice, and his Toyota will line up seventh on the grid for Sunday's race, so things are already shaping up nicely for the No. 11 bunch to build on its Chicagoland triumph.
"We definitely want to go for a win as well as we would any week, but this one in particular, if there's a chance for us to roll the dice a little bit more maybe with fuel strategy, we'll do that, or with tires, we'll try that," said Hamlin, a former winner at NHMS. "Won't get too far off track, I wouldn't think, because you want to keep that momentum that we've built up over the last few months."
Rogers, likewise, is unwilling to rest easy and wants the driver and team to keep their foot planted firmly on the proverbial gas pedal over the next two races.
"The strategy doesn't change," Rogers told FOXSports.com after Saturday's final practice in New Hampshire. "We want to carry as much momentum to the Chase as we can. The guys at the shop are doing a good job building us really fast race cars so we want to come here and lead laps and contend for the win and keep everything on a positive note. That's what we're trying to do strategy-wise."
Hamlin, who started out the Chase seeded 11th among the 16 title contenders, won just once during the regular season and wasn't widely considered one of the main championship contenders entering NASCAR's 10-race playoff.
Has the perception of Hamlin changed with his Chicagoland win in which he recovered from an early spin and a lap down?
"I don't think it matters," Rogers said. "The only thing that matters is our performance and what we believe we can do, and what we get done at the end of the weekend, so I think we're a viable contender."
Making Hamlin's Chicagoland victory all the more impressive was that it came less than two weeks after the driver suffered a torn ACL in his right knee during a game of pickup basketball.
What was Rogers' first thought upon learning of Hamlin's injury, which at least theoretically couldn't have come at a worse time?
"It's just adversity," Rogers said. "You just start immediately thinking, 'What can we do to make the best out of this situation?'
"Obviously we had to adjust the car a little bit and try to make him more comfortable, but it's part of life, it happens, so you've got to be prepared to handle it. Denny's a really tough kid -- he's proven that all through his career -- so I wasn't too worried about it."
Turns out there was no reason to worry.