Coy Carl: Edwards drops hint about focusing on Fords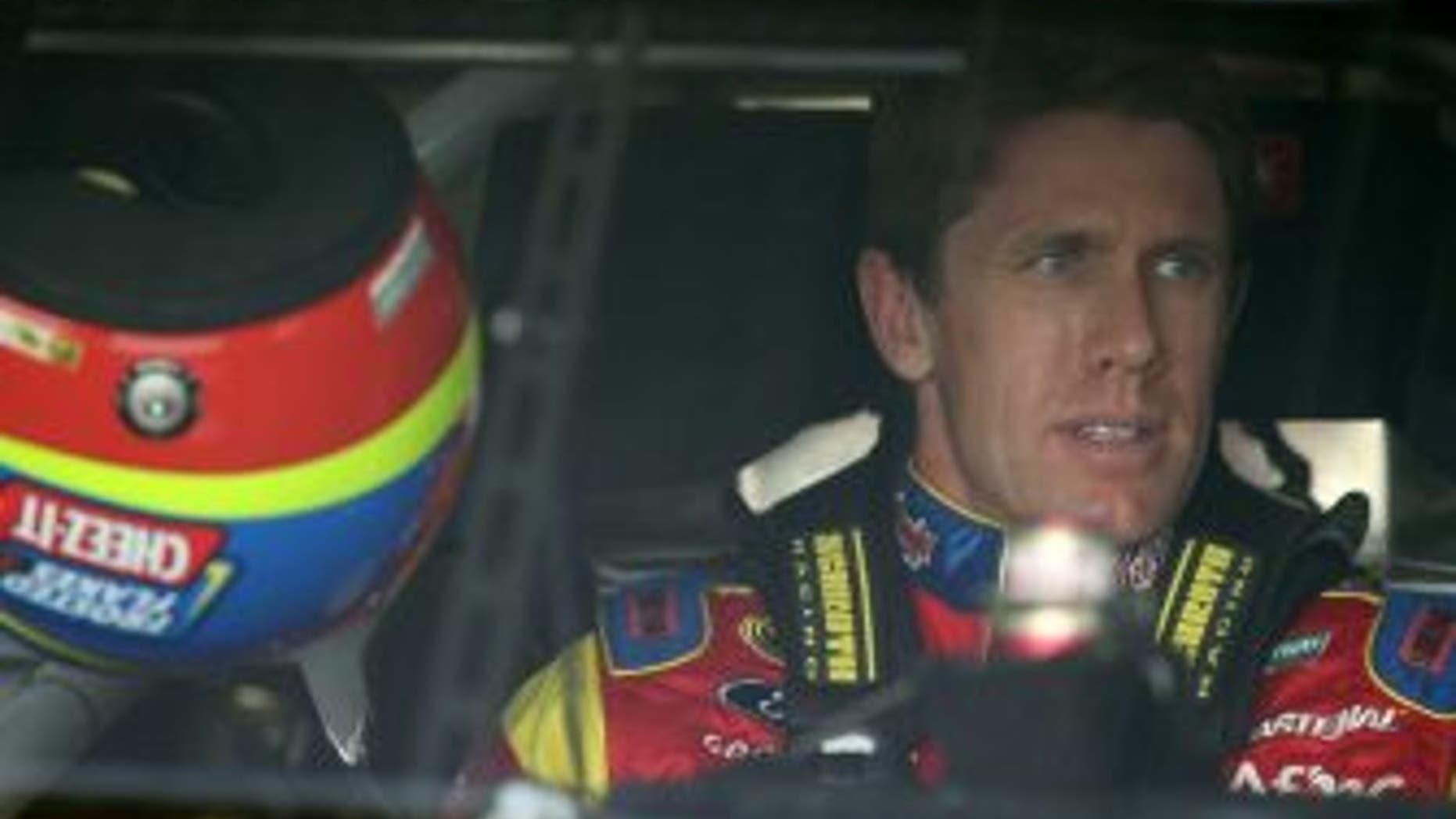 CARL STILL COY -- Friday at Pocono Raceway, lame-duck Roush Fenway Racing driver Carl Edwards didn't shed any definitive new light about whether he'd be back with the team for an 11th season in 2015 or, as is rumored, he'll move to Team Penske or Joe Gibbs Racing. But he sure seemed to drop a strong hint.
"I am really proud to represent Ford," Edwards said during his Pocono media availability. "I don't think anybody makes better cars than Ford does. I think they really care about their products and they definitely care about racing. It is part of their DNA. That is what we talk about. The company is based on auto racing. As far as their contribution to NASCAR, it is immense and right now yielding great results from the Penske side. I think as a group we have to step up our performance at Roush Fenway to be representative of Ford's contribution. I am really proud to drive for Ford and I think they do a great job."
The veteran added that his current outfit is working hard at finding speed.
"I guess we understand where we are at," said Edwards, who enters Sunday's Pocono 400 third in points. "We know we have to be faster and there are big changes trying to address that. Robbie (Reiser, team general manager), Bob Osborne (crew chief), Jack (Roush, team co-owner), everyone is working as hard as we can and we just have to hope that we work on the right things and are able to implement the findings and be better. We have everything there, we just need this much more speed and we would be really good."
Edwards is the only one of the three Roush Fenway drivers having what can be classified as an excellent season so far. In addition to being third in points, he owns the team's only race victory of 2014, while teammates Greg Biffle and Ricky Stenhouse Jr. are 16th and 26th, respectively, in points.
"Our cars, we have basically had the same struggle all year and are working on addressing that and fortunately have time to fix it before the Chase, hopefully," said Edwards, who qualified 10th for the Pocono 400. "There hasn't been a lot of shift in the field but at the end of the day, now is the time when you have to think about if we are going the right direction or wrong direction, performance wise. That is what everyone has on their minds. How do you be the best you can so that you peak at Homestead? That is what you have to do."
FINE TUNING IT -- Carl Edwards isn't the only driver looking for speed in his cars halfway through the NASCAR Sprint Cup Series regular season. In his second season with Joe Gibbs Racing, Matt Kenseth is in the odd position of the leading the Sprint Cup points standing heading into Sunday's Pocono 400 while at the same time being the only driver among the top nine in points who's winless. Asked what his JGR Toyotas are missing, Kenseth said he wasn't sure.
"Well, if we knew exactly that, it would be a lot easier to fix," said the 2003 series champion, who won a career-high seven races last year. "Just working on getting the cars better. There's a lot that goes into that. It's not quite that simple. There's been times you get pretty good car balance, but you haven't had the speed. You always try to look over everything and look over how you get your vehicles setup better, how you can get your aero setup better, how you can get your engines better. You just keep trying to work on everything as hard as you can and just keep trying to improve."
Kenseth said the team is taking a calm, methodical approach to searching for speed.
"I think one thing that JGR does a really good job at is continually trying to get the cars better whether you're ahead or behind or average, trying to go and make them better every time," Kenseth said.  "At least since I've been there, I've never seen them hit the panic button. Certainly you can hit the panic button and go and make things worse, but I think you have to keep at that pace and try to make things better."
It looks like the team still has work to do. Although JGR driver Denny Hamlin won the pole for Sunday's Pocono 400, Kenseth qualified all the way back in 26th.
JGR GETS NEW SPONSOR, DRIVER -- It isn't normally big news when a team signs a four-race deal with a sponsor for its NASCAR Nationwide Series team. But when the new sponsor's CEO is going to drive for the team, that is news. Friday, Joe Gibbs Racing announced it signed solar firm SunEnergy1 to sponsor its No. 20 Nationwide Camry for four races, with driving duties shared among Matt Kenseth, Sam Hornish Jr. and SunEnergy1 CEO Kenny Habul.
Habul drove open-wheel racers in Australia from 1997 to 2005, and has six Nationwide starts on his resume. He will run the JGR/SunEnergy1 entry on the road courses at Road America and Mid-Ohio on June 21 and August 16, respectively, while Hornish will drive the team's car next weekend at Michigan International Speedway on June 14, with Kenseth on board at Atlanta on August 30.
"I'm excited for this opportunity," Habul said. "It is a great partnership for SunEnergy1 to align with Joe Gibbs Racing and drivers of the status of Hornish and Kenseth. It is also a thrill for me personally to drive first-class equipment and be part of the Gibbs family."
FULL HOUSE -- The Third Annual Pocono Celebrity Charity Poker Showdown, benefitting The NASCAR Foundation and the Armed Forces Foundation is set for July 31 at Mohegan Sun at Pocono Downs in Wilkes-Barre, Pennsylvania. The event, scheduled prior to the August 1-3 GoBowling.com 400 race weekend at Pocono Raceway, will feature Kurt Busch and other NASCAR drivers, celebrities and race fans. A limited number of playing spots are available, priced from $50 to $250 a seat. To register for the Pocono Celebrity Poker Showdown, fans can visit NASCAR.com/foundation.