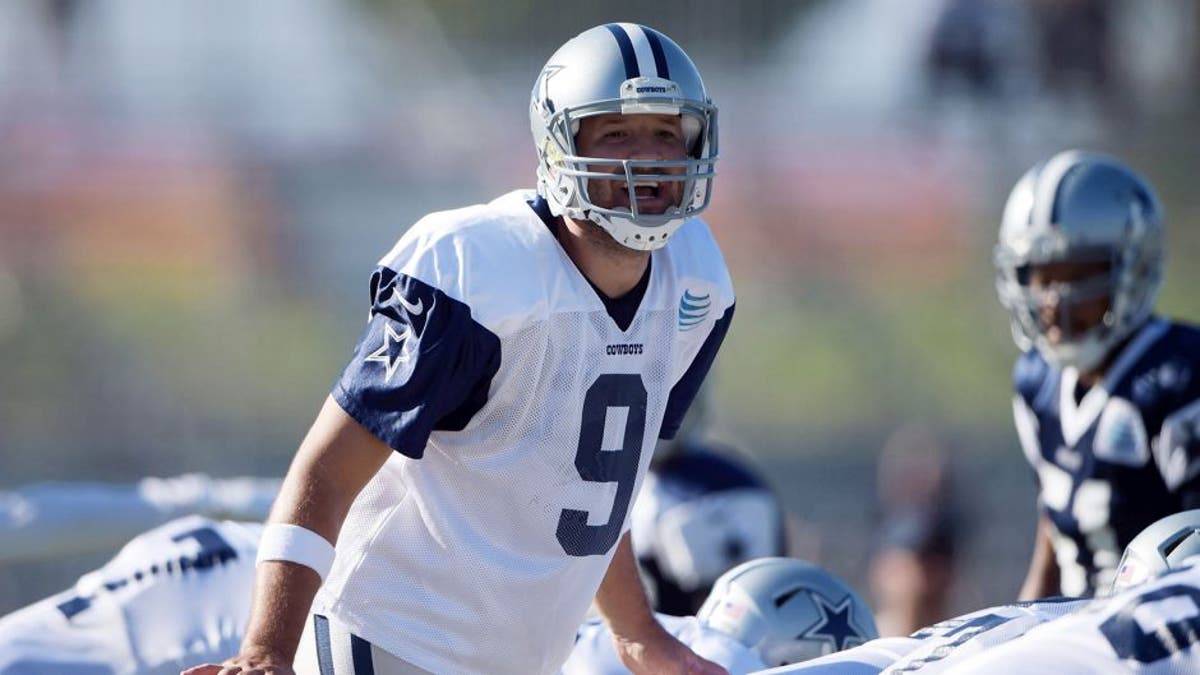 In the past, Jerry Jones has never been one to hide his feeling about Tony Romo, even when criticism was at it's peak in earlier years for the Dallas Cowboys quarterback.
Much like in recent seasons, Romo is continuing to back up his general manager's praising comments -- while at the same time silencing the critics -- with the stats to back it up.
"What I'm seeing out here is Tony Romo at his best," Jones said according to ESPN's Todd Archer. "I can't remember a time when I thought he was playing any better, looked any better, made me feel any better, made our coaches feel any better as far as his execution and what he needs to do for us to win."
For the first practice drills in full pads, Romo dazzled completing most of his attempted passes along with throwing touchdowns to several of his receivers.
"We're running through a lot of stuff so we have some new guys in certain spots, but we've been executing at a pretty high level, the first unit," Romo told Archer. "That's good to see. We have to do a better job each and every day, but I like the start to camp. Guys just have to keep getting better."
With the first preseason game coming up against the San Diego Chargers on Aug. 13, Romo and the Cowboys are taking every precaution to insure the star quarterback is healthy for the regular season. Head coach Jason Garrett will likely hold true to form and hold Romo and the other Cowboys' starters from the first preseason game as well.
"That's not because I couldn't but I just don't know that it serves the long run in the best interest of that," Romo said. "We'll see as next week comes but more than likely there will be a day. Just the amount of torque of every day at training camp and having two of them and then meetings, they all add up. You just have to be smart about that."
Prior to last season, Romo was working his way back from a second back surgery in training camp. Despite throwing 34 touchdowns and nine interceptions while leading Dallas to a 12-4 record and the NFC East title, Jones believes he will see something greater from Romo without the burden of rehabbing an injury.
"It feels much better than it did with him nursing injury like his back this time last year," Jones said. "So I feel good about what he's doing. I like what our plans are, what we're doing, how he's practicing, how we're practicing. I think all of that is real good."
Follow Shawn Ramsey on Twitter: @ShawnPRamsey
MORE FROM FOX SPORTS SOUTHWEST:
- PHOTOS: Cowboys Cheerleaders Auditions
- Preseason predictions for 2015 MLB season
- Ranking NFL quarterback salaries
- Oldest player on every NBA team
- College football's highest paid coaches in 2014