Cowboys' Greg Hardy wants to make Eli Manning 'feel pain'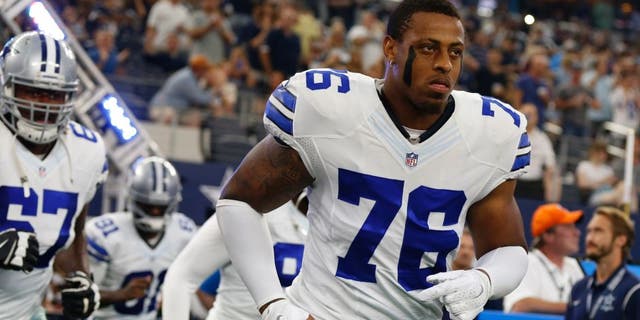 Cowboys defensive end Greg Hardy is coming for Eli Manning, and the Giants might need to provide rookie left tackle Ereck Flowers with extra help dealing with Hardy. Matthew Emmons USA TODAY Sports
In his first game back from suspension, Dallas Cowboys defensive end Greg Hardy racked up two sacks and a forced fumble in one football half. Now, Hardy has his eyes set on his next target -- New York Giants quarterback Eli Manning.
"Hit him in the mouth," Hardy said to reporters on Wednesday, when asked about his plas for Manning. "The best thing for any team is to make the quarterback feel pain. You've got to be respectful of the rules of the game, and obviously you don't want to hurt anybody. But to make him feel you is to bring his eyes down. You don't want a good quarterback like Eli Manning looking down the field. Ever. Ever. Ever. Ever."
After serving a four-game suspension for the domestic violence charges that kept him out of action for all but one game during the 2014 regular season, Hardy's words and actions have been under the microscope. His comments about Manning didn't take long to travel to the players in New York's locker room. However, Giants left guard Justin Pugh wasn't taking the bait.
"I think every D-line's goal is that. He just comes out and says it," said Pugh. "We know what our job is. We know what we've got to go out there and do: protect the quarterback, give him time to throw, and open up lanes for the running backs."
The Giants were dominated up front along the offensive line for the first time all season in Week 6. Manning had very little time to operate in the pocket, and the offense was held to just 7 points. The line faces another difficult challenge in Week 7 against an excellent Cowboys pass rush.
MORE NEWS: Want stories delivered to you? Sign up for our NFL newsletters.