Conor McGregor gets new tattoo, much to Dana White's chagrin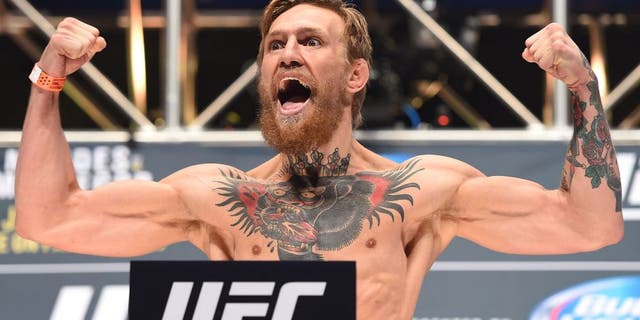 NEWYou can now listen to Fox News articles!
UFC interim featherweight champion Conor McGregor is still more than three months out from his upcoming title fight against Jose Aldo at UFC 194 so with time to spare he decided to get a new tattoo ahead of his fight camp.
McGregor already sports quite a bit of ink, including the large gorilla head decorating his chest as an homage to his home team at Straight Blast Gym in Ireland.
The latest tattoo ended up both above and below McGregor's tiger, which he got earlier this year while hanging out in Venice, Calif.
McGregor apparently went back to the same shop during a weekend trip to California and decided to get his name and nickname permanently engraved on his body.
Chances are UFC president Dana White won't be a huge fan of the latest addition to McGregor's tattoo collection, at least according to the interim champion.
"I like getting them done and I will get more of them done. I know Dana (White) doesn't like them," McGregor told FOX Sports back in May. "(UFC CEO) Lorenzo (Fertitta) doesn't mind them, but Dana doesn't want me to get them."
McGregor isn't alone is his love of tattoos -- the vast majority of UFC fighters have them. Even UFC women's bantamweight champion Ronda Rousey has a few pieces of ink dotting her body.
So chances are White won't get too excited about McGregor's new tattoo, but as long as he still fights Aldo in December, chances are he'll be forgiven.