Conor McGregor enters free agency for new apparel deal ahead of Floyd Mayweather fight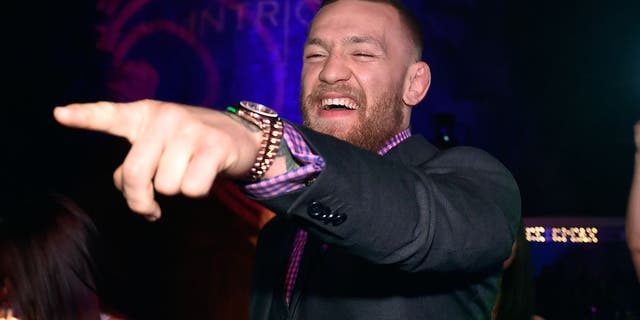 NEWYou can now listen to Fox News articles!
Conor McGregor may earn north of $100 million for his upcoming fight with Floyd Mayweather and that's not even counting the money he'll make from endorsements for the bout taking place on Aug. 26 in Las Vegas.
One of the more interesting aspects about the fight is the apparel brand that will undoubtedly make up McGregor's fight week clothes not to mention the shorts and shoes he'll wear into the ring to face Mayweather.
McGregor had previously inked an exclusive clothing deal with Reebok, who also handles the outfitting policy for the UFC, but it appears that contract has come to an end just ahead of his fight with Mayweather.
McGregor's manager Audie Attar of Paradigm Sports Management revealed on Monday when speaking to MMAFighting that they purposefully let his previous apparel deal expire in anticipation of this showdown with Mayweather.
Now they are negotiating a new deal and Reebok may still end up as McGregor's sponsor for the fight, but it's currently open season on who will represent the Irishman inside the ring when he faces Mayweather.
McGregor is fighting Mayweather under a separate promotion from the UFC so he's not beholden to the promotion's exclusive clothing deal with Reebok, who makes the fight kids worth by all competitors inside the Octagon.
Attar added that McGregor could potentially work with another apparel brand such as Nike and that's what he would wear inside the ring to face Mayweather, although that wouldn't extend to his fights in the UFC.
McGregor did just recently ink a new endorsement deal with Beats by Dre as he joins a roster of athletes that includes LeBron James and Kevin Durant as well.
Clearly, McGregor will earn quite a bit off of endorsements for this fight as the showdown with Mayweather could end up as the biggest pay-per-view of all time.
Its definitely a great opportunity to have any brand that we decide to align with, Attar said.
With two months to go until the fight, Attar will certainly keep busy fielding offers for McGregor as he prepares for the bout with Mayweather.