Conor McGregor blasts Joseph Duffy, offers to save UFC Dublin card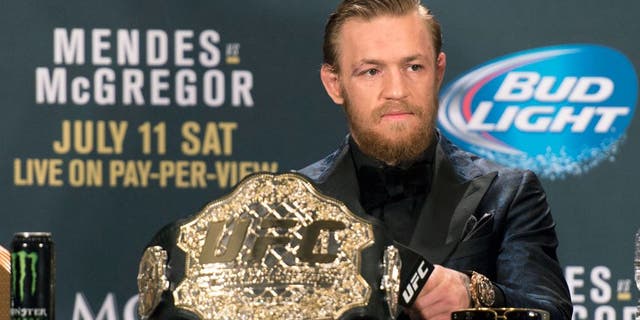 Conor McGregor wanted nothing more than to headline the UFC Fight Night card in his hometown of Dublin, Ireland, this weekend. And after main-event fighter Joe Duffy fell off due to injury, it didn't take the interim featherweight champion long to offer to fill in.
McGregor is currently at home preparing for his UFC 194 matchup with Jose Aldo, but as soon as word leaked that Duffy suffered a concussion in training that led to the cancellation of his fight with Dustin Poirier, the outspoken Irishman McGregor struck.
First, McGregor offered to step in to save the card by fighting Poirier for a second time. He knocked out the rising lightweight contender in the first round when they met in 2014.
Following his impromptu offer to save the Dublin show, McGregor then turned his ire toward Duffy.
McGregor has long-standing ties to Duffy because he's the last fighter to hand him a loss in his mixed martial arts career.
Duffy has been highly touted in large part because he's advertised as the last man to defeat Conor McGregor -- and there's little doubt it gets under the interim champion's skin. (WARNING: NSFW language ahead)
McGregor's tweet took a shot at Duffy after he reportedly suffered a flash knockout in training this past Saturday, which ended with the fighter receiving a mild concussion.
Once UFC officials got wind of the injury, Duffy was checked by doctors and ultimately pulled from the card altogether.
While there was zero chance McGregor was ever going to be pulled in to save the day, he had no problem pouncing on the opportunity to fight in his hometown even if it was two days' notice.