Colts still struggling with pass rush after sack-less game in Pittsburgh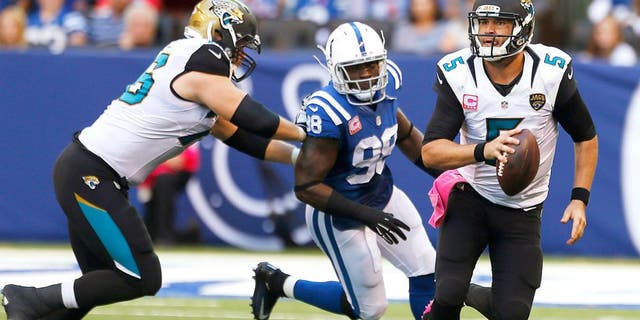 NEWYou can now listen to Fox News articles!
The Indianapolis Colts head into their Week 14 matchup with the Jacksonville Jaguars still looking to establish a consistent pass rush.
Indianapolis has just 19 sacks on the season, five of which came in the team's Week 12 win over the Tampa Bay Buccaneers. In Sunday's 45-10 loss to the Pittsburgh, the Colts sacked Steelers quarterback Ben Roethlisberger just once, but the play was nullified by an Indianapolis penalty.
As a result, Roethlisberger had ample time to pick the Colts' secondary apart, throwing for 364 yards and four touchdowns.
"You have to be able to pressure quarterbacks and especially future first-ballot Hall of Famers like Big Ben because if you don't get him off the spot and you don't harass him some and can't put some pressure on him and he's got time to sit back there and he gets hot, I mean it's 'Katy, bar the door,'" Indianapolis head coach Chuck Pagano said, per ESPN.
The inability to get to the Roethlisberger marked a continuation of a season-long trend. The Colts have recorded more than two sacks just twice this season.
This week, the Colts face another challenge in Jacksonville quarterback Blake Bortles. The second-year player is coming off a five-touchdown performance in a loss to the Tennessee Titans.
The Indianapolis defense sacked Bortles once in the team's 19-13 win over the Jaguars on Oct. 4.