Colorado Rockies at Miami Marlins game preview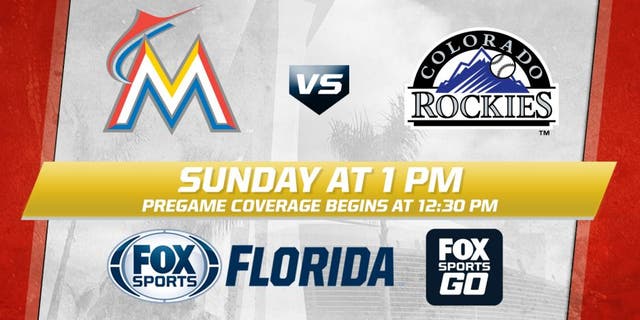 NEWYou can now listen to Fox News articles!
TV: FOX Sports Florida
Time: Pregame coverage begins at 12:30 p.m.
CAN'T GET TO A TV? WATCH IT LIVE ON FOX SPORTS GO
MIAMI -- Jose Fernandez didn't want to skip his scheduled start this past Friday, but there might be an added benefit to him now.
Fernandez, who will start Tuesday against the Atlanta Braves, plans to work the All-Star Game on July 12 in San Diego, assuming he is selected.
"Because of this (skipped start), it lets me pitch in the All-Star Game," said Fernandez, who is 9-3 with a 2.57 ERA. "It would be an honor if they chose me as an All-Star."
Fernandez already has competed in one All-Star Game, as a rookie in 2013, when he pitched a perfect inning, striking out two.
The plan for Fernandez this year is for him to pitch 180 innings. He has worked 80 innings so far, striking out 118, which is quite impressive for a pitcher who is just 25 months removed from elbow surgery.
If Fernandez does make the All-Star Game, he would return to the Marlins' rotation on July 19 at the Philadelphia Phillies. That would slot him fifth in the order as the Marlins continue to look for ways to minimize his innings after Tommy John surgery.
That's the prudent thing to do for Fernandez, but the Marlins no doubt long for the day -- probably in 2017 -- when there are no more innings limits for their ace.
After all, the Marlins, who have won their first two games in their four-game series against the Colorado Rockies -- Game 3 is on Sunday afternoon -- don't have much in the rotation beyond Fernandez.
Wei-Yin Chen, signed to a five-year, $80 million contract this past winter, was hit hard Saturday and has a 5.22 ERA -- worst among Miami starters.
Justin Nicolino (5.17 ERA) is -- like Chen -- a soft-tosser who gets hit hard regularly.
The other two Miami starters -- Adam Conley (3.94 ERA) and Tom Koehler (4.25 ERA) -- have been wildly inconsistent. In general, though, they have pitched to the level of fourth and fifth starters.
That leaves a gaping hole with the No. 2 and No. 3 starters.
Koehler (5-6) has been fortunate in that he ranks 18th among NL starters this season in terms of most run support. The Marlins are averaging 5.50 runs per Koehler start, and he figures to need that Sunday against the Rockies' potent offense.
On the mound, Colorado will start lightly tested left-hander Tyler Anderson, who is 0-0 with a 1.42 ERA. This will mark Anderson's second career start and his first on the road.
The Marlins (36-32) have silenced the Rockies (32-35), who arrived in Miami having won four games in a row and eight of 10.