College basketball team nickname bracket: Vote now in the Sweet 16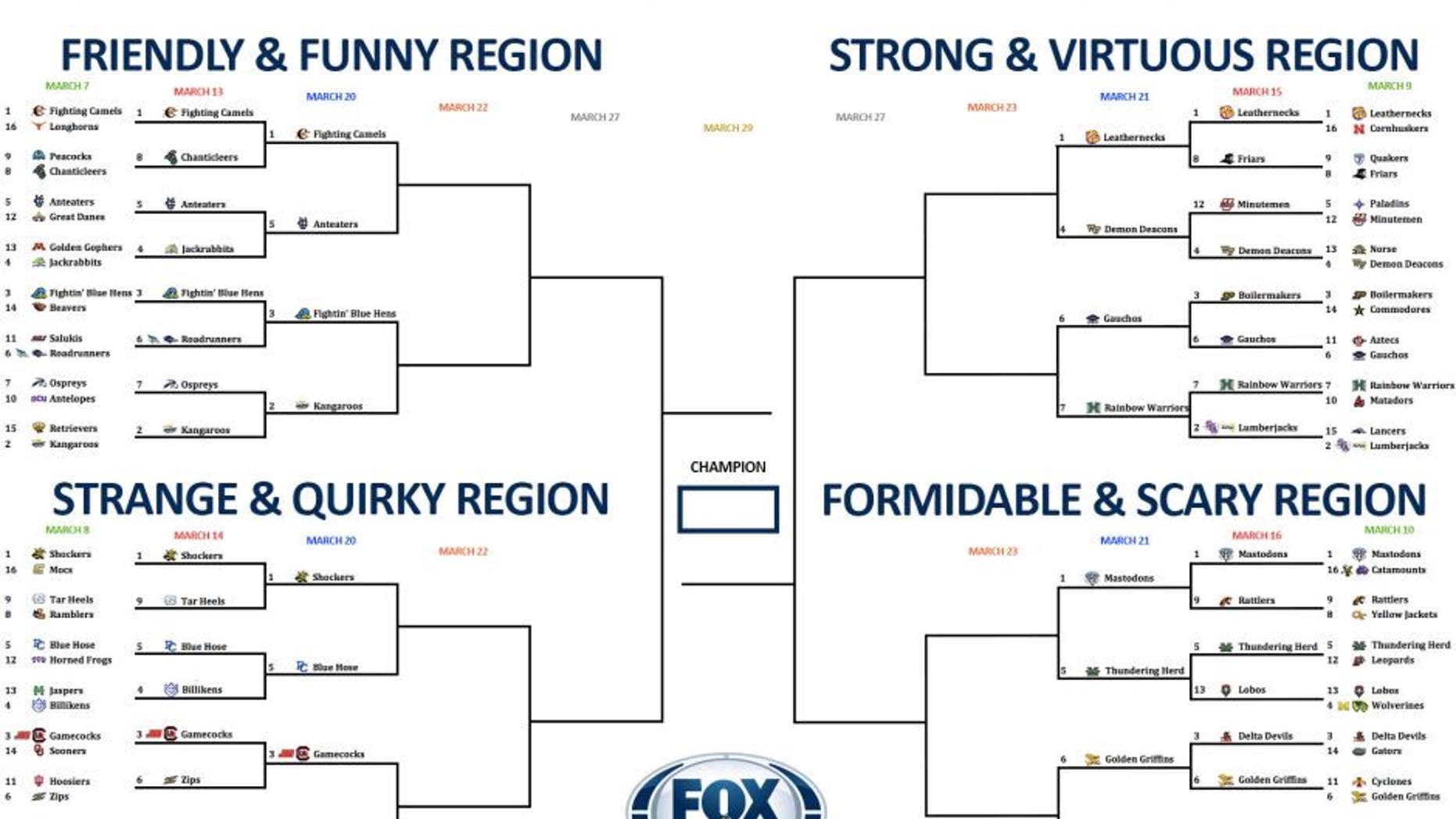 We've reached the Sweet 16 in the college basketball team nickname bracket. We'll open the voting today with the left side of the bracket, which stayed mostly to form over the first two rounds. The top three seeds in each region are still alive, as are both five seeds, which took out the four seeds last round in a pair of mild upsets. (Click here for a full-size version of the updated bracket.)
Here were the results from the Friendly & Funny Region:
No. 1 Fighting Camels vs. No. 5 Anteaters
Our tournament's No. 1 overall seed is the Fighting Camels, used exclusively by Campbell. The name's origin is somewhat mysterious, as there aren't a lot of camel species native to North Carolina, but who cares? It's perfect. Sometimes the addition of "Fighting" before a team name feels forced, but it's a critical distinction here. The Camels are looking mighty tough after waxing the Longhorns and Chanticleers.
UC Irvine is the Anteaters because some water polo bros in the '60s thought it sounded cool. Fifty-some years later, vindication comes in the form of a No. 5 seed in this bracket. Fresh off a win over the No. 4 seed Jackrabbits, can they swing another upset?
No. 3 Fightin' Blue Hens vs. No. 2 Kangaroos
Many will shout that Delaware got a poor seed here, and now is the time to prove it. This name is beautiful. Hens by itself would be a strong contender. The gratuitous color designation makes them that much more intriguing. To top it off, they're fightin'. If you're putting a "g" instead of an apostrophe on the end of that, you're doing it wrong. If it's still not cool enough for you, I should tell you that the name's origins go back to Revolutionary War times.
If this contest involved Australia's universities, perhaps Kangaroos would be the new Wildcats. Here in America, it's one-of-a-kind. How did a school in Kansas City end up naming itself after the most iconic animal Down Under? It's a complicated story.
No. 1 Shockers vs. No. 5 Blue Hose
Thanks to Wichita State's recent runs of success, the luster of the Shockers nickname may have worn off for some of you, but it's still a strong contender for the title. The name refers to the practice of harvesting -- or shocking -- wheat, a common pastime in the plains of Kansas and something old WSU players used to do for money. After an easy win over the Tar Heels, the Shockers now face their toughest test of the tournament.
Presbyterian will be a true test of how weird you all are. Can a pair of socks make a run in this tourney? Kudos to the Blue Hose for choosing "Hose" instead of "Sox" to mix things up a little. The school insists that this also honors "fierce Scottish warriors." Come on, just embrace the socks.
No. 3 Gamecocks vs. No. 2 Ragin' Cajuns
You don't need a Google search to know what a gamecock is, still it's impressive that two schools -- South Carolina, of course, and the lesser-known Jacksonville State -- opted for a prize-fighting rooster for their team nickname. Both versions made this year's NCAA tournament, with South Carolina reaching the Sweet 16 there too with a memorable upset over Duke.
"A Ragin' Cajun is not a person or an animal, but a feeling that describes our unique way of life," says the University of Louisiana at Lafayette's website. Unique indeed, and a strong contender to come out of this region.