Colin Kaepernick got contact lenses this offseason to correct his vision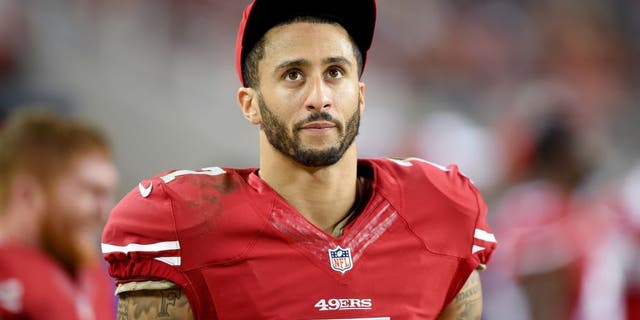 NEWYou can now listen to Fox News articles!
Colin Kaepernick is hoping to undergo a career rebirth this season after losing his starting job last year. The San Francisco 49ers quarterback had offseason surgeries on his thumb, non-throwing shoulder and knee, but that might not be his most important enhancement.
Kaepernick was fitted for contact lenses this offseason to help his short vision. He was seen wearing a visor in practice last week to help keep his contact lenses in place and reduce sunlight hitting his eyes.
"For me, it was something I need to protect my eyes," Kaepernick told the Sacramento Bee. "Been doing a lot of things to make sure my vision's correct. So the visor's been there to help with that."
Kaepernick, who publicly requested a trade this offseason, was benched in favor of Blaine Gabbert after the 49ers went 2-6 in Kaepernick's starts. He threw for 1,615 yards with six touchdowns and five interceptions in 2015.
Kaepernick could have a bounce-back season in 2016 if new head coach Chip Kelly can revitalize the sixth-year quarterback. Kelly's up-tempo offense might help recapture the magic that made Kaepernick one of the most lethal dual-threat QBs in 2013.