Coach Ron Rivera: Panthers may blitz more, use 3-man rotation with Pro Bowl DE Greg Hardy out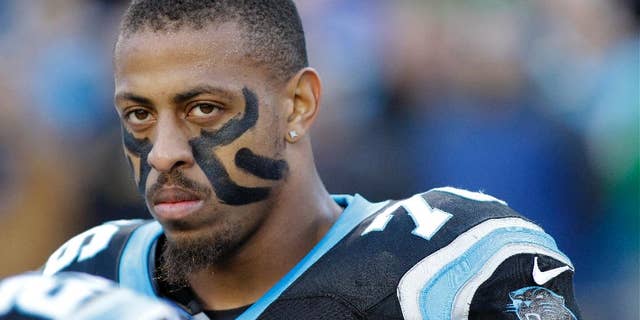 CHARLOTTE, N.C. – The Panthers are considering blitzing more with Pro Bowl defensive end Greg Hardy having accepted a paid leave of absence to deal with his domestic violence case.
Hardy, the team's franchise player and top pass rusher, isn't expected to return until late November at the earliest.
Carolina's fifth-ranked defense doesn't typically blitz more than a handful of times during a game, preferring instead to get pressure on the quarterback with its talented four-man base front. But without Hardy, who had 15 sacks last year, coach Ron Rivera knows applying pressure might be more of a challenge forcing defensive coordinator Sean McDermott to gamble more and amp up the team's blitz package.
"We are going to have to look at doing different things if we are struggling to get pressure with just four men," Rivera said as the Panthers continued preparation for Sunday night's game against the Pittsburgh Steelers (1-1).
When asked if that will expose Carolina's suspect secondary to some potential big plays, Rivera responded flatly, "Only if you're not getting to the quarterback."
Hardy's return date will likely depend on his jury trial set for Nov. 17.
He was convicted July 15 of assault on a female and communicating threats following an altercation with his ex-girlfriend in March. He is appealing the case.
But for now, the Panthers will be looking for ways to continue the momentum from their 2-0 start with Hardy out of the lineup.
Panthers defensive end Charles Johnson doesn't seem too concerned about replacing Hardy. While Johnson said Hardy is a tremendous player, he's quick to add "We have a saying around here: Next man up."
Or in this case, next men up.
The Panthers will rely on Wes Horton, Mario Addison and rookie Kony Ealy to fill the void left by Hardy.
Rivera said he's likely to follow the game plan from last week when Hardy was deactivated hours before the team's 24-7 win over the Detroit Lions.
That means Horton will likely start, and Addison and Ealy will be used as situational pass rushers. Horton didn't have a tackle, but Addison did a nice job coming off the bench last week with 2 ½ sacks and four QB pressures.
The Panthers are in line to get more help in Week 5 when Frank Alexander returns from a four-game suspension for violating the league's substance abuse policy. Alexander is considered the team's third-best defensive end behind Hardy and Johnson.
The Panthers led the NFL with 60 sacks in 2013.
They already have seven this year along with six turnovers, three of those off interceptions. They had four sacks last week against the Lions came with Hardy out of the lineup.
Steelers quarterback Ben Roethlisberger said even without Hardy the Panthers have a dangerous pass rush.
"They get after it in their front," Roethlisberger said. "I think one of the biggest compliments I can pay them is that they do it without trying to trick you, they just straight up beat you. I think that is so impressive, because nowadays you see so many exotic things when it comes to defenses. From them it seems like they just line up and beat you man for man."
The 6-foot-5, 265-pound Horton, is a quality athlete with athletic bloodlines. His father, Mike, was the muscular "Gemini" on the TV show American Gladiators.
Addison had all of his sacks in the second half when the Panthers had built a lead against the Lions and forced Matthew Stafford into a game of catch up.
"It's not a one-man show, it's the whole team," Addison said of moving forward without Hardy. "We have to stick together during tough times and that is how you overcome adversity."
NOTES: Running back DeAngelo Williams missed his second straight day of practice with a thigh injury, but Rivera said he's not that worried about him missing Sunday night's game. Rivera said he's more concerned about wide receiver Jason Avant (thigh) and third-string running back Fozzy Whittaker (thigh), who did not practice. ... Fullback Mike Tolbert (chest) was limited in practice, but Rivera is optimistic he'll play.
___
AP NFL website: www.pro32.ap.org and www.twitter.com/AP_NFL