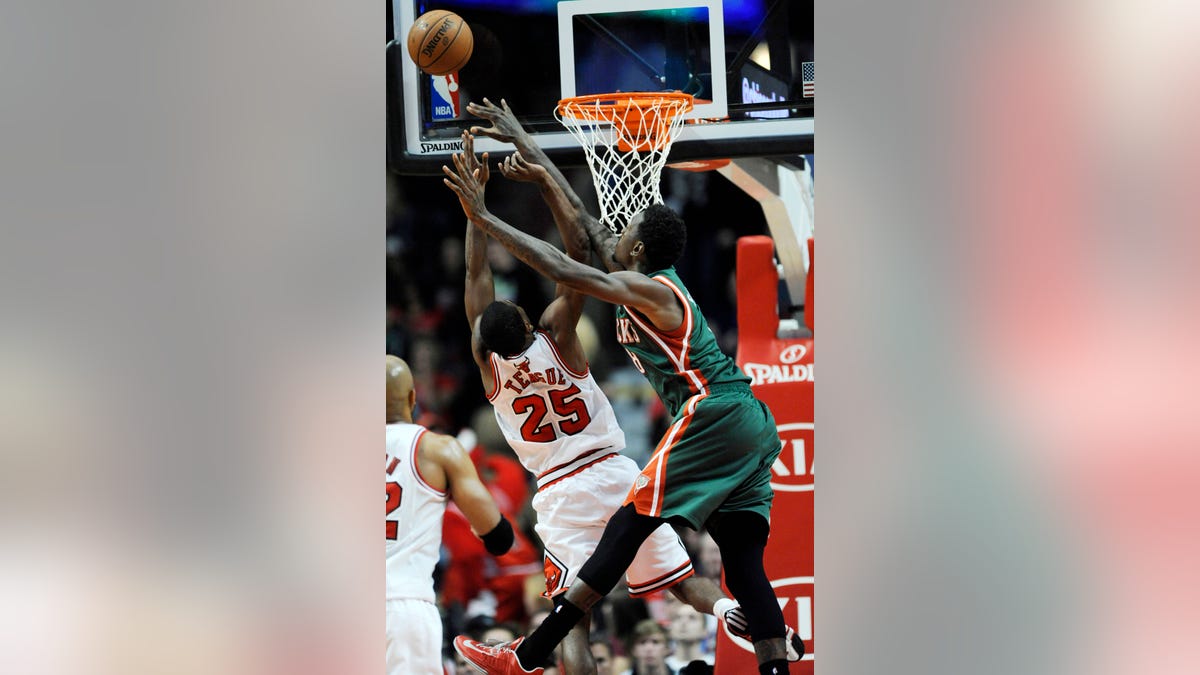 MILWAUKEE – With a couple big guys hurt, Larry Drew might have the Bucks play some small ball.
This is not what Drew envisioned when he took the coaching job in Milwaukee. But the preseason has been a little painful for the Bucks, throwing a wrench into the already challenging project of installing new schemes to an overhauled roster.
"It's not easy," Drew said before Monday night's 105-84 preseason loss to the Bulls. "I was hoping we'd have everybody going through training camp because it's a process, a process of me teaching and them learning."
The injury list includes starting power forward Ersan Ilyasova (ankle) and backup big man Ekpe Udoh (right knee). Swingman Carlos Delfino, one of 11 offseason acquisitions, has been sidelined by a right foot injury.
Drew, who came to the Midwest after three playoff season in Atlanta, remains patient. He refuses to use injuries as an excuse for what's been a winless preseason entering Wednesday night's game against the Knicks in Green Bay.
Five things to watch when regular season begins on the road Oct. 30 against the Knicks:
BUCKS BACKCOURT: A remade roster with players shuffling in and out because of injuries makes it tough for Drew to get an accurate gauge of his team. It's overshadowed in part two of the biggest additions of the offseason overhaul: the new backcourt of Brandon Knight (13.3 points and 4.0 assists per game with Pistons) and O.J. Mayo (15.3 points, 4.4 assists, 3.5 rebounds with Mavericks). "If we're going to get hurt let's get it now, rehab and get stronger, ready to go," Mayo said after a recent practice. The Bucks have also added Luke Ridnour (11.5 points with the Timberwolves) for a veteran guard presence.
CHEMISTRY COUNTS: The Bucks had firepower in the backcourt with Monta Ellis and Brandon Jennings. But overall, it was not quite the right fit. A 4-12 record down the stretch last season sent the Bucks tumbling to the eighth seed and they were swept in the first round by the Miami Heat. Ellis and Jennings are gone. No one has criticized the departing players, but Milwaukee concentrated on bringing in guys team officials think have good character. That chemistry was evident on the first day of camp when players gathered during a break under a basket just chatting and joking around. Projected starting forward Caron Butler (10.4 points with Clippers) has taken on a leadership role in a comfortable setting — he's from nearby Racine, Wis.
"I feel really good about the people that we have here," general manager John Hammond said. "I think these players are going to represent our organization well, I think they're going to represent our fans well."
STRAIGHT FACE: Drew's poker face is representative of his even-keeled temperament. Drew said he had to deal with a similar roster overhaul last season with the Hawks. They still made the playoffs, losing in six games to the Indiana Pacers in the first round. But now he's got to install the schemes when he's not the incumbent coach.
"He's been very methodical in his teaching process," Hammond said. "That's what we needed with 11 new guys with a new coach, and the youth that we have."
GOING SMALL: It's unclear if Ilyasova will be back for the season opener. Udoh, limited to shooting foul shots at a recent practice, could be out well into November, too. Center Zaza Pachulia had eight points in 17 minutes against the Bulls in making his preseason debut from right Achilles tendon surgery. Roster returnee Larry Sanders (9.8 points, 9.5 rebounds, 2.8 blocks) is an anchor in the middle, while second-year pro John Henson has had to start for Ilyasova (13.2 points, 7.1 rebounds). Drew has started experimenting with a smaller lineup, including sliding 6-foot-7, 217-pound Khris Middleton from small to power forward, at least until the team gets healthier.
G-MAN: A prize to anyone who can spell the last name of the Bucks' first-round draft pick on the first try. He's Giannis Antetokounmpo, a 6-foot-9 guard-forward from Greece who turns 19 on December 16. Antetokounmpo has a wingspan that can cause problems in the lane. He's playing perhaps a bit more than expected given the injury problems. He'll need to fill out his 205-pound frame. But Drew said likes he likes how the young player is learning from mistakes, "which he'll learn much faster being out on that floor than if he was sitting by me."
___
AP freelance writer Jerry Bonkowski contributed to this report from Chicago.
___
Follow Genaro Armas at http://twitter.com/GArmasAP