Coach Jason Parillo: Featherweight champ Cris 'Cyborg' Justino excited for UFC stage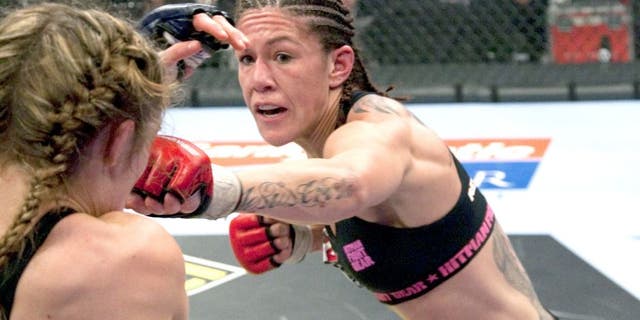 It is finally official -- world champion Cris "Cyborg" Justino is set to make her UFC debut this May in her hometown of Curitiba, Brazil. Her coach Jason Parillo says he couldn't be more enthused that the featherweight queen is finally getting her chance to fight in the UFC, and he tells FOX Sports that she's got an extra gleam in her eye as well.
"I'm extremely excited for her. The MMA world knows who Cris 'Cyborg' is, but she's so dominant that she should be a household name," Parillo said.
"She's always amped, and she lives in the gym so she's always training and trying to get better. But there's definitely a real positive, happy energy. She knows the stage and she wants to be on it. She believes in herself that way. She's campaigned long and hard for this."
Justino is scheduled to take on bantamweight Leslie Smith at UFC 198, but the two will have to weigh in at 140 pounds -- a catchweight. Parillo isn't thrilled that his fighter is moving down in weight but is confident she'll be dangerous and ready.
"I've always stuck to my guns that she should fight at 145 pounds," he said. "She's the 145-pound champion and you don't very often see a champion move down in weight. Usually you keep that title and have people move up to fight you."
"Obviously, the UFC doesn't have a 145-pound division, but I guess you have to add divisions as time moves on. If you had Cris 'Cyborg' as the UFC 145-pound champion, you'd have good women coming out of the woodwork wanting to fight her for that recognition.
"Obviously the plan from the UFC would be for her to be at 140 pounds and then tell her, 'Oh well why not go down to 135 pounds, now?' I don't know who it would harm to have her fight at 145 pounds. It wouldn't harm the promotion, her, or her opponents."
In the end, however, Parillo knows Justino is smart and determined enough to make the weight drop work for her.
"I can only make my opinion heard," he said. "This is something that Cris wants to, do and if she believes she can fight at 140 pounds, then that's fine."
"She's got top-of-the-line nutrition people, so if at the end of the day they think she can do this, healthy and strong, fine. Cris will cut off one of her arms to do something she has her mind set on."
As for Justino's opponent, Parillo is impressed with her toughness but seems dubious that Smith will end up making it to UFC 198 to take on "Cyborg."
"I've seen her fight a little bit." he said. "She seems like she's a tough girl. She didn't seem to have a high level skill set, but she's obviously tough.
"It is always tough to get a fight for Cris. If Leslie Smith follows through and we get her on fight night, I'll be shocked. I can't truly believe Leslie Smith is the one we're going to fight on that night."