Clippers fall to Celtics in Pierce's final game in Boston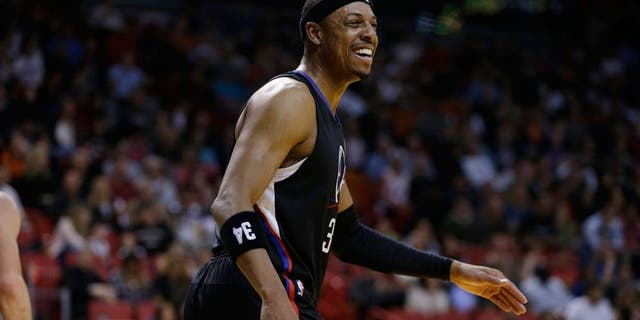 BOSTON (AP) -- Isaiah Thomas stole the spotlight from Paul Pierce on Sunday, scoring 28 points to lead Boston to its seventh straight victory, a 107-102 win over the Los Angeles Clippers in the former Celtics captain's final game in the Garden.
Al Horford had 13 points and a season-high 15 rebounds for the Celtics, who brought Pierce to tears with a first-quarter highlight video. Thomas had eight assists but had a four-game streak of 35-point games snapped.
Blake Griffin and Jamal Crawford scored 23 apiece, and DeAndre Jordan had 16 rebounds for Los Angeles, which lost for the sixth time in eight games. Pierce's only points came on a 3 after checking in with 19 seconds left and the game out of reach.
With fans undecided on whether to cheer louder for the Celtics, for Pierce, or for the New England Patriots, who played in the Super Bowl later Sunday, the basketball team held on as the Clippers cut a 12-point lead to 103-99 in the final minute.
Pierce started and played the first five minutes and then went to the bench - even as the crowd chanted his name, egged on by the Celtics cheerleaders and even Thomas himself. After Griffin missed a 3-pointer that could have made it a one-possession game, Pierce checked back in for the final possessions and, with the fans already standing and cheering, hit a 3-pointer that was meaningful only to them.
As the crowd was filtering out to get home in time for the Super Bowl, Pierce walked back onto the parquet floor, dropped to his knees, and kissed the leprechaun at center court.
Pierce, 39, has said he will retire after the season. He had not played since Dec. 31 but former Celtics coach Doc Rivers put him in the starting lineup so he could have a fitting farewell.
Boston scored the first six points of the game and had a 29-14 lead late in the first quarter. The Clippers ran off 10 straight points in the second - five from Raymond Felton followed by five from Jamal Crawford - to make it a two-point game.
But it was 56-47 at the half and a 14-point Boston lead at the end of three. The Clippers got within four in the final minute, 103-99, but Griffin missed a 3 from the left side, Horford got the rebound and sank his foul shots.