Cleveland Browns pick Baker Mayfield No. 1 as NFL Draft sees run on quarterbacks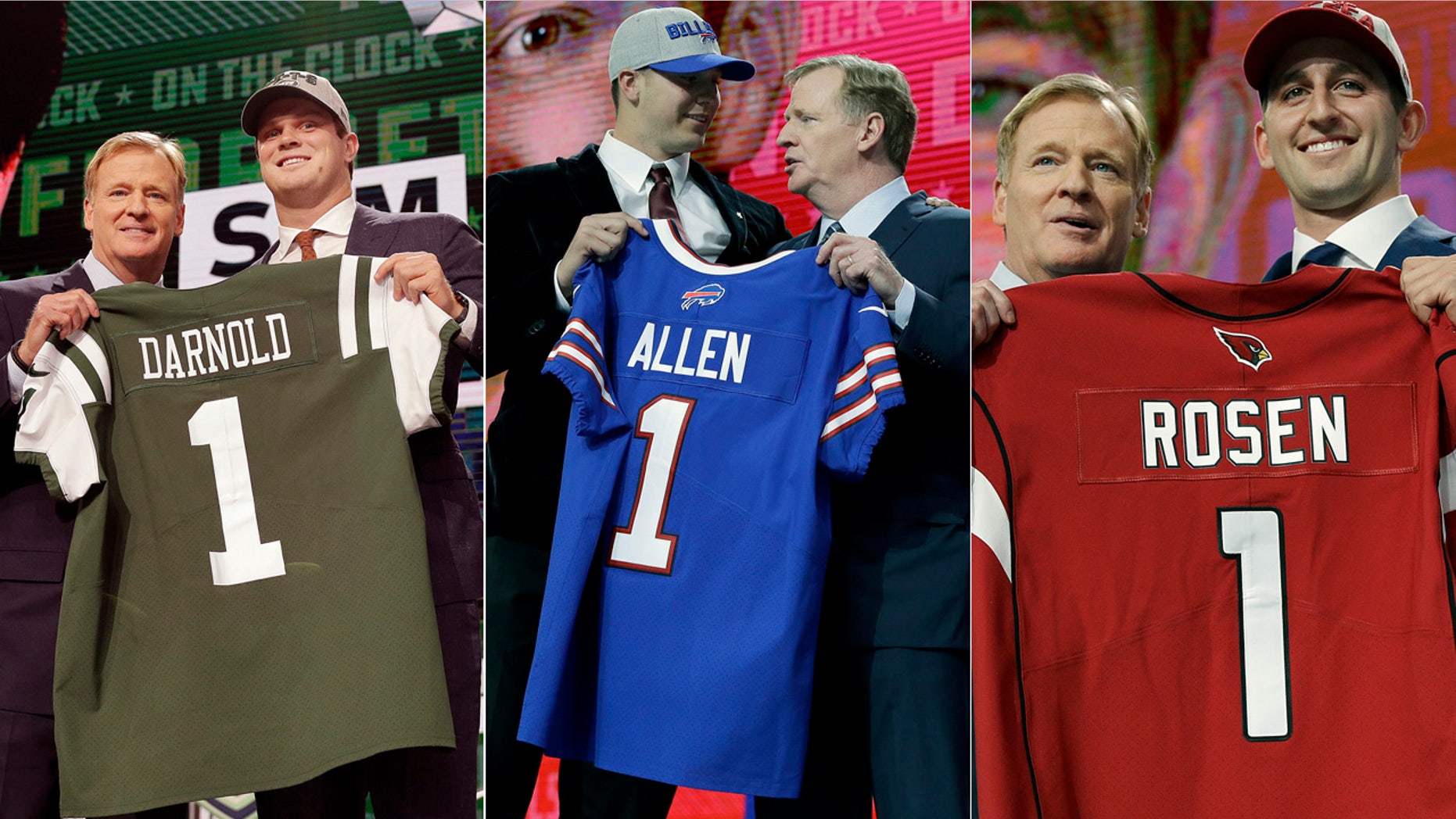 If 1983 will forever be known as The Year of The Quarterback in the NFL Draft, 2018 could at least be its equal.
Beginning with the Cleveland Browns picking Oklahoma's Baker Mayfield No.1 overall, four college signal-callers were selected with the first ten choices. That's never happened before -- not even in 1983, when future Hall of Famers John Elway, Jim Kelly and Dan Marino were taken in the first round.
After Mayfield went to Cleveland, the New York Jets selected USC's Sam Darnold with the No. 3 pick. The Buffalo Bills and Arizona Cardinals had to trade up to get their quarterbacks of the future. The Bills traded up with Tampa Bay and took Wyoming's Josh Allen with the No. 7 overall choice, while Arizona traded with Oakland to move up and pick UCLA's Josh Rosen at No. 10.
Mayfield is the first Heisman Trophy winner taken No. 1 overall in the following draft since Cam Newton went to Carolina in 2010. He joins a team that went 0-16 in 2017 and could start the season behind newly acquired Tyrod Taylor.
"With Baker Mayfield, we have a guy who loves the game of football, who is an ultra-competitor, is revered by his teammates and anybody who has ever been around him," Browns GM John Dorsey said. "He's a guy that has earned everything he has ever had since high school to college and now up here. He is a winner, he's competitive."
Mayfield did not make the trip to AT&T Stadium in Arlington, Texas, leaving NFL Commissioner Roger Goodell to take the brunt of the crowd reaction.
Even though Cowboys Hall of Famers Roger Staubach and Troy Aikman and current star tight end Jason Witten accompanied Goodell onto the stage at opening of the draft, loud booing filled the stadium.
Goodell is despised in Dallas after Cowboys running back Ezekiel Elliott was suspended for six games last season for violating the NFL's personal conduct policy.
At No. 2 overall, the New York Giants selected Penn State running back Saquon Barkley. It capped quite a few days for Barkley, whose girlfriend gave birth to a baby girl earlier this week.
"It's unreal, two of the biggest moments in my life in the same week," Barkley said.
That brought up the Jets, who had traded with Indianapolis, going from sixth to third with the expressed intent to find a passer. In Darnold, they got the guy their fans coveted.
Like Mayfield, Darnold might sit behind a veteran, Josh McCown. "I think whatever the coaches want me to do, if they want me to sit, want me to play, I'll do my role," he said. "That's what I've done my whole life, not going to do any different."
With their second top-five pick, Cleveland selected Ohio State cornerback Denzel Ward at No. 4, using the draft choice they acquired from the Houston Texans during the 2017 draft in exchange for the pick the Texans used to draft quarterback Deshaun Watson.
The Denver Broncos rounded out the top five by picking North Carolina State defensive end Bradley Chubb, thought to be the premier pass rusher in the draft by many pundits.
Notre Dame guard Quenton Nelson went sixth to the Colts as part of Indianapolis' effort to keep Andrew Luck upright and healthy coming off a shoulder injury.
Going to Buffalo at No. 7 may have been something of a fall for Allen, who had been touted by some as a potential No. 1 overall pick despite playing in a non-Power Five conference, the Mountain West, and well-documented issues with completion percentage.
Allen was also also the subject of an embarrassing story the night before the draft when offensive Twitter posts that he had written as a teenager resurfaced.
Georgia linebacker Roquan Smith went eighth to Chicago, while Notre Dame tackle Mike McGlinchey was picked by San Francisco at No. 9.
At that point, Arizona swooped in. They moved from No. 15 to No. 10 to grab Rosen, whom many NFL personnel people believe is the most ready to play next season. The Cardinals will be counting on him to step into the shoes of the retired Carson Palmer.
The Associated Press contributed to this report.