Chris Weidman saw fear in Anderson Silva's eyes after first KO loss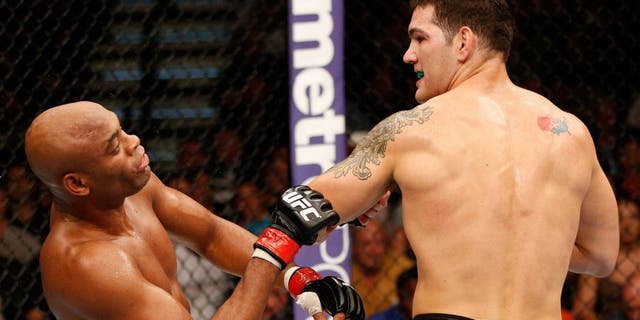 When Chris Weidman first arrived in the UFC the only thing on his mind was beating middleweight champion Anderson Silva.
Silva had gone undefeated for more than seven years while terrorizing the best fighters in the world at 185 pounds, but Weidman knew deep down that if he ever got his shot, he'd hand the Brazilian a loss.
Finally in 2013, Weidman got his chance and he lived up to his promise when he knocked Silva out cold in the second round of their fight at UFC 162.
As much as that single moment changed Weidman's life forever as he became middleweight champion, he also knows that knockout profoundly shifted the course of Silva's career as well and he's never been the same again.
"To tell you the truth, absolutely," Weidman told FOX Sports when asked if he altered Silva's entire future with that first knockout. "Go back to his other fights, he put his hands down, he let people hit him. People thought his chin was indestructible. He probably thought that, that's why he had his hands down and fought so confidently. After I knocked him out the first time, it's a loss, whatever, and we go back in there the second time and I'm in the clinch with him in the first round of the second fight and I come with a right hook to the temple, it wasn't the biggest shot in the world and he dropped.
"At that moment I'm like his chin from that last knockout, something happened to it, it's not at strong as it used to be. I remember going to the second round right before his leg broke, just standing with him and I could see almost the fear and the uncertainty in him."
Weidman says he saw the same timid nature out of Silva when he fought Nick Diaz at UFC 183.
The middleweight gunslinger was no longer willing to engage in exchanges with his opponents. Instead of taunting and baiting his opponent into making a mistake, Silva sat back and waited for things to happen and just couldn't find the opening to explode forward for the finish like he had done dozens of times before.
"He goes from that fight with a broken leg, a year off, goes in against Nick Diaz and he's not pulling the trigger. He's scared," Weidman said. "First time I've ever seen him like that. He's a little scared of getting hit because I feel like he realized it's possible for him to get dropped and knocked out and put to sleep.
"So I think for sure my fights with him have changed him."
Speaking specifically about Silva's most recent bout against Michael Bisping, Weidman once again saw a much different fighter than the man he first faced in 2013.
Weidman still believes that Silva got the job done when the fight was over, but he can't discredit Bisping for putting together the perfect game plan and then executing it when the time was right.
"I thought Bisping did the best job he could possibly do in his God given ability in that fight. I still thought Bisping lost that fight," Weidman said. "I've got to rewatch it and look round by round, but I still think Bisping lost that fight on damage and everything, but good for Bisping.
"He worked his ass off and I'm happy for him. I can't stand him. He talks (expletive) about me all day long. He talks crap about my career all the time. He did his thing. I thought Anderson Silva has a lot to look at himself in the mirror about and he's going to think he won the fight, but come on. You have to do more than that. You have to give a little bit more of an effort."
Silva has definitely taken more than a few lumps since his two losses against Weidman.
Not only did he suffer a broken leg that kept him out of action for over a year but then Silva failed two drug tests before and after his fight with Diaz before serving a year long suspension for using banned substances.
When he finally returned, Silva fell to Bisping by decision and now at 41-years of age he's got a lot of questions about what he has left in the gas tank going forward.
"One fight in two years, failed the PED test, the broken leg, I still give him credit, he looked good against Bisping," Weidman said about Silva. "He had some nice things that he did in there but he's definitely a different fighter now."