Chris Buescher dishes on tense relations with 'Bubba' Wallace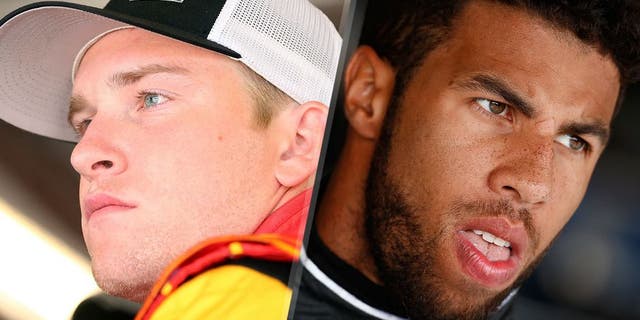 It's one thing to have trouble getting along with a competitor.
It's an altogether different matter when that competitor happens to be your teammate.
Roush Fenway Racing teammates and full-time XFINITY Series drivers Chris Buescher and Darrell Wallace Jr. have locked horns on two memorable occasions this season, with the latest coming when the two collided late in last Saturday night's race at Iowa Speedway.
Apparently angry about the contact, Buescher crew chief Scott Graves exchanged words with Wallace, whose nickname is "Bubba," after the race on pit road.
Moments later, Wallace took on a surprisingly conciliatory tone in post-race comments.
"I screwed up so bad in this race," Wallace said during a televised interview. "It was miserable. I let my guys down. I just hate it. I screwed up tonight."
The other time Buescher and Wallace tangled was at Dover in late May. In that race, Wallace was leading when Buescher attempted to pass and moved up into him, resulting in Wallace cutting a tire and finishing 17th. Buescher, who is the XFINITY Series points leader, went on to win.
"There's always two sides to every story," Wallace told FOX Sports 1's "NASCAR Race Hub" the Monday after Dover.
When asked if he and Buescher had shaken hands, Wallace replied, "No, we're not shaking hands yet."
Speaking on Friday at Watkins Glen International, Buescher indicated that he and Wallace talked this week and are working to put their differences aside.
"We've been able to show up competitively to a lot of these racetracks and our teammates have done the same," said Buescher, who leads the standings by 20 points over Chase Elliott. "We've been racing around each other a lot and it's tough, but we've got it handled and we're looking forward to getting into this stretch."
Is Buescher concerned about future run-ins with Wallace?
"We have it to the point where we're gonna be able to race around each other and not have to worry about anything," he said.