Chile earned Copa América Centenario victory, but event's biggest winner may be U.S.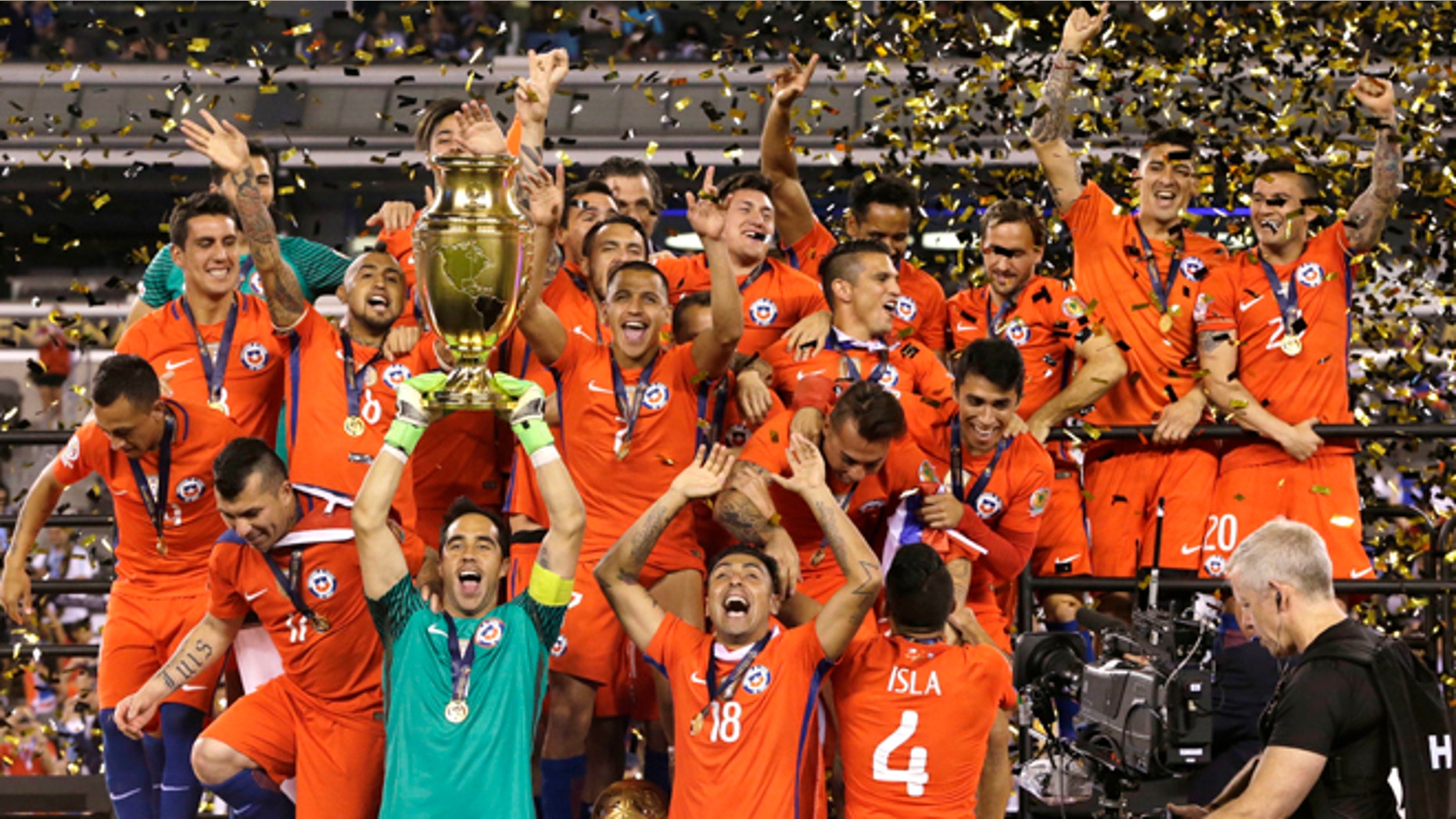 For the past month, the U.S. soccer community has not had to read about any scandals and arrests of the sort that have plagued the highest levels of the sport for the past year.
For the most part, American fans only had to deal with some of the more run-of-the-mill problems of a major international tournament – the Copa América Centernario, in this instance – its little controversies, problems and headline-grabbing moments.
And that's the way it should be.
"We were able to bring whole continents together," CONMEBOL president Alejandro Domínguez said in a press conference in New York City on Friday. "Fair play, good games, an average of almost three goals per match, very good behavior by the public ... integrating cultures for people to live together and respect diversity."
On Sunday in East Rutherford, N.J., Chile was crowned the tournament's champion for the second successive year – an oddity caused by this special 100-year anniversary edition of the ordinarily quadrennial tournament – both times prevailing over neighbor and bitter rival Argentina in a penalty kick shootout.
The confrontation was far from a classic final as Brazilian referee Heber Lopes took center stage, handing out two red cards and eight yellows.
The Chileans finally grabbed the spotlight by becoming the first country to win back-to-back Copa titles since Argentina pulled it off in 1946 and 1947. But even that achievement was dwarfed by the incomparable Lionel Messi, devastated that he failed to win a major international final in his fourth attempt in his illustrious career, announcing that he was retiring from the national team.
Messi's stunning and emotional announcement might be considered a scandal in Argentina – although he always can change his mind – but that is part of the pain and disappointment of competition.
Besides Chile, there was one other major winner that emerged from the Copa – the United States.
No, it wasn't the country's national team, which finished a very respectable fourth in the competition. It was U.S. Soccer, which produced some staggering numbers and that could go a long way toward convincing FIFA to award the 2026 World Cup to the U.S.
Copa Centenario reminded FIFA and its members how well the U.S. can put on an event, even with short notice. Most host World Cup countries are given six or seven years to get their act together. The U.S. had only seven months to promote and stage a tournament of not quite the same scope.
"We hope [this Copa] influences where the 2026 World Cup will be, but that one hasn't been decided," said U.S. Soccer president Sunil Gulati.
FIFA has yet to set guidelines as to which continent(s) will be eligible to host, but it is difficult to refute the all-time attendance records this Copa smashed.
Total attendance was 1,401,829 – an average of 46,370 per game.
A tournament-high 83,263 fans at the Rose Bowl watched Mexico and Jamaica in a group-stage encounter. A capacity crowd of 82,026 filled up MetLife Stadium for the final, largest soccer crowd ever in New Jersey.
"What I said at the start of the tournament was our base line was at 30,000 [a game]," Gulati said. "We thought 35,000 would be great, 40 would be beyond our wildest expectations, and obviously where we ended up is fantastic."
He added, "These are World Cup numbers for an event organized in seven months with 16 teams."
There were problems and challenges, of course. Ticket prices were at World Cup levels and scared away potential fans, and many decided to watch group-stage matches from home, leaving swathes of empty seats at some  stadiums. As the tournament gained momentum, however, those same venues began to fill up.
And there were some hiccups, though not necessarily major crises.
Every team did not necessarily bring its best players, whether due to injury or other reasons – although it should be noted that that happens at the World Cup too.
Neymar, the biggest name in Brazilian soccer, did not play. Brazil is saving the ultra-talented 24-year-old striker for the Rio Olympics in August, as the South American country strives to secure its first soccer gold medal.
An ailing Messi did not start for Argentina in its early matches. Once he got going, though, he demonstrated his brilliance with a second-half hat-trick in a 5-0 romp over Panama and another marvelous performance in a 4-0 semifinal shellacking of Team USA (including an out-of-this-world free kick).
An embarrassing hiccup occurred in Glendale, Ariz., when Chile's national anthem mistakenly was played for Uruguay's infuriated squad, which went to lose 3-1 to Mexico. Chile's anthem was cut short at one of its group stage matches too.
The Copa endured a slow start with a series of scoreless draws before teams rediscovered their scoring touch to average a solid 2.84 goals per match.
The tournament also provided a number of unusual twists. Brazil, one of the favorites, could not get out of the group stage.
Ditto for Uruguay.
The Mexicans rolled over their Group C opponents before having their collective behinds handed to them by Chile, 7-1, in one of El Tri's most distressing results.
Most of the soccer universe waited for coach Juan Carlos Osorio's head to roll, given the Mexican Football Federation's recent history of removing coaches quicker than some of us change underwear. It never happened, though, as the federation stuck with the Colombian-born coach.
Perhaps Mexico's powers-that-be have learned from past mistakes: Bringing in one new regime after another alters the chemistry of the best team in CONCACAF and undermines its potential.
Then there was the intriguing case of U.S. coach Jürgen Klinsmann. Under intense criticism for his underachieving results in the past year, Klinsmann guided the team into the semifinals with three consecutive wins before the Americans were brought back down to earth by Argentina.
The USA's success started speculation in England that Klinsmann was the odds-on choice to become the new manager of Southampton, which finished sixth in the English Premier League this season, although that news appeared to have been fueled by British bookmakers rather than reliable sources.
The tournament's success also spurred talk of merging the Copa América and CONCACAF's Gold Cup, but that, too, remains highly speculative.
"The idea of doing a special event every four years, or every eight years or every 100 years, that's something we can look at," Gulati said before the final. "But we haven't had any discussions about it. We want to wait until this tournament [finishes] ... and then look at possibilities."
Even so, one special game could come out of this special-edition Copa. CONMEBOL's Dominguez said that Copa officials had challenged UEFA to stage a match between the winners of the Copa Centenario and Euro 2016.
"They are studying our offer," he said.
Politics probably will be involved in whatever decision is made. But that type of political fútbol is a much more fun to speculate and talk about than the type that has been laced with scandals and arrests.