Chile secures spot in Copa America finals after 2-0 victory over Colombia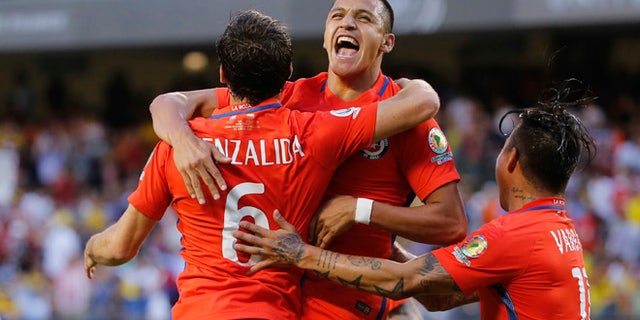 NEWYou can now listen to Fox News articles!
CHICAGO (AP) – When Chile saw an opening, it pounced. When its defense broke down, Claudio Bravo was there. When the rain stopped, it finished the job.
Just another meticulous performance for Chile in Copa America.
Charles Aranguiz and Jose Pedro Feunzalida scored in the first half, and defending champion Chile returned to the final of South America's championship with a soggy 2-0 victory over Colombia on Wednesday night.
"This is a winning team. They are winners. ... Before we play a tournament, they are convinced they are going to win," Chile coach Juan Antonio Pizzi said.
Led by Bravo's stellar effort in goal, Chile earned its fourth straight win since a 2-1 loss to top-ranked Argentina in their Group D opener. Next up is a rematch with La Albiceleste on Sunday night in New Jersey.
Chile also faced Lionel Messi and Argentina in last year's championship, with La Roja winning 4-1 in a penalty shootout after a 0-0 extra-time draw. Argentina was the last country to repeat as Copa champions in consecutive years, accomplishing the feat in 1946 and 1947.
"We must respect, as we always have, our rivals and compete and try to win," Pizzi said.
James Rodriguez and Colombia got off to a slow start and their push for a comeback was hampered by a strong line of thunderstorms that delayed the start of the second half by more than two hours, drenching the playing surface and forcing the players to tread carefully for the last part of the night at Soldier Field, home of the NFL's Chicago Bears.
Colombia, which will face the United States in the third-place game on Saturday night in Arizona, also had to play with 10 men after Carlos Sanchez received his second yellow card in the 57th minute.
"We made some mistakes, and Chile was very effective, as they usually are," Colombia coach Jose Nestor Pekerman said. "This is one of the keys to their win."
Rodriguez got open for a low, hard shot in the second half that Bravo knocked down before pouncing on the ball before Colombia could get to it. Rodriguez pounded the wet turf in frustration after the play.
Chile played without Arturo Vidal after the skilled midfielder was suspended for a second yellow card, and defensive midfielder Marcelo Diaz was sidelined by injury. The defending champions lost another midfielder in the first half when Pedro Pablo Hernandez departed with a knee injury following a collision near midfield.
Pizzi said he was hopeful about Hernandez playing in the final, but it was too early to say anything for sure.
The familiar foes arrived at the semifinal coming off wildly different performances in the quarterfinals. While Colombia needed penalty kicks to eliminate Peru after a 0-0 tie Friday night, Chile roared into the semifinals with a 7-0 victory over Mexico that included five second-half goals.
Each country picked up right where it left off.
Pekerman talked Tuesday about his team's inability to finish, and the same problem showed up again in the country's first appearance in the Copa semifinals since 2004. Roger Martinez's drive was stopped by a diving Bravo midway through the first half, and Bravo denied Sanchez with another lunging stop right before halftime. Rodriguez also shot wide on another prime opportunity.
Meanwhile, Chile quickly jumped out to a 2-0 lead, taking advantage of a Colombia mistake and making the most of another sharp play from Alexis Sanchez in his 100th appearance for the country.
Moments after the pro-Colombia crowd of 55,423 whistled and jeered while Chile passed the ball around its own end, a cross by Fuenzalida was inadvertently headed back into the middle by Colombia midfielder Juan Cuadrado. Aranguiz ran to the middle and volleyed it right by goaltender David Ospina for his first goal of the tournament in the seventh minute.
Then Alexis Sanchez cut inside to get open for a shot that bounced off the inside of Ospina's right post and rolled toward the middle. With Ospina still on the other side after trying for a diving stop, Fuenzalida was all alone for the easy tap-in 10:44 into the game.
"We made mistakes and we paid for our mistakes in the beginning," Pekerman said.
Like us on Facebook
Follow us on Twitter & Instagram