Chiefs breakout star Tyreek Hill is trying to outrun his past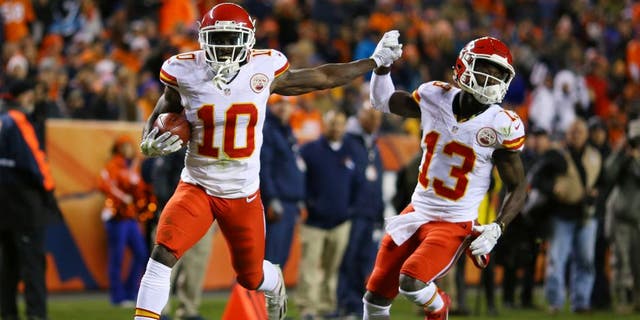 KANSAS CITY, Mo. -- Tyreek Hill has proven he can outrun just about anybody in the NFL.
If only he could outrun his past, too.
The rookie wide receiver for the Kansas City Chiefs has been a breakout star this season, evidenced by his performance Sunday night in Denver. Hill had nine catches for 52 yards and the tying touchdown, ran right around the Broncos' Von Miller for another score and even returned a free kick for an early TD that helped Kansas City to a crucial overtime victory.
It was hardly a surprise Wednesday when the NFL announced that Hill, a controversial fifth-round pick in April's draft, was chosen the AFC offensive player of the week.
"Tribute to the kid," Chiefs coach Andy Reid said. "I'm probably more proud of him for what he's doing off the field than on the field, but it's well deserved. The award is well deserved."
You see, all of Hill's success -- and by extension, the Chiefs' success -- has generated conflicting feelings among fans in Kansas City familiar with the diminutive speedster's back story.
Some are ready to forgive. Very few seem to have forgotten.
Hill was an emerging star at Oklahoma State when he was arrested for domestic violence two years ago. He wound up pleading guilty to abusing and strangling his pregnant girlfriend, and Cowboys coach Mike Gundy kicked him out of the program -- a decision by turns easy and hard to make.
Easy because of the egregious nature of the crime, hard because of Hill's vast talent.
"Tyreek put himself in a bad situation," Gundy said, "but during his time here at Oklahoma State, he was never an issue. That was the only incident that he ever had, so that's why I felt really bad for him. But he's certainly a big-time player and could have made a huge difference on that team."
Instead, he was forced to rehabilitate his image -- and himself -- at West Alabama, where he juggled school and football with counseling sessions and other court-mandated service work.
In one season at the out-of-the-way Division II school in Livingston, 60 miles from Tuscaloosa but a million miles from playing for the Crimson Tide, Hill hardly put up the kind of numbers that portend NFL greatness. He ran for a modest 237 yards and a touchdown, caught 27 passes for 444 yards and three scores, and returned two punts and two kickoffs for touchdowns.
But the Chiefs knew his world-class speed -- he won two medals running sprints at the world junior championships -- could be a difference maker. So in an age of heightened sensitivity in the NFL when it comes to domestic violence, they spent a draft pick on him when most teams were unwilling. Then they faced the backlash of a fan base that still recalls the Jovan Belcher murder-suicide of a few years ago.
Chiefs general manager John Dorsey said front-office executives spent time with coaches at Oklahoma State and West Alabama, Hill's family members and friends, and even the Oklahoma prosecutor who handled his case. They came away convinced that he was on the right path.
"He came in here with the incident, obviously, and he's handled himself in a good way," Reid said. "There haven't been any issues, which has been positive, and he's had some things he's had to do for the incident and he doesn't miss anything. He does everything he's supposed to do."
Hill said that includes classes and therapy sessions, where he can get things "off his chest," but he declined to discuss specifics. He also said he is supporting the victim and his child.
"I make sure I do those things in order to be a better person," Hill said before Wednesday's practice. "I'm real dedicated. I'm going to stick to it so I can be a better man, a better citizen for the community and a better father for my son."
Indeed, Hill has done nothing off the field to make the Chiefs regret the decision.
He's done plenty on it to make it look like a wise move.
"Obviously, he's a big part of what we're doing," Chiefs quarterback Alex Smith said. "He's had more on his plate, but he's handled it really well."
NOTES: WR Jeremy Maclin (groin) and LB Dee Ford (hamstring) returned to practice Wednesday, though Reid wasn't sure whether they will play Sunday in Atlanta. ... DE Jaye Howard (hip) and DT Dontari Poe (back spasms) remained out of practice.