Chiefs beat Rams 24-17 to finish preseason unbeaten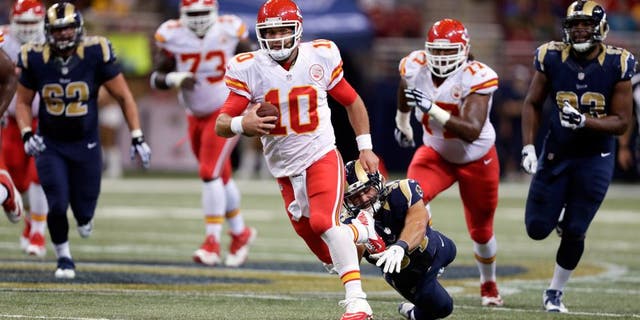 ST. LOUIS -- Chase Daniel threw a touchdown pass and the Kansas City Chiefs beat the St. Louis Rams 24-17 to finish unbeaten in the preseason on Thursday night.
The Chiefs (4-0) were unbeaten in the preseason for the first time since 1969, the season the franchise won its lone Super Bowl title.
The Rams (0-4) were winless for the first time since 2002 and are 2-10 the past three preseasons.
Tavon Austin had the most electrifying play of the game, reversing field on a 43-yard scamper after a short catch that set up St. Louis' first touchdown.
The Rams played most of their regulars for two series, although they were down to fourth string at running back, and the Chiefs rested all of their starters.
St. Louis quarterback Nick Foles threw a costly interception, although it wasn't his fault.
The Rams' second home game in five days was just as poorly attended as the first with the Edward Jones Dome about one-fourth full. The team said 37,616 tickets were distributed, or about half-capacity.
At a pregame rally touting progress of a stadium task force, Mayor Francis Slay gave fans his "word" there would be a new riverfront stadium and the Rams would be playing in it.
The Rams' Cody Davis jumped the route on a 24-yard interception return for a touchdown off Daniel in the first quarter.
The Chiefs' Daniel Sorensen had a 26-yard return to the 8-yard line on the third play of the game after Foles' pass was in and out of Jared Cook's hands. That set up Spencer Ware's 1-yard run two plays later.
Daniel played the first half, going 16 of 20 for 117 yards with a 15-yard touchdown pass to Chris Conley. Foles was 2 of 3 for 49 yards.
The Rams' Greg Zuerlein kicked a 57-yard field goal with plenty of yardage to spare late in the second.