Cheat Sheet: Mike Tomlin's magic has Steelers competing despite suspensions, injuries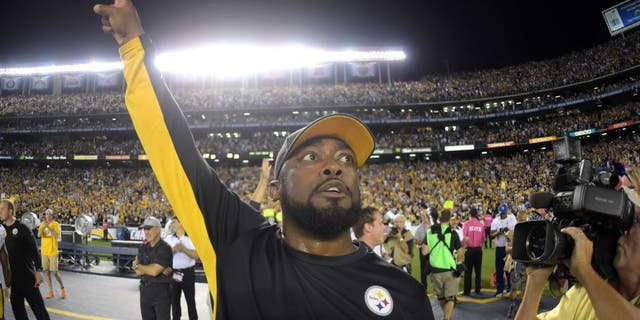 Ron Rivera's doing special things in Carolina, the Jets are winning under Todd Bowles, and Marvin Lewis has his Bengals looking like the class of the AFC North. Of course, Bill Belichick and Mike McCarthy need no introduction and Gary Kubiak has his Broncos unbeaten despite a drastic difference in quarterback play from a season ago.
But my coach of the year as we head into Week 7 is Mike Tomlin.
It takes a special head coach to withstand adversity. It takes a really special coach to keep his team afloat without a top-five quarterback. Tomlin -- with help from a tremendous defense, offensive coordinator Todd Haley, and a host of other unsung contributors -- has not only done that, but has the Steelers primed for whatever other challenges may come their way this season.
Here's a Steelers team that entered the season with Ben Roethlisberger as its quarterback, Bruce Gradkowski as the backup, and without Martavis Bryant (five games) and Le'Veon Bell (two games).
The Steelers are now 4-2 with Michael Vick appearing in three games and Landry Jones also contributing. Now, throw in the fact that the Steelers are without starting left tackle Kelvin Beachum for the remainder of the season, and it's unbelievable they've been able to find ways to weather the storm.
Tomlin trusts his team when others may scratch their heads and doubt. The offense was anemic in the first half last week, with Vick completing 3 of 8 passes for 6 yards before injuring his hamstring. As Tomlin went to the locker room, I asked him if he was disappointed with the effort.
"It's a rough-and-tumble sport," he said. "This is a rough-and-tumble game. We're down one score (10-3). We're fine."
And they were.
A week earlier, the offense had struggled for 52 minutes. In the final eight, on the road in San Diego, they rallied and found a way. The decision to go Wildcat at the goal line -- and run, not pass -- down three points was a bold one. If it had failed, there'd be a week of second-guessing. Tomlin doesn't seem to care about that.
After the game, Tomlin stole a quote from "The Godfather" send said: "It was time to go to the mattresses."
Tomlin's had better Steelers teams. There may be more coaches out there who are credited for their mastery of the X's and O's. But Mike Tomlin wins. And with the obstacles thrown his way this year, he's found a way to overcome perhaps better than any other coach in football could.
***
Week 7 NFL Cheat Sheet Triva Question of the Week: With his performance Sunday against San Diego, Aaron Rodgers has reached 30,000 career passing yards in the fewest attempts in NFL history. Who did he pass?
Now, on to the picks.
Week 6 Record: 7-7
2015 Overall Record: 49-42
THURSDAY
Seattle at San Francisco: Don't look now, but headlines saying that they were sinking faster than the Titanic for four straight weeks, the 49ers are still very much alive in a wide-open NFC West. At 2-4 with two strong performances from Colin Kaepernick, the 49ers can stay in this with a win over a Seahawks team that is like the worst relief pitcher in baseball history. I like the 49ers on their home field, and anticipate a rash of "What's wrong with the Seahawks?" headlines heading into their Week 8 game against the Cowboys.
The Pick: 49ers 27, Seahawks 23
SUNDAY
Buffalo at Jacksonville (London): This game can only be found on Yahoo, unless you live in Buffalo or Jacksonville. This is the new initiative of the NFL. Double dip and sell the broadcast rights to a few partners, and then the digital rights in a separate deal to others. I'm curious to see how many click to watch, and how many tweet "WHERE THE #$%# IS MY BILLS-JAGS game on TV?" I'd say there will be as many doing the latter as the first. I like Buffalo. Rex Ryan is big in London.
The Pick: Bills 20, Jaguars 17
Tampa Bay at Washington: Through six weeks, the Buccaneers defense ranks fifth in total yards allowed per game and the offense is coming along, slowly but surely. Wideout Mike Evans had his breakout game last year at Washington, and I can see him going bonkers again on Sunday. Winston or Cousins? Give me Winston.
The Pick: Buccaneers 23, Redskins 17
Atlanta at Tennessee: Fun little storyline here with Falcons left guard Andy Levitre traveling back to the city where he played for two forgettable years for the Titans. The 29-year-old veteran didn't live up to his six-year, $46.8 million free-agent deal that he signed with the Tennessee in 2013, and was traded for a draft pick this offseason. If the left guard storyline doesn't get your juices going, how about the Falcons trying to avoid another bad road loss? No? OK, I tried.
The Pick: Falcons 30, Titans 23
New Orleans at Indianapolis: I hated the Colts' fake punt or whatever the heck that was last week, but also don't want to make too much of it. Indianapolis was still down six points when it occurred, the offense had been stalling, and I'd rather an aggressive play call than a passive one when facing the Patriots. And it might not matter. The Colts play in the worst division in football and will be just fine.
The Pick: Colts 34, Saints 24
Minnesota at Detroit: I hate when the NFL makes two divisional opponents play twice in the first eight weeks of the season. That's the case here, as these two are having a rematch of a game they played on Sept. 20 in Minnesota. In that one, the Vikings knocked around Matt Stafford and Adrian Peterson ran wild. I don't see much changing on Sunday. C'mon, NFL. This game couldn't have been played in, say, Week 14?
The Pick: Vikings 23, Lions 16
Pittsburgh at Kansas City: The best story in football might be the guy starting at left tackle for the Steelers. Alejandro Villanueva played wide receiver for the United States Military Academy, where he left and served three deployments as an Army Ranger and was awarded a Bronze Star. When he returned back stateside, he was 6-foot-9, 290 pounds, and signed as an undrafted guy by the Eagles. Fast forward to Sunday, and with Beachum down, he'll be starting, protecting Landry Jones' blindside. Incredible story. I'm all about this Steelers team. Jones and Villanueva!
The Pick: Steelers 20, Chiefs 16
Cleveland at St. Louis: Bold prediction of the week time. Todd Gurley is going to run for 200 yards on Sunday. Cleveland has allowed eight runs of 20-or-more yards and three runs of 40-or-more yards this season, while Gurley has five rushes of 20-plus and two of 40-plus this season. He's had another week to rest his knee with the bye, and the Browns defense has now given up 181 yards and 152 yards on the ground in consecutive weeks. It's Gurley Week in America. Start him in your DraftKings, Fan Duel, Draft Ops, DraftDay, FunFace, FaceBook, DraftBook leagues!
The Pick: Rams 27, Browns 19
Houston at Miami: This game doesn't scream "Must Watch!" but for two teams who've looked awfully bad at times this year, a win gets them both right back in the playoff mix. I appreciate what Dan Campbell's done in Miami. He's brought a certain toughness and edge to a team that was downright lifeless. I think the Dolphins rattle another one off on Sunday, and are suddenly 3-3 and in the playoff hunt.
The Pick: Dolphins 28, Texans 23
New York Jets at New England Patriots: The irony of this Jets team is that it's a squad Rex Ryan dreamed of. Great up front on D, even better in the defensive backfield, and an offense that pounds it on the ground and limits mistakes in the air. As good as they've looked, I can't see them coming into Foxboro and winning. The Patriots had their first challenge last week and they withstood it. I'd say this could be a hangover game, but the Patriots are like you're one friend from college who never stops -- they're simply immune to hangovers.
The Pick: Patriots 31, Jets 17
Oakland at San Diego: The Chargers had chances to win each of their past two games in the final seconds, but ended up unlucky losers. I just can't pick against Philip Rivers this weekend. He's playing too well to drop a third straight heartbreaker. If he had beaten the Steelers and Packers he'd be in the MVP conversation.
The Pick: Chargers 31, Raiders 24
Dallas at New York Giants: The NFC East isn't the best division in football, but it might be the most interesting. Everyone always says Eli Manning "owns" the Cowboys. That's wrong. He's 3-7 in his last 10 against Dallas, and I think Matt Cassel finds a way, here, on Sunday. That's with or without Dez Bryant.
The Pick: Cowboys 27, Giants 22
Philadelphia at Carolina: Are the Panthers for real? We'll find out in the next three weeks, with games against the Eagles (who blew them out on national television last year with Mark Sanchez under center), Colts, and Packers. I think they are for real. Carolina's won 12 of its last 15 games that have been decided by seven points or less. Here's another.
The Pick: Panthers 24, Eagles 20
MONDAY
Baltimore at Arizona: The Ravens originally planned to stay out in the West Coast in between the San Francisco and Arizona road affairs, but after losing on one of these extended road trips between Denver and Oakland in September, they scrapped it. It's been forever since the Ravens (1-5) were irrelevant. I don't see how they turn it around. We're almost in November.
The Pick: Cardinals 30, Ravens 20
Reader Email of the Week:
Peter,
You said you'd take Cardale Jones if he'd entered the NFL Draft last year. Well, now he's been benched and hasn't looked all that dazzling. Did he make the wrong decision last year, going back to school?
Rick T., San Mateo, California
Cardale Jones hasn't looked great, and now he's a 24-year-old quarterback who'll likely be riding the pine for the rest of the season. That said, I think he's going to be OK come 2016 NFL Draft time. I had him going in the second round if he came out a year ago and that came from conversations with scouts who hadn't seen much of him on tape. I still think he could be a top-60 pick and I don't think this experience will end up crushing him in the end. Look, he'll be invited to the Senior Bowl, where he'll get a chance to show his stuff for scouts up close and personal, and the quarterback class isn't exactly a knockout group as is. Jones is still pretty raw, still a physical presence, and still a tempting NFL Draft prospect. If you ask me, there was no great harm in him going back to school -- benched or not.
Week 7 Cheat Sheet Trivia Answer of the Week: Rodgers passed Johnny Unitas in reaching 30,000 career passing yards with fewest pass attempts in league history.