Chavis talks Texas A&M defense, makes bold claim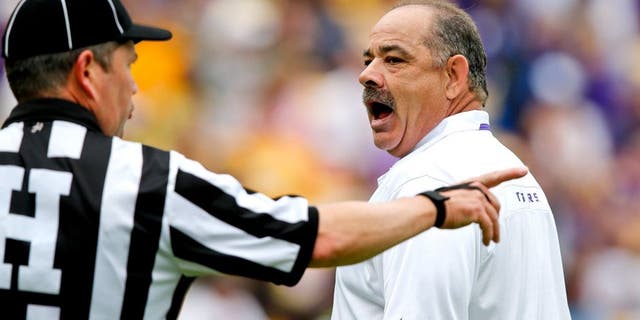 Texas A&M brought in longtime LSU defensive coordinator John Chavis this offseason in an effort to fix what's best the worst defense in the SEC for the past two years.
Chavis will earn a total of $4.65 million over the next three years as one of the highest-paid assistants in the country, but the Aggies believe he'll be worth it after giving up 509.5 yards per game in SEC play last year and generating only 13 turnovers during a disappointing 8-5 season.
While a look at those numbers would lead most to believe that an immediate turnaround is unlikely, Chavis seems much more optimistic. According to the Dallas Morning News, Chavis said over the weekend that he doesn't believe talent is an issue for A&M.
In watching tape, he said, "You saw a field that had a lot of young talent -- not just young talent, but very good talent. And that's one of the reasons that I'm so optimistic. We've got to grow and we've got to mature. A lot of guys played well at times, and all we need to do is do it consistently."
Chavis also made it clear how he plans to use all that talent.
"Football has changed a good bit, and we've had to tweak things," Chavis told the Dallas Morning News. "But ultimately, we've got a simple philosophy. We're going to play the run with numbers, we're going to try to outnumber you in the box, get an unblocked player to the point of attack, and we're going to rush the passer with speed. When you say that, you better have corners that can handle those one-on-one situations.
"We're never going to sacrifice speed for size. We're going to get as much speed on the field as we can."
In terms of rushing the passer, Chavis is starting from a pretty good point with defensive ends Myles Garrett, a sophomore who has appeared on many preseason All-America lists, and Daeshon Hall, a junior who has generated quite a bit of hype this offseason.
Chavis apparently has little interest in quelling that hype, instead calling Garrett and Hall two of the best defensive ends in college football.
"That's a pretty big statement, but I'm not afraid to make that statement," Chavis said.
But will the rest of the defense be good enough -- and consistent enough -- to get A&M into the national title conversation.
"We expect to play well, and we will be improved," Chavis told the Dallas Morning News. "It's not a lack of talent. We have the talent in the right places that will fit our scheme."