Chargers sign Ingram to 4-year deal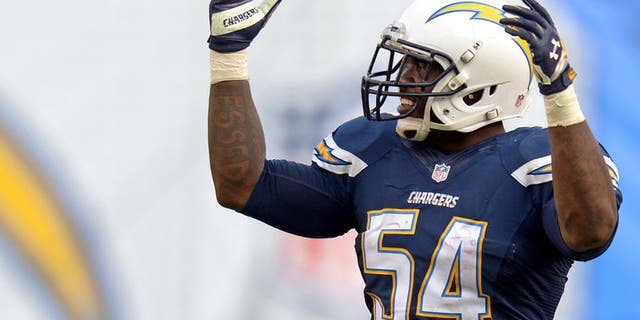 NEWYou can now listen to Fox News articles!
LOS ANGELES (AP) -- Pass rusher Melvin Ingram agreed to a four-year deal with the Los Angeles Chargers on Sunday, avoiding a protracted contract dispute shortly before the opening of minicamp.
Ingram has skipped the Chargers' voluntary offseason workouts while negotiating the deal. Los Angeles applied the non-exclusive franchise tag to Ingram in February, but kept working on a long-term deal.
Ingram has been one of the NFL's top edge rushers in recent seasons, recording 18 sacks in the past two years. After lining up mostly as a linebacker in San Diego's 3-4 defense last year, he is expected to be a key contributor to new defensive coordinator Gus Bradley's 4-3 scheme as a bookend with defensive end Joey Bosa.
Ingram has 46 tackles for loss in his career, which has been spent entirely in San Diego. The Chargers picked the South Carolina product with the 18th overall selection in 2012, and they stuck with him through two years of injury problems before he blossomed into a star in 2015.
After years of lengthy contract disputes in San Diego, the Chargers have avoided any embarrassing standoffs ahead of their relocation season. One year after Bosa went through a protracted negotiation and eventually missed the first two games of his rookie season, first-round pick Mike Williams signed a four-year, $19.75 million deal two weeks after the draft.
Ingram's arrival will be a boost to his teammates when the Chargers convene in San Diego on Tuesday for their three-day minicamp.
The camp will be the Chargers' final workouts before training camp and likely their final team event at Chargers Park, the franchise's weekday home for 20 years. The Chargers' lease on the city-built complex is up July 31, and they will move to temporary facilities in Costa Mesa, a city in Orange County, for training camp and the regular season.