Celtics star Isaiah Thomas says Kobe Bryant has been giving him tips in the playoffs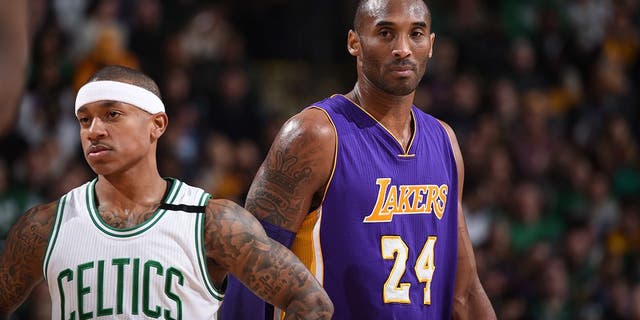 Wait, arent the Los Angeles Lakers and Boston Celtics supposed to be rivals? It sounds like Lakers legend Kobe Bryant has put aside any residual feelings he might have had for the Celtics, whom he faced twice in the NBA Finals.
All-Star guard Isaiah Thomas told reporters Wednesday that the Black Mamba has been breaking down film with him over the phone ever since the Celtics Game 2 loss to the Bulls in the first round. Thomas credited Bryant for showing him things he hadnt seen before.
He definitely helps, Thomas said. He just tells me what he sees and what I should be watching for on film.
Thomas stopped short of revealing what pointers Kobe has given him but praised the soon-to-be Hall of Famer for his mental approach.
Mentally hes on a different level than anybody Ive met, Thomas said. When we were on the phone for 30 minutes, I emailed him my film and he watched every second. He was telling me what times to go to and what to look at in certain plays and things I didnt look at when I watched film. Mentally, you can tell hes one of the greatest ever.
Thomas said Kobe wanted to go over film with him, calling the Celtics superstar and sending his condolences for Thomas sister Chyna, who died in a car accident last month.
Whatever Kobe told Thomas is clearly working. Thomas is averaging 28.5 points since the Celtics Game 2 loss. And Thomas individual excellence has translated into team success as Boston has won six in a row since that loss.
Thomas is coming off a career game, scoring 53 points in an overtime win over the Wizardsto take a 2-0 series lead.