Cavs end Warriors perfect postseason in Game 4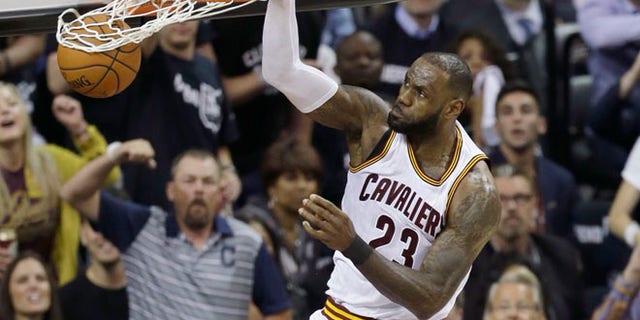 NEWYou can now listen to Fox News articles!
Golden State's perfect postseason is over.
Cleveland's coming back again.
Just like last year, the NBA Finals are at 3-1 after four games.
LeBron James recorded a triple-double, Kyrie Irving scored 40 points and the Cavs broke scoring records while outperforming the NBA's most electrifying offense in a testy Game 4 filled with technical fouls on Friday night, beating the Warriors 137-116 and snapping their 15-game playoff winning streak.
"We have championship DNA," said James, who broke Magic Johnson's record with his ninth triple-double in the Finals. "We showed that tonight. We just kept our composure. We shared the ball, we moved the ball and defensively we were physical. It's one game."
But it's the one they had to have, and a series that wasn't living up to its hype and seemed headed for a quick conclusion is California bound for Game 5 on Monday night.
The Cavs scored a Finals record 86 points in the first half and then held on during a wild third and fourth quarter that included technical fouls, James jawing with fellow superstar Kevin Durant and Cleveland's crowd roaring like a jet engine.
No team has ever come back from a 3-0 deficit in the NBA playoffs.
But until the Cavs did it last year, no team had ever rallied from a 3-1 deficit to win the Finals. Cleveland took Game 3 at home, lost Game 4 and then won the final three — Game 7 in Oakland — to capture the city's first sports championship since 1964.
As the final seconds ticked off, Cleveland fans chanted "Cavs in 7."
"Believeland is not going to give up," Cavs coach Tyronn Lue said, "and we're going to keep fighting. We're going to keep scrapping."
The Warriors had swept their first three series and were 48 minutes away from a party they've been planning for a year. But it's on hold and Golden State fans are holding their breath.
Coach Steve Kerr said his players aren't worried about the past.
"I don't think there was any concern or thoughts about history," Kerr said. "I think it was we played a desperate team on their home floor, a great team, with great players, and they came out and handed it to us. Simple as that."
Durant, still one win from the coveted championship he left Oklahoma City to get, scored 35 but got little help from Stephen Curry, who scored 14 on 4-of-13 shooting.
James finished with 31 points, 10 rebounds, 11 assists and on one trip threw the ball off the backboard to himself for a dunk.
Kevin Love made six 3-pointers and added 23 points for Cleveland, which made 24 3s, another Finals mark.
If not for Cleveland's Kyle Korver missing a 3-pointer in the final minute of Game 3, the series would be 2-2.
In any event, the Cavs are still breathing and it's now the Warriors who may be feeling the pressure after blowing a 3-1 lead last June.
The third quarter featured a confusing sequence and a scramble on the floor that resulted in two technical, a friend of James being escorted from the arena and back and forth flurries worthy of a heavyweight boxing match.
At one point, it was announced that Golden State's Draymond Green had been given his second technical foul and security came onto the floor to usher the volatile forward to the locker room. However, a technical assessed to him in the first half was actually called on Warriors coach Steve Kerr, leading to the confusion.
Later, Warriors center Zaza Pachulia was involved in a pileup of players in the foul lane and he delivered two swipes to Iman Shumpert's groin area as the referees tried to get control. Pachulia could have been tossed, but was only given a technical as was Shumpert. As this was being sorted out, Todd Leebow, a friend of James who was sitting with the three-time champion's business partners, got involved in an argument with Golden State's bench and was asked to leave.
The Cavs were determined not to let the Warriors celebrate on their floor for the second time in three years, and it was Cleveland, not Golden State, which busted Finals scoring records in the first half. Cleveland scored 49 in the first quarter and 86 during a dizzying opening 24 minutes that left players and fans gasping for air.
And beyond their firepower, the Cavs did it on defense, holding the up-and-down Warriors without a single fast-break point.
With their crowd hanging on every dribble, pass and shot, the Cavaliers came out flying.
Cleveland built an early 16-point lead and for the first extended time the series the defending champions looked and played like the superior team at both ends.
Golden State clawed within seven, but then the Warriors began fouling and Kerr got nailed with his technical — one of seven in the game. Fueled by the outburst, the Cavs went on a 12-2 run capped by a 3-pointer from Love and dunk by 36-year-old Richard Jefferson, who earlier in the day said he and his teammates would approach the 3-0 deficit like a marathon, "one step at a time."