Cards can capture second straight series with win over Brewers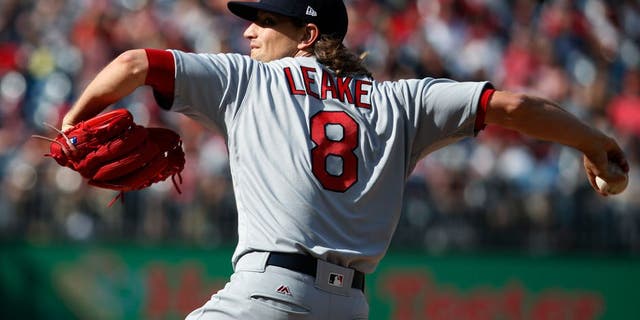 It's fair to say the St. Louis Cardinals' offense is still a work in progress, but it's been good enough this weekend to put them in a position to win their second consecutive series when they take on the Milwaukee Brewers on Sunday afternoon at Miller Park.
Saturday night, the Cardinals collected 12 hits but stranded 11 and went 0-for-14 with runners in scoring position yet somehow, still found a way to pull out a victory.
"That just can't keep happening," Cardinals manager Mike Matheny said. "It's putting a lot more pressure on our pitching. The first three innings, we had leadoff doubles, get him over, do a nice job two to three times and we don't get the job done. That's something we've just got to get better at."
The struggling offense hasn't been too much of a problem for right-hander Mike Leake, the Cardinals' scheduled starter Sunday.
Through his first three outings this season, Leake leads the NL with an 0.84 ERA and is third with an 0.84 WHIP. He's allowed only two runs and a walk this season and didn't walk a batter last time out, when he allowed a run over 6 1/3 innings on Tuesday against Pittsburgh.
"Pretty in sync," Leake said after that outing. "The stuff moving down and away was a bit tricky, but other than that, I felt pretty good."
Leake posted a career-worst 4.69 ERA last season but found success against Milwaukee, going 2-0 with a 3.32 ERA with 20 strikeouts and two walks in three starts.
Brewers starter Jimmy Nelson looks for his first victory against the Cardinals. He's 0-7 with a 7.34 ERA in nine career games (eight starts), including an 0-2 mark and 4.50 ERA in three starts last season.
He should benefit from a Brewers offense that is improving by the day. Milwaukee didn't hit a home run Saturday night but entered Saturday leading the majors with 22 homers, 73 extra-base hits, 289 total bases and a .475 slugging percentage.
Now they are starting to get production from all through their order, too.
Keon Broxton recorded a hit for a second straight game after snapping an 0-for-18 funk while Jonathan Villar has hits in four straight games. He leads Milwaukee with 33 strikeouts this season but didn't strike out Saturday against the Cardinals.
Getting Broxton going, though, will be important for the Brewers moving forward. He's expected to see a majority of the action in center now that Kirk Nieuwenhuis has been designated for assignment.
"It's really not about the hits," he said. "It's just finding a comfort zone in the box and being able to recognize pitches and lay off pitches I've been swinging at, and squaring up balls. That's what happened tonight -- I was able to lay off a lot of pitches that I was usually swinging at, I saw the ball a lot better and I was able to put good wood on the ball.
"That's the main goal in the box -- it's not really about getting hits. It's about having good at-bats and squaring the ball up. I'm glad I was able to get back to that tonight and I'll try to continue it tomorrow."