Cardinals' Palmer disputes notion he is 'over the hill'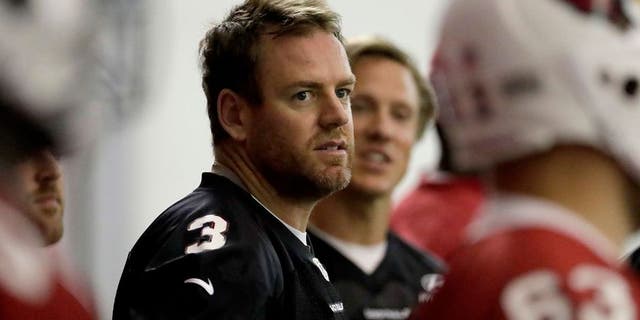 NEWYou can now listen to Fox News articles!
TEMPE, Ariz. -- The national perception seems to be that Carson Palmer's skills have eroded with age, that he's lost some zip off his fastball and therefore the Arizona Cardinals are doomed to another mediocre season.
Las Vegas oddsmakers peg the Cardinals for eight wins.
The 37-year-old Palmer said he doesn't read such summertime predictions. He acknowledged that aging affects every football player, but quarterbacks less so than others.
"I think it's easier to play the quarterback position later on in your career because of the repetition," he said Wednesday after the second day of the Cardinals' three-day minicamp.
"There have been a handful of quarterbacks that have had success early in their careers," he said, "but you just look at the history of the game. Guys can have success into their 30s just because you rely so much on experience, so much on `been there, done that' type of situations."
A prime example, of course, is Tom Brady, who turns 40 this summer.
They are two distinctly different style of quarterbacks, though. Brady rarely throws deep. Palmer made his reputation on his powerful right arm.
To preserve Palmer's arm strength, coach Bruce Arians started giving him Wednesdays off midway through last season. The difference was apparent and Palmer had the Arizona offense moving late in the season.
Now, for the first time in his career, Palmer didn't throw in the winter months this year or in the early OTAs.
"It's done great things for him, plus all the strengthening he did weight room-wise with all the trainers," Arians said. "I think it (his arm) is stronger than ever. He threw a couple of deep balls today that were the old Carson, 55 yards, dropped them in a bucket."
Asked why Palmer wasn't able to throw deep much last season, Arians said, "John Brown couldn't run (due to illness) and Michael Floyd dropped about five."
That's obviously an oversimplification, and Palmer downplayed the need to heave the ball half the length of the field anyway. The Cardinals' current offense features running back David Johnson as a powerful presence as a receiver as well as a ball carrier.
"We have a lot of really good offense that isn't throwing the ball 40 yards down the field," Palmer said. "We have so much good stuff where we can create mismatches underneath that that's the most important -- getting the ball out quick, not taking sacks, not holding onto the ball and making their guys tackle our guys."
Not that he won't take some shots downfield, especially with the speedy Brown back and healthy after having a cyst in his back drained.
A strong running game should help, too.
"We ran the ball effectively (last year) and we're going to run it hopefully better this year," Arians said, "which should end up giving you more deep balls down the field."
Palmer said the extra rest he got this year should pay dividends as the season grinds along.
"I think the benefit really comes in October, November, December, January," he said.
Palmer has compiled some fantastic statistics, throwing for more than 4,000 yards four of the last five seasons.
But Arizona, expected to be a Super Bowl contender last season, got off to a bad start and finished 7-8-1, Arians' first losing season since coming to the desert in 2013.
Palmer shouldered much of the blame.
"You're only as good as your record at the quarterback position," he said. "It's a year-to-year thing. It's a league of what have you done for me lately."
This, his 15th NFL season, might be his final shot at a title. Palmer has said he won't decide whether to retire until after the season is over.
His best chance might have been two years ago, when he was a strong MVP candidate.
Palmer directed the Cardinals to a 13-3 regular season. Arizona made it to the NFC championship game but was blown out by Carolina. Palmer, like most of his teammates, played horribly in that game.
He knows that window of opportunity is almost closed.
"It (a Super Bowl win) is not going to make me as a man," Palmer said. "I don't want to live the rest of my life on what I did playing football. I want to live the rest of my life as the type of man, husband, father, son, all those things.
"But there's no doubt I would love to have a Super Bowl ring."